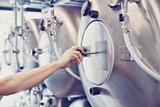 SAFETY FIRST: Surviving an OSHA Inspection
The HR Group and The Oregon Brewers Guild are excited to announce the next installment in our Oregon Craft Beer Industry Workshop Series: SAFETY FIRST: Surviving an OSHA Inspection featuring Joe Mullens of Safety Northwest.
Every Monday during the month of April join us at a different brewery: Portland Brewing Company, Ross Island Brewing, Zoiglhaus Brewing Company and Montavilla Brew Works. Experience a mock OSHA walk through and debrief with Safety Northwest.
Sign up for each location separately as a standalone workshop or purchase multiple dates for contrast.
Since 2001, Joe Mullens and his team at Safety Northwest have used a direct, common-sense approach in helping their more than 300 clients achieve exceptional loss prevention and risk management, workplace safety, and health programs that reduce the costs and make their companies better places to work. They are currently the head safety consultant for Fort George and Buoy Breweries, as well as over 55 McMenamins locations.
The best OSHA and common-sense safety tip? That's easy: trained employees who practice "Safety First!"
The workplace hazards inherent in great brewing make it vital that your employees: (1) can recognize actual and potential safety hazards; (2) know how to avoid them and how to protect themselves; and (3) know how to respond should an incident occur. This is also exactly what OSHA Enforcement wants to find when it visits your brewery. (And OSHA will be coming sooner or later!) Join your industry comrades for an informative and useful "Preparing for and Surviving an OSHA Inspection" presented by The HR Group of Portland and the Oregon Brewers Guild.
Tickets are $10 per location, refreshments provided.

Oregon Craft Beer Industry Workshops are designed to promote, educate, and support the people and businesses in the Oregon Craft Beer industry.