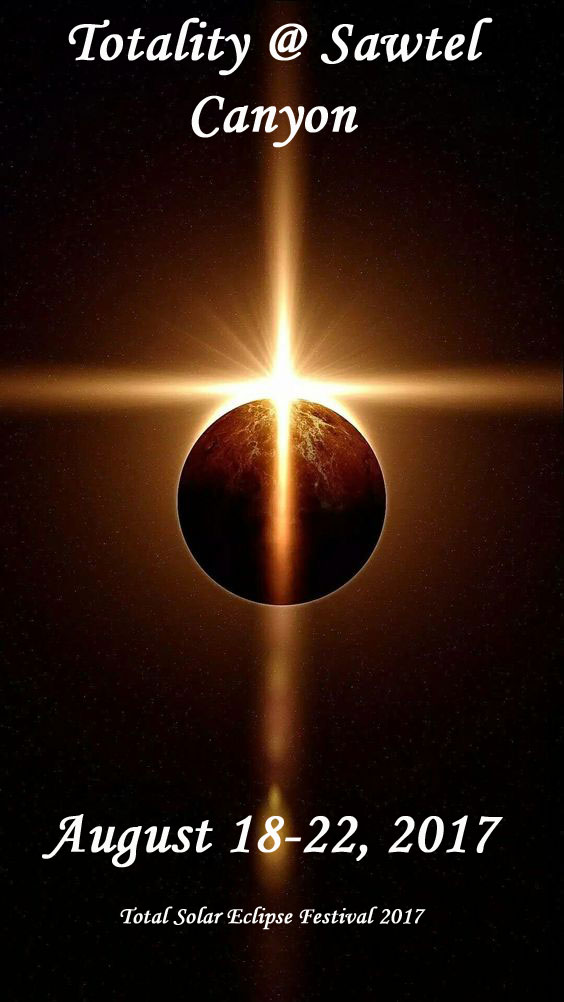 Totality @ Sawtel Canyon - Total Solar Eclipse Festival 2017
Fri, Aug 18, 2017 at 1pm - Tue, Aug 22, 2017 at 11am (Pacific)
Sawtel Ranch is hosting a weekend of fun, relaxation, and the experience of a lifetime! Didn't you need an excuse to come visit the gorgeous high desert anyway! Bring your RV, or Tent, and allow us provide you with a great place to settle in and enjoy yourself. Relish the amazing scenery including deer, elk, bald eagles, and more! Plus, being in the high desert in August will mean warm and clear weather! Perfect for viewing the totality!
While you are here check out the Prineville Reservoir, Ochoco Reservoir or Crooked River for fishing, boating etc.. Or just 3 miles up the road is some really beautiful landscapes and hiking in the Ochoco National Forest! We are only about 45 minutes from Bend, Oregon, and Sisters, Oregon - two destinations you might want to visit while you are here! We have some great winerys in central oregon and of course you have heard of our incredible breweries! You may choose to spend one or more of your days shopping, or treating yourself to some of central oregons best eats, or perhaps just seeing some of the pristine high desert lakes and scenic areas that central oregon is known for. No matter how you choose to spend your weekend, we will have a great place for you surrounded by beautiful scenery to hang out and just relax with friends or family, or just to use as a base camp between your hiking, fishing, or sight seeing adventures.
After a remarkable weekend on Monday morning at 10:21am is the climax, as the sun is nearly at its apex in the sky and the morning is bright and fresh, the sun will begin to change shape and get dimmer. A shadow will be seen on the mountains around you racing toward you at 1100mph. Then totality will strike and complete darkness will cover everything. Make this summer one you will remember the rest of your life - and share it with your family or friends. Space is limited so don't miss out on this chance to share a weekend with your loved ones that they will never forget!
Our creekside campsites will fill fast, but maybe you would prefer being nestled up to the foot of a mountain. All of our sites will have excellent views of the eclipse but specific sites will be reserved in a "first come first served" fashion.
The Sawtel Ranch is located in beautiful Central Oregon in one of the most prized areas in Prineville, the lovely McKay Valley. So get your spot reserved, and don't forget your fishing pole, and your hiking boots! Also, feel free to bring your boat, we have room for it too!