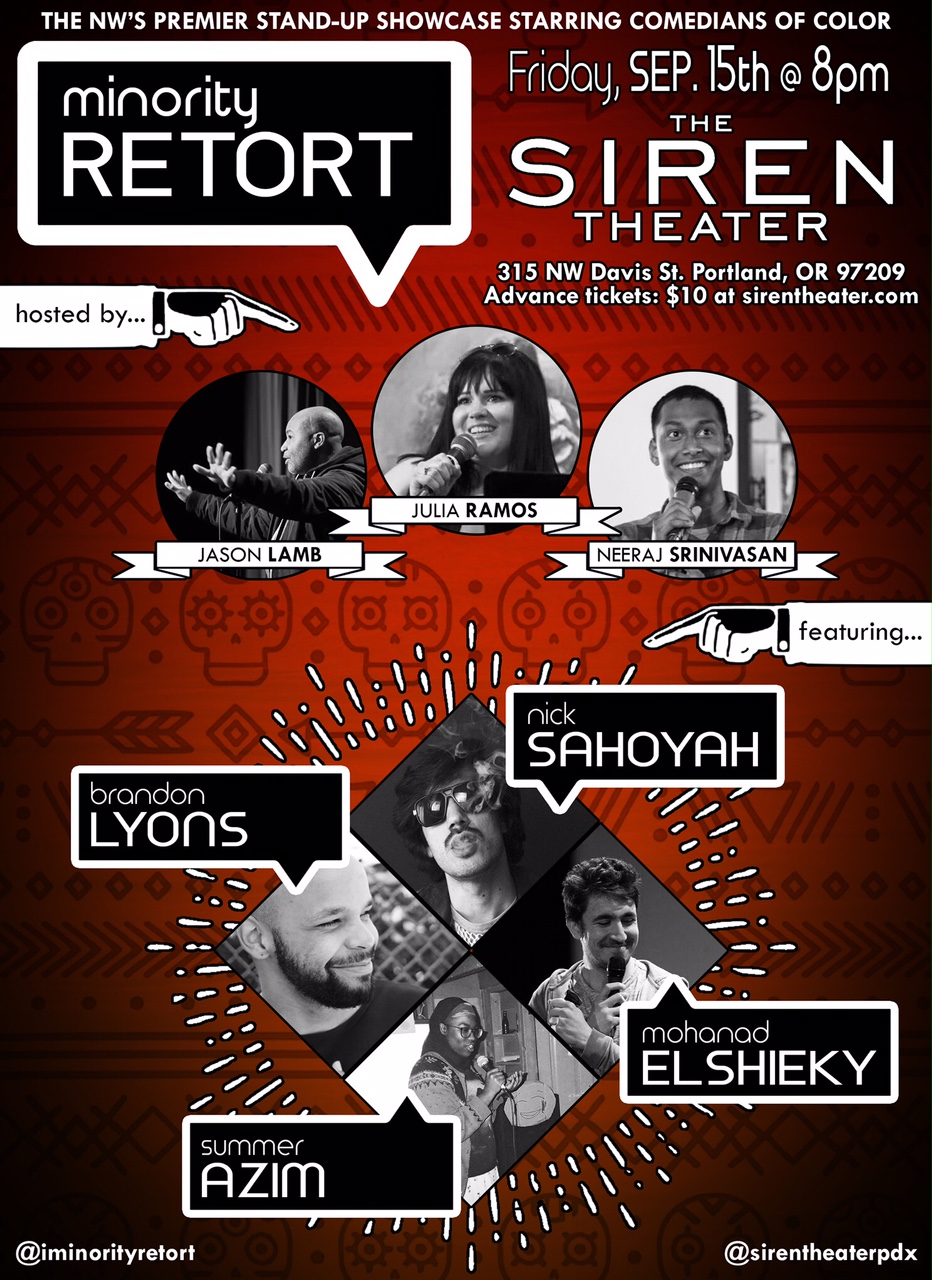 Minority Retort


Portland's premier stand-up showcase starring comedians of color, returns to The Siren Theater

Hosted by Jason Lamb (XRAYFM), Julia Ramos (All Jane Comedy Festival) and Neeraj Srinivasan (Out of Bounds Comedy Fest), Minority Retort is pleased bring you another great lineup of comedians, featuring: Brandon Lyons, Summer Azim, Nick Sahoyah (Bridgetown Comedy Festival) and Mohanad Elshieky (Limestone Comedy Festival, Earthquake Hurricane) )!

About Minority Retort

Minority Retort has become one of Portland's most popular and critically acclaimed comedy shows. The goal is to provide comedians of color with a platform to speak their minds and share their unique perspectives, as well as reach the diverse comedy audience that exists within the so­-called "whitest city in America".

National touring comedians Baron Vaughn (Netflix's Grace & Frankie), Nico Santos (NBC's Superstore), Dulce Sloan, Ahmed Bharoocha, Marcella Arguello, David Gborie and Maggie Maye have performed on the show, as well as many comics frequently featured in Portland's Bridgetown Comedy Festival: Curtis Cook, Bri Pruett, El Sanchez, Adam Pasi, David Mascorro, Katie Nguyen and Nathan Brannon.

Minority Retort is also a part of XRAYFM's morning show Fridays at 8:40am.

For more info, visit Minority Retort on Facebook or on Twitter at @iMinorityRetort."