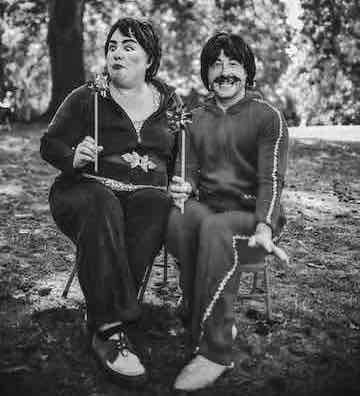 Fabrizio Cabriolet In the Afterlife
After their show ends in a disastrous theater fire, two vaudevillians wake up to discover that they may not have survived. The buffoons Fabrizio and Cabriolet encounter spirits, get scared by strange creatures, and can't find any snacks, but remain oblivious. In this hilarious comedy, they try teaching ghosts how to be scarier, make interpretive dances about the audience's "previous" careers, and consider what makes a successful life. It's only when they meet The Boss of the Afterlife and learn they may have to actually stay there that the stakes become life or death!
Fabrizio & Cabriolet In: The Afterlife Is the creation of Duo Doppio (Ari Rapkin and Summer Olsson). Rapkin and Olsson explore what it means to be human—lovable, brilliant, and flawed. They have experience in theater, circus skills, puppetry, improv, and clowning, and they bring all of this into their art. Their first full-length show, Fabrizio & Cabriolet In: Water, Dirt, Breeze, Fire! premiered in Portland in 2018 and lives on in successful touring. Both Rapkin and Olsson are graduates of the Dell' Arte International School of Physical Theatre. They are clowns. Unless you are afraid of clowns. Then they are physical comedians.
SPECIAL GUEST OPENER: Stefano Iaboni. Physical comedian Stefano Iaboni was raised in Rome, Italy. Before moving to Portland, he spent ten years in Barcelona working for theatre companies, acting in movies and commercials, participating in festivals around the world, and starting his own sketch comedy cabaret.