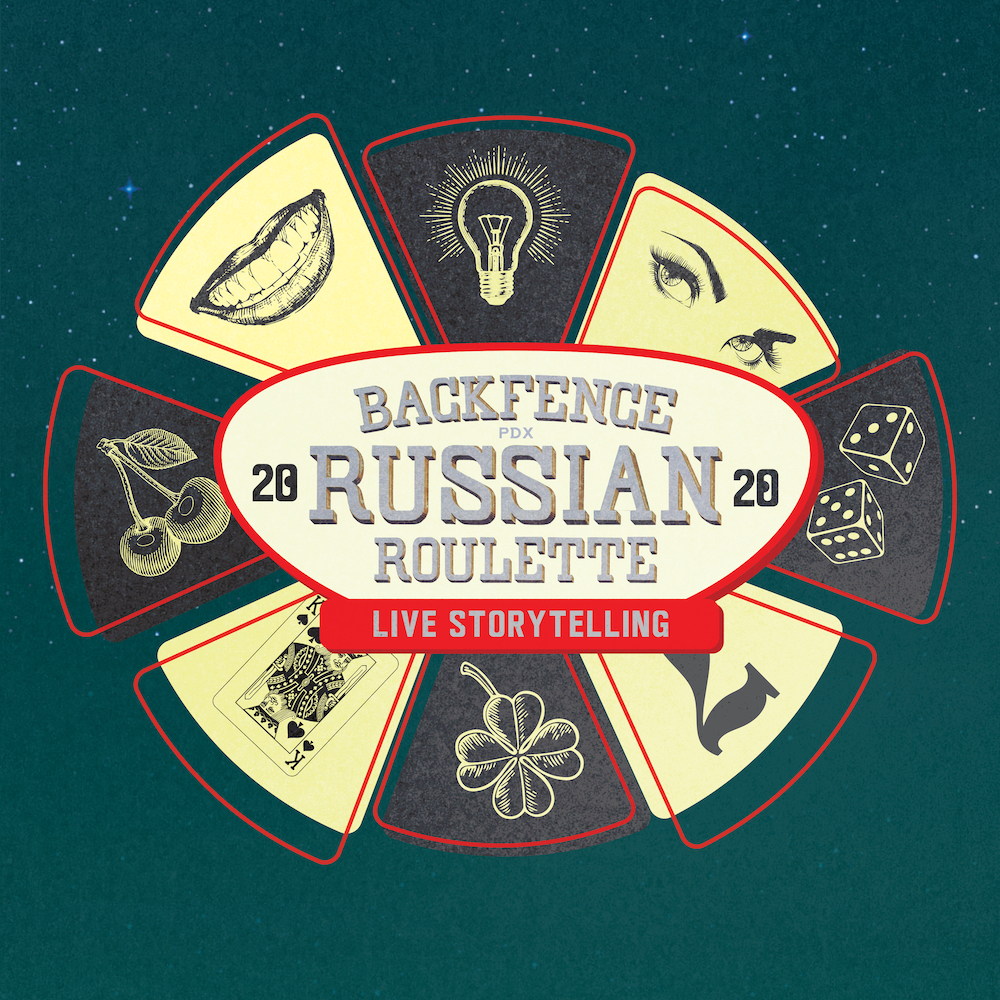 Back Fence PDX: RUSSIAN ROULETTE
Pre-sale tickets have ended or are sold out. But we have set aside tickets to be available at the venue as soon as door open at 7:00 PM!
FEATURING:

The Winner From Our May Show
JASON ROUSE Returning RUSSIAN ROULETTE Winner, Actor/Writer/Teacher, Married With Dog
JOY PEARSON Pro Singer for 20 years, Happy Mom of 3, Obnoxious Dad Joke Factory, Passion for Kindness, Collaboration

ELINA LIM Queer/Immigrant/Woman From Singapore, Started Singapore's First Contemporary Storytelling Event & Invisible Spectrum Stories in PDX, Makes Excellent Dumplings, Working on a Bill to Keep Sexual Assault Victims Safer in Oregon
And two other fantastic storytellers announced soon!
Hosted by B. FRAYN MASTERS & MINDY NETTIFEE
Music by DJ BOBBY D from XRAY.fm
ASL Interpretation by BLAKE WALES
DOORS 7:00PM ⎮ SHOW 8:00PM
$16-28 ADVANCE ⎮ $20 DOOR — Note: We will have walk-up tickets set aside for sale at the door. Remember we're 18+ now! VIP ticket holders will receive swag from our sponsors/partners: $10 to The Civic Taproom, a pair of tickets to Helium Comedy Club, a ticket to The Siren Theater, 2-4-1 passes to Portland Playhouse, a sweet treat from Unicorn Bake Shop, a tasting for two at New Deal Distillery, a 15% off coupon at Popina Swimwear, and more. As Portlanders vibrant arts surround us. Our VIP packages are curated to encourage our audiences to get out and see more of the amazing shows and theaters that surround us. Passes are not tied to your name, so if you want you can gift them on to a friend or non-profit that can benefit from more of the great art in our community! To reserve seats in the ASL Interpreted section, please purchase your tickets then email info@backfencepdx.com.
10% of Tickets Proceeds go to OREGON FOOD BANK. In 2019 our audiences provided 3,600 meals!!!
More about Back Fence PDX: RUSSIAN ROULETTE…
How it works: each show begins with a full wheel of juicy story prompts. One of the 6 storytellers will be randomly drawn. They spin the wheel to decide the prompt for their story. They can play or pass. If they pass another teller can steal their prompt. Then the risky part…each storyteller has only 5 minutes to come up with a true 5-minute story based on that prompt! It's like we invented a new game called truth AND dare.
The audience votes for a winner at the end of the night who will receive swag and prizes from our sponsors and partners like 2 Tickets to Portland Center Stage, 2 tickets to the next two shows at Portland Playhouse, 2 Tickets to Helium Comedy Club, 1 Ticket to Siren Theater, Earrings and $25 Gift Card to Betsy and Iya, $45 Gift Card to Fingerbang, $20 Gift Card to Powell's, $10 Civic Taproom Cash, a Bottle of Portland Vodka from New Deal Distillery, and bragging rights for life!
The winner also draws an audience winner to receive all of the above, $100 to Popina Swimwear, and two VIP tickets to a RUSSIAN ROULETTE show!
The storytelling winner will be invited to come back to the next show!
*Storytellers subject to change without notice. Stories may contain explicit language and/or subject matter.