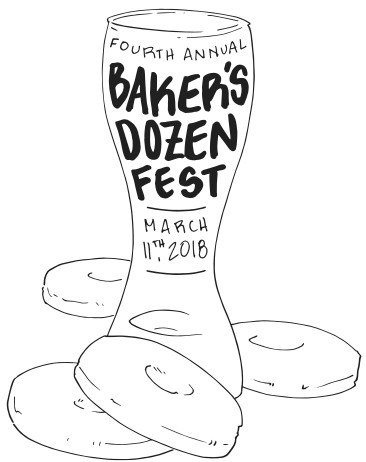 2022's 6th "Annual" Baker's Dozen Coffee Beer & Doughnut Festival
Sat, Apr 9, 2022 from 10am - 1pm
Welcome back!!! All tickets purchased in 2020 (that weren't reimbursed) will be honored!
The 6th "Annual" Baker's Dozen, or BD6, melds three things Portland does best: coffee, beer, and doughnuts. (And defeating pandemic malaise through attending beer festivals.) Each brewer uses beans from different roasters in order to participate. Admission includes all 13 coffee beers, morsels of all 13 doughnuts, and a souvenir glass. (No extra drink tickets needed/sold). Actual coffee will be provided, too. Tickets are only available for those 21+, though all ages are welcome to attend. (Also please note: doughnuts not sold separately; only available with event admission). Keep up on event info at Facebook.com/BakersDozenPDX or Insta, @BakersDozenPDX. Cheers.
Tickets are $39 and only 400 are available. If not sold out in advance, tickets will be $49 at the door.
2022 Breweries so far (beers subject to change):
Barley Brown's (made with Sorbenots Coffee, also in Baker City)
Culmination (made with Seven Virtues Coffee Roasters)
Ecliptic (made with Caffe Vita)
Fracture (made with Good Coffee)
Great Notion (made with Deadstock Coffee)
Leikam (made with Tov Coffee Bus)
Little Beast (made with Kainos Coffee)
McMenamins (made with house-roasted coffee and aged in house-distilled Hogshead Whiskey)
Old Town (made with Roseline Coffee)
Pono w/ John Lovegrove (made with BadBeard's Microroastery)
Reuben's Brews (made with Kuma Coffee, also from Seattle)
Rosenstadt (roaster Water Avenue Coffee)
Threshold Brewing (made with Hinterland Empire Coffee)
2022 Bakeries will include:
Angel's
Annie's Donuts
Big Elephant Kitchen
Blue Star
Coco Donuts
Delicious Donuts (Double D)
Hey Day PDX
Heavenly Donuts
Helen Bernhardt Bakery
Joe's Donuts
Matt & Memere's
NOLA Doughnuts
Sesame Donuts