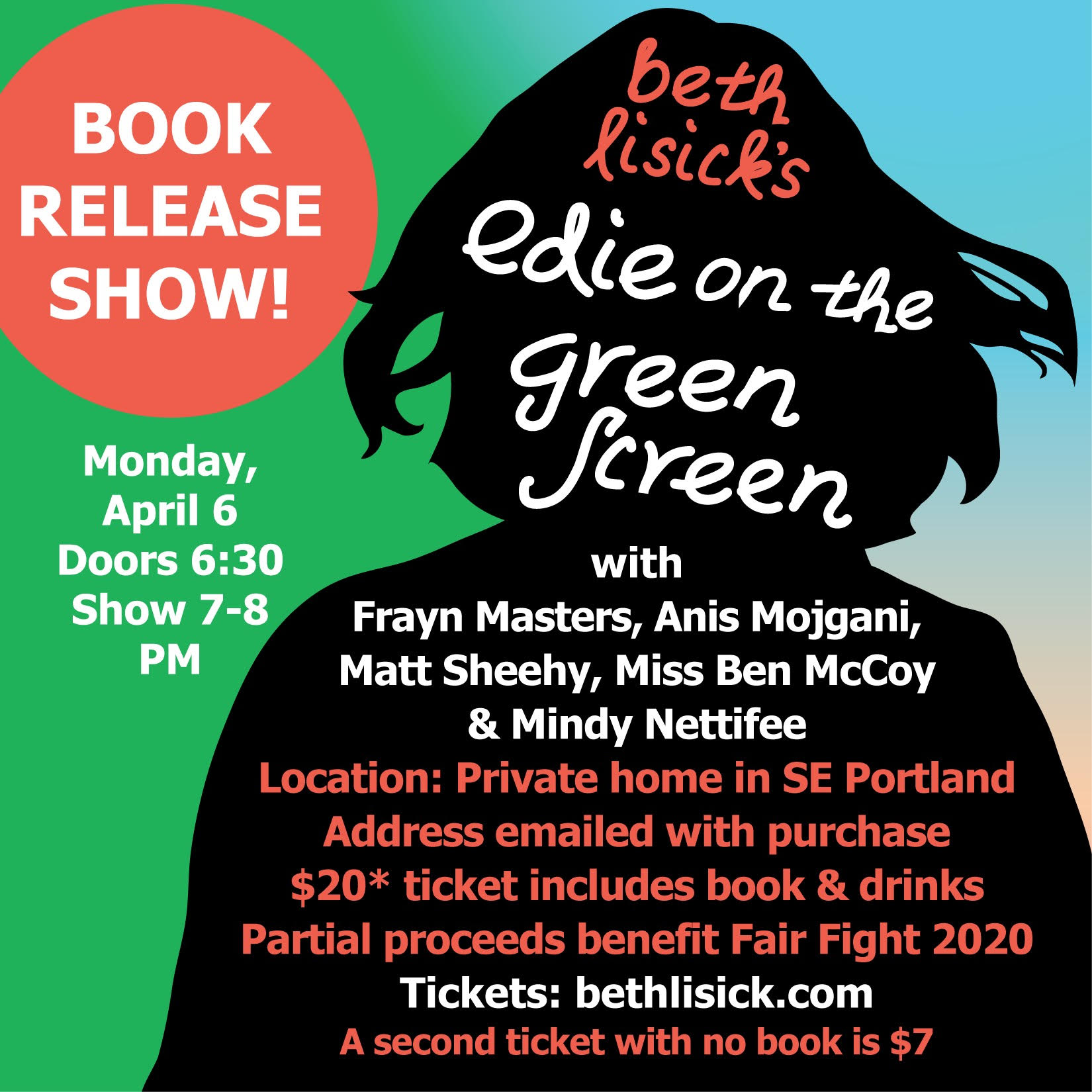 BETH LISICK & FRIENDS
Book Release & Show for 'Edie on the Green Screen'
General Admission (with book)
more info
You will receive a book with your ticket purchase! $5 of tickets will be donated to Fair Fight 2020. Also, once you pay $20 - up to 2 additional tickets may be purchased (at the same time) for $7 each (that $7 will also be donated).
BETH LISICK BOOK RELEASE PARTY (& SHOW)
for her debut novel EDIE ON THE GREEN SCREEN
Beth will read a selection followed by a jazzy interview with B. Frayn Masters and rounded out by short, highly memorable like a thick sweater, performances from Anis Mojgani, Miss Ben McCoy, Matt Sheehy and Mindy Nettifee.
With a $20 ticket you'll get a book with an option to buy two more tickets @ $7 each. $5 of the $20 ticket and all $7 monies will go to support Fair Fight 2020.

"Lisick's languid prose has a magnetic pull to it ... It's pleasurable to tag along on her winding tour through the Bay Area...Lisick's stringent humor is what makes this tale worth reading..."
Kirkus Reviews

"Looping, layered, and complex. Incredibly human, poignantly current"
Literary Heist

"A glorious, multilayered midlife coming-of-age story"
Booklist
This is a private residence. Event address is only being shared to ticket purchasers. Thank you for not posting it publicly. :)
MORE INFO ABOUT FREEDOM FIGHT 2020.
"Fair Fight 2020 is building voter protection teams with Democratic state parties or local allies across the country to protect the right to vote—and we're starting now. Sign up today to ensure that 2020 is a Fair Fight."