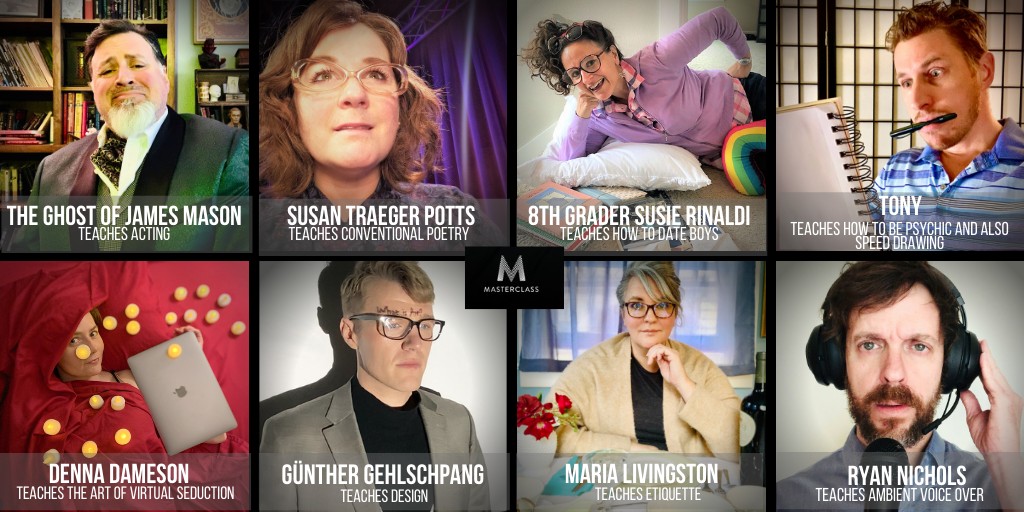 The Lone Wolves present
Master Class: A sketch comedy show
Sat, May 23 from 8pm - 9:15pm
Sketch Comedy Troupe The Lone Wolves presents...
MASTER CLASS. Learn from the best.
Masterclass.com has revolutionized online learning, offering classes taught by masters in every field from cooking to business to design to acting. Now you can learn leadership from Anna Wintour, how to act from Helen Mirren, how to write from David Sedaris, how to direct from Martin Scorsese, and the list goes on.
Join us for an evening of Master Classes taught by some of the more lesser-known instructors:
(Featuring one of The Siren Theater's resident sketch comedy troupes: The Lone Wolves)
The Ghost of James Mason teaches Acting (Loren Hoskins)
Denna Dameson teaches The Art of Online Seduction (Laura Sams)
Maria Livingston teaches Etiquette (Shelley McLendon)
Gunther Gelschpang teaches Design (Tyler Quinn)
Tony teaches How to be Psychic and also Speed Drawing (DK Reinemer)
Susan Traeger Potts teaches Conventional Poetry (Kristen Schier)
8th Grader Susie Rinaldi teaches How to Date Boys (Lori Ferraro)
Ryan Nichols teaches Ambient Voice Over (Jed Arkley)
and more...
Saturday, May 23 at 8pm ONLINE
Purchase a ticket by 7:30 pm
Receive the link to the show
Log in at 7:55pm
The show will begin at 8:00!
Tickets are $5-$15 (you choose how much you'd like to pay!) and support The Siren Theater
sirentheater.com