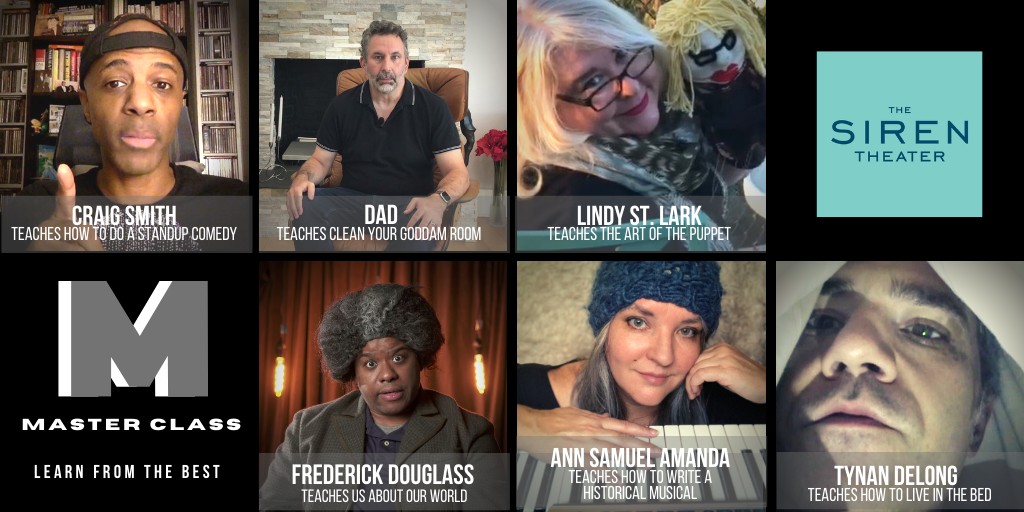 Master Class: A sketch comedy show
The Siren Theater in Portland, Oregon presents an online sketch comedy show:
MASTER CLASS. Learn from the best.
Masterclass.com has revolutionized online learning, offering classes taught by masters in every field from cooking to business to design to acting. Now you can learn leadership from Anna Wintour,acting from Helen Mirren, writing from David Sedaris, directing from Martin Scorsese, and the list goes on. But not all Master Class instructors are as well known...
Join us for an evening of Master Classes taught by some of the more... up and coming... instructors:
Dad teaches Clean Your Goddam Room (Craig and Carla Cackowski)
Craig Smith teaches How to Do a Stand Up Comedy (Jordan Black)
Lindy St. Lark teaches The Art of The Puppet (Jaime Moyer)
Frederick Douglass teaches Us About Our World (Mark Kendall)
Ann Samuel Amanda teaches How to Write A Historical Musical (Shelley McLendon)
Tynan DeLong teaches How To Live In The Bed (Tynan DeLong)
September 26-October 3 online
Purchase a ticket by 6pm on night of show
Ticket holders will receive a link to the show by 6:30
The link will be accessible from 7:30pm-8:30 pm
sirentheater.com