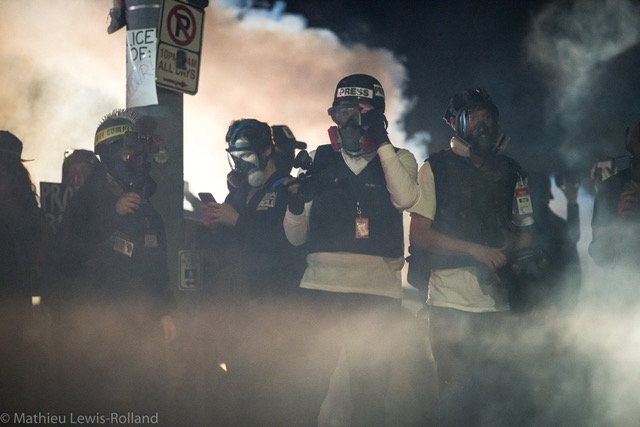 EYES ON THE GROUND: A CONVERSATION WITH PORTLAND'S PROTEST JOURNALISTS
Tue, Oct 27, 2020 at 7pm (Pacific)
What's it like for the reporters, photographers, and livestreamers who cover Portland's protests on a nightly basis? Join host Alex Zielinski of the Portland Mercury's news team for a livestream conversation with the people who've been reporting on the protests for the last five months. You'll hear honest reactions on topics such as their motivations, confrontations and arrests by police, journalistic ethics, personal safety, and how they keep their message centered on the Black Lives Matter movement. This is the type of behind-the-scenes, candid conversation you won't be hearing anywhere else.
The "Pay What You Can" proceeds from this forum will go toward supporting the Portland Mercury as well as the attending panelists. If you wish to make an additional contribution to support the Mercury you can do so here.
Our panel of reporters and documentarians include: Tuck Woodstock, Donovan Smith, Andrew Jankowski, Mariah Harris, Catalina Gaitán, and Annie Schutz.
If you want to know what really happens on the ground at Portland's nightly protests, don't miss this thought-provoking and fun evening of conversation from the reporters, photographers, and livestreamers who are committed to bringing you the truth!