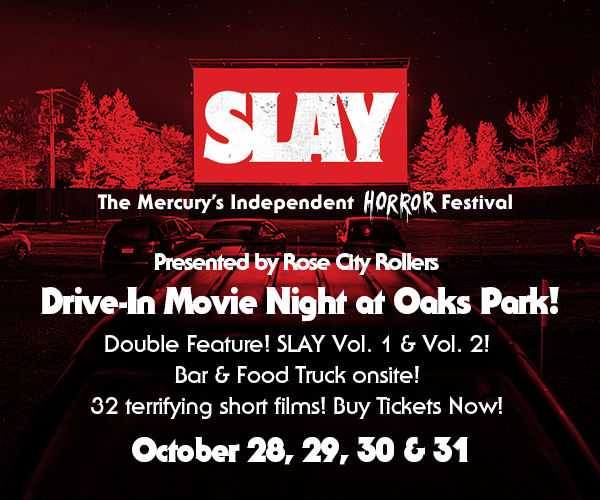 10.28 SLAY Horror Film Festival: presented by Portland Mercury and the Rose City Rollers: Cinema Under the Stars, in Cars!
10/28 | Volume 1 Entry at 6pm | Volume 2 Entry at 9pm
Look for our Next Posted Showtime!
Join the Portland Mercury and Rose City Rollers for an evening of movie magic under the stars!
Weds October 28th - Saturday October 31st we will be screening SLAY as a doubleheader event.
6pm entry to Parking, Beer Garden, and Food concessions for Vol. 1
9pm entry to Parking, Beer Garden, and Food concessions for Vol. 2
What better way to watch The Stranger's new horror film festival SLAY than as a classic drive-in movie experience? Tickets are limited– only 55 cars per show– so figure out who'll be in YOUR car and grab your tickets now!
TICKET PRICE WILL BE REFUNDED IF EVENT *CANCELS DUE TO WEATHER.
*WE WILL SCREEN IN A LIGHT RAIN
All audio will be broadcast through an FM transmitter and our stereo surround sound (weather permitting). Viewers are required to tune in via car radio if the weather is inclement and we are not able to run the speakers.
All screenings will be experienced from inside your vehicle, or from designated distanced seating in the beer garden.
The health and safety of our attendees and staff is our absolute priority. Guests MUST stay in their vehicles except when visiting the beer garden, concessions, or the Porta Potty.
Tickets are sold online in advance only.
Standard/SUV size vehicles only. (No Campers)
RCR has transformed the face of their iconic venue, The Hangar (located at 7805 SE Oaks Park Way), into a 15 foot tall DIY movie screen for your viewing pleasure. Many thanks to Epson for their generous donation of a projector, Horne Audio for the use of cables, and our friend/sound tech DJ Agent Meow for making this possible!
FAQS
How many people can attend?
There is a limit of 55 cars per screening - you are allowed to bring as many people you can safely and legally fit into your car.
Can I bring my own snacks?
Feel free to bring snacks and drinks but note that bringing your own ALCOHOL is strictly prohibited and consumption of such at our event, outside of the designated beer garden, will be grounds for removal.
Snack packs will be available for purchase ($25/ea) and include:

2 Boomchickapop Popcorns
1 pack Red Vines
1 pack Sour Patch Kids
2 Famous Amos Cookie packs
2 Gold Fish packs
1 Wasabi Almonds
4 La Croix sparkling waters
Can I watch outside of my car?
You must remain in your car except for visit to concessions and the distanced beer garden, no camping chairs are allowed but you may watch from inside of your pick up truck bed or the back of your hatch back or minivan.
Safety of attendants is our top priority, and social distancing will be strictly enforced. If anyone is seen not abiding by distancing, masking (i.e. when outside of cars to use the restroom), and our other posted procedure, in line with the county, state, and CDC mandates for our area, you will be immediately asked to leave by our onsite security staff.
Please note, our facility at Oaks Park has been the Home of the Rose City Rollers for 15 years running, and we want to keep our relationship with our landlord solid. Please help us to do so by abiding by the following rules:
Purchaser must be over 18 and legally able to agree to the waiver, for themselves and minors in their group, within 24 hours of attending the event. NO Exceptions. Buy purchasing a ticket, you assert your agreement.
Waiver signee must attend the event, (no unaccompanied minors riding solo please!)
We need to stick to a strict 10 person limit of people out of their cars, including our production staff, in the Cinema Area. Please limit bathroom breaks to "only essential".
Please note we have a Porta Potty that will be bleached between uses, and a sink, but no mirror or dressing room areas.
No smoking of any substance whatsoever is allowed while your windows are rolled down.
Waiver link is also here!