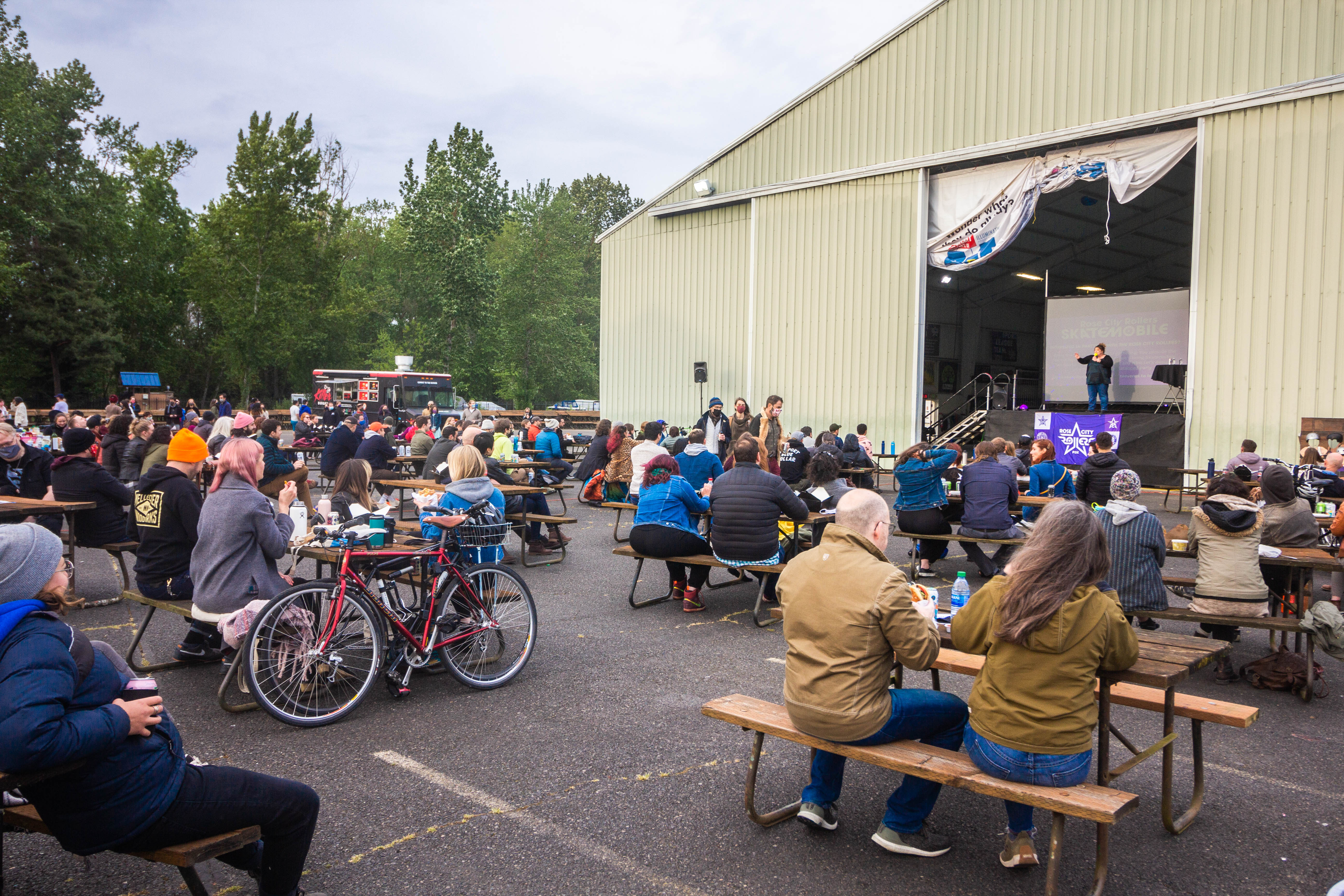 6/10 - LIVE Comedy Spectacular hosted by Rose City Rollers & Portland Mercury!
Parking at 7:30 - Show at 8:30
Join Rose City Rollers and Portland Mercury for an exclusive LIVE open-air comedy event! Your 75$ ticket reserves one of our socially distanced, outdoor tables — good for up to 4 attendees per table. Beer garden on site and food service available.
Doors open at 7:30pm - show starts at 8:30pm.
This spectacular, COVID-safe comedy show will be MC'd by the hilarious Amanda Arnold and feature an all-star lineup of Portlands top comics - you won't want to miss it!
KNOW BEFORE YOU GO:
If you arrive past 8:15pm, your ticket will be forfeited / non-refundable
Drive all the way down Oaks Park Way until you see our ticket checkers, they'll be directing traffic, parking and get you to your table
Outside snacks and water are welcome, please do not BYOB, doing so is grounds for immediate expulsion from the event.
*** ATTENDEES MUST BE DISTANCED AND MASKED ***
Rose City Rollers reserves the right to refuse service to anyone not in compliance with State and County Covid Guidelines. No refunds will be give if you are asked to leave for this reason.
——————
Want to know more about the fabulous comedians you'll be seeing? Read on...
Amanda Arnold has a brilliant, fast-paced, and commonsensical style of comedy. She opened for Jeff Ross and Dave Attell on two of the Pacific Northwest "Bumping Mics" tour. Amanda was named one of the "Top 5 Funniest Comics" in Portland, Produced The Undertow Comedy Festival in 2018 and was featured on travel show "Unexpected Adventures" which won two spots at the LA Film Awards. She has put in thousands of hours of road work all over this country. Amandadid stand-up comedy for the first time when she was eight years old! Yes! You read that correctly! It's no wonder you get a feeling when watching her that some people are just born funny.
Grant Lyon was described by San Francisco Weekly as "a hilariously sharp observer, not one of those tired white-guy bellyachers," Grant was once a collegiate soccer player. He decided to pursue a career on stage instead of on the field, and that decision's been rewarded by being chosen as a New Face in comedy at the Just For Laughs Festival, winning the Laughing Skull Comedy Festival, and being a finalist in the Big Sky Festival. He's appeared on Comedy Central, Comics Unleashed, SyFy's series The Movie Show, and he starred in the Amazon Prime feature film Killer Kate! He has appeared on the nationally syndicated Bob and Tom Radio Show and has been a guest on numerous popular podcasts including Doug Loves Movies. "Scheduled Fun Time," his comedy album with 800 Pound Gorilla records, hit number #1 and has been the featured album on numerous SiriusXM channels. As well as being a contributing writer for the Huffington Post, the film he wrote and starred in, Interview Date, was eligible for a short film Academy Award. Funny or Die, MSN, Huffington Post, and others are among the sites that have featured Grant's sketch videos on their home pages. You might also recognize him from a number of national commercials including AT&T, Johnsonville Sausage, CiCi's Pizza, Sam Adams and more. His debut board game, Curmudgeon, came out in 2020, published by 25th Century Games. A huge lover of board games, Grant hosts a weekly series on his YouTube channel called Grant's Game Recs, short and funny videos about good games.
Tyler Boeh's award winning "beat-boxing" talent and ability to shift seamlessly from well-crafted material to improvised exchanges keep audiences in awe. With past appearances on "NESN Comedy All-Stars", "Celebrity Name Game", and two seasons of "Laughs on Fox", Tyler has laid the groundwork for his growing success. In 2018 Tyler's second album, "Full Circle" debuted at #2 on the Billboard Comedy Charts and he was selected as the SiruisXM 98 Artist of the Month. His recent Dry Bar Comedy special "Wait for it" has garnered over 25 million views online. You can find his comedy on Amazon Prime, Spotify, Pandora, and SiriusXM, but don't miss the chance to see Tyler perform live!
Born and raised by the streets of Portland, Chris Johnson has climbed through its growing comedy scene and on to stages all over the Northwest. In 2019, he was recognized as one of the top 5 comics in Portland by Willamette Week and was also a finalist in the very competitive 'Portland's Funniest Person' competition at Helium Comedy Club. If you happen to go out to watch him perform, you'll love Chris's dry brand of humor if you spent your childhood getting roasted for wearing fake fubu with skinny jeans, and watching anime.
Derrick C. Brown is a comedian and poet. He was a former magician and paratrooper who won the Texas book of the year prize. He tours with Kurt Braunohler, Eugene Mirman and David Cross.