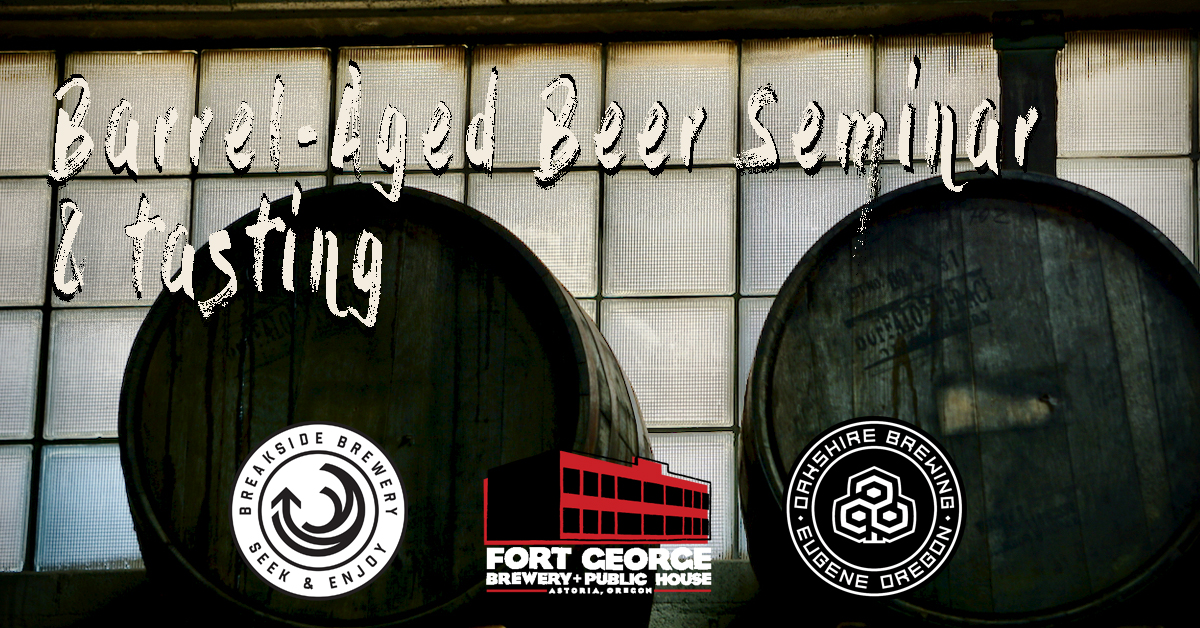 Barrel-Aged Beer Seminar & Tasting
Thu, Dec 23, 2021 from 5:15pm - 7:30pm
Portland Beer Week presents the Barrel-Aged Beer Seminar featuring Breakside Brewing, Fort George Brewing, and Oakshire Brewing's barrel masters. This special discussion on the art of barrel-aging clean wood-aged beers takes place with the masters themselves and will cover everything from time and age, to how to coaxe the most oak, whiskey or spice notes from the barrels and how to balance those flavors with different styles of beer, adjuncts, oxidation, sweetness, and the role of high alcohol flavors.
Throughout the course of this 2 hour discussion we will sample 6 rare and exemplary barrel-aged beers, 2 from each participating brewer. At the end of the discussion we will open the floor for direct questions and mingling with the brewers.
PANELISTS:
Ben Edmunds of Breakside Brewery
David Coyne of Fort George Brewery
Dan Russo of Oakshire Brewing
BEERS:
Fort George: Time Will Tell - 9.3% abv bourbon barrel fermented baltic porter
Fort George: Etymology Barleywine - 14.7% abv bourbon barrel aged blended barleywine
Breakside Brewery: Skweee - 12.2% abv. Straddles a peculiar line between minimalism and maximalism. Skwee is free of adjuncts and allows us to explore and highlight the ways in which particular barrels and unadulterated base dark ales interact when blended together.
Breakside Brewery: Plunderphonics - 12.3% abv. The most intense and aggressive blended stout we Breakside has produced to date. It is an adjunct-free blend of imperial stouts that retains punchy, upfront intensity despite having been smoothed with time in barrels.
Oakshire Brewing: The Fear That Never Was - Double Bourbon Barrel-aged Barleywine- 16.2%
Oakshire Brewing: Fifteen - Whiskey Barrel-aged Imperial Stout 15.5%- Blend of Imperial Stouts aged in Westward Whiskey Barrels for 1 year before blending.