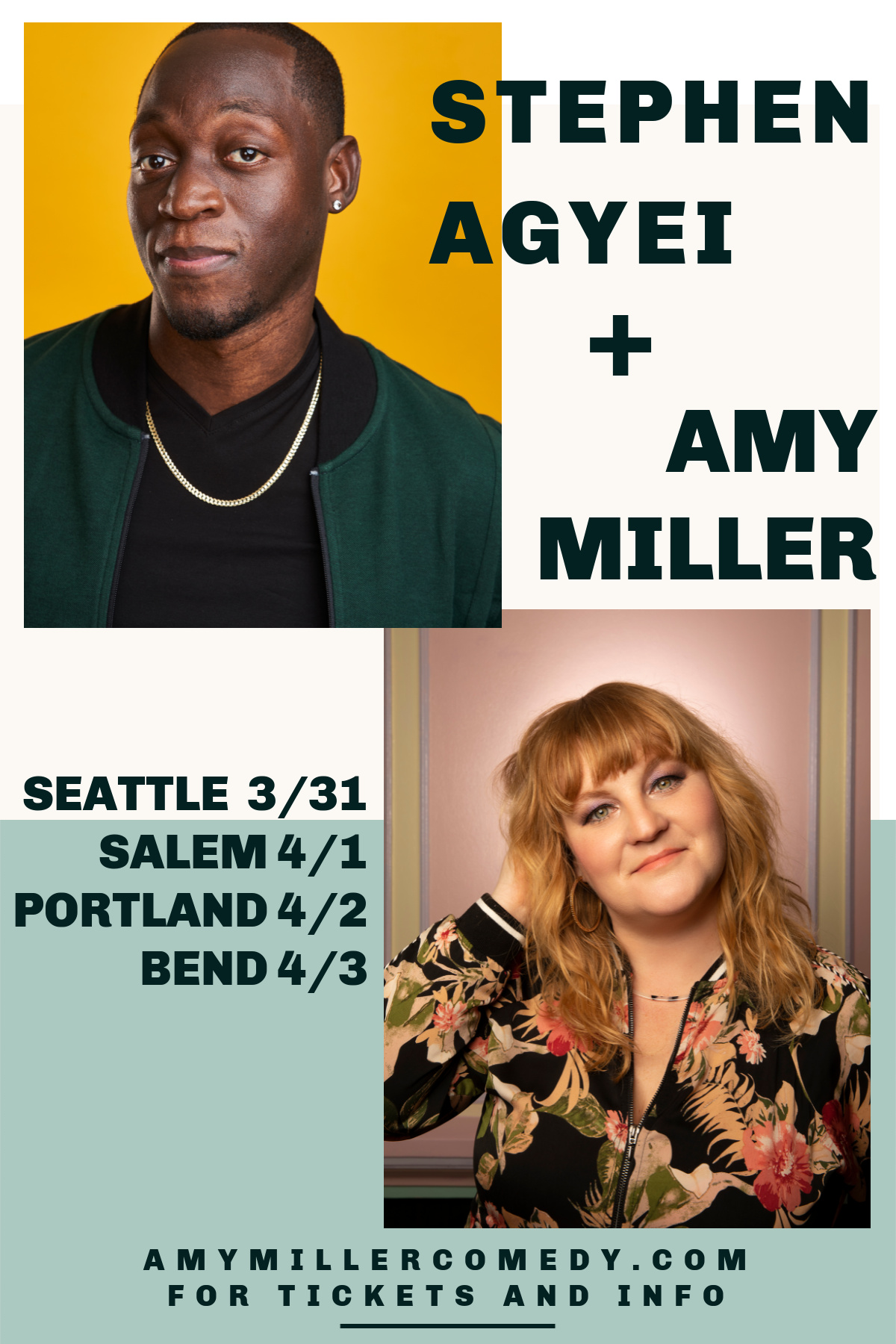 Stephen Agyei & Amy Miller
Sat, Apr 2, 2022 from 8pm - 10pm
Stephen Agyei & Amy Miller at The Siren Theater! One night only!
Stephen Agyei is a Stand-Up Comedian, Actor and writer who hails from Denver, CO. Noted for having the whitest teeth in Denver, he became one of the city's most sought-after comedians. Shining brightly with his mischievous smile, the Comedy Works regular was the winner of the 2012 Comedy Works' Clean Comedy Contest, and 3-time finalist in the venue's New Faces contest; With a style described as "calculated fearlessness."
The LA-based comedian has been featured in BoJack Horseman on Netflix, Just For Laughs Digital, The LOL Network, Viceland's Flophouse and NPR's "All Things Considered." You may know his face from his National commercial work for Realtor.com, Remi Martin w/Usher (Directed by Jake Nava), and Voiceover on Cartoon Network's Tig-N-Seek.
Amy Miller was one of Comedy Central's "Up Next" comics, and as a brand new comic she was a breakout favorite in the final season of Last Comic Standing. She has a half hour comedy special on Epix's Unprotected Sets and her Comedy Central Presents set has been viewed over 3 million times on Youtube and Facebook. She was also a featured comic on Viceland's Flophouse. On Last Comic Standing, Keenen Ivory Wayans said she had one of the "fiercest jokes he had ever heard." Originally from the East Bay, Amy found her comedy chops in Oakland and is still a regular at the SF Punch Line and Cobb's Comedy Club. Her material is personal, political, and 100% authentic. After a move to Portland, Amy quickly rose to the top of the Pacific Northwest comedy scene, winning Portland's Funniest in Helium's 2015 contest, as well as being voted Portland's Funniest Comedian for 2013 and 2015 in the Willamette Week. She was the first woman to win each position and the only one to win all three.
Amy's debut album Solid Gold is available on Kill Rock Stars, and was named one of the top 10 comedy albums of 2016 by The Interrobang. You may have also seen Amy on Viceland or heard her on Sirius XM, NPR, Doug Loves Movies, The Adam Carolla Show, The Bennington Show, Put Your Hands Together, All Fantasy Everything, Keith and the Girl, or her own podcast "Who's Your God?"
Opening up the night will be Portland's Shain Brenden!
$15 adv/ $20 door
7:30 doors/ 8:00 show
sirentheater.com