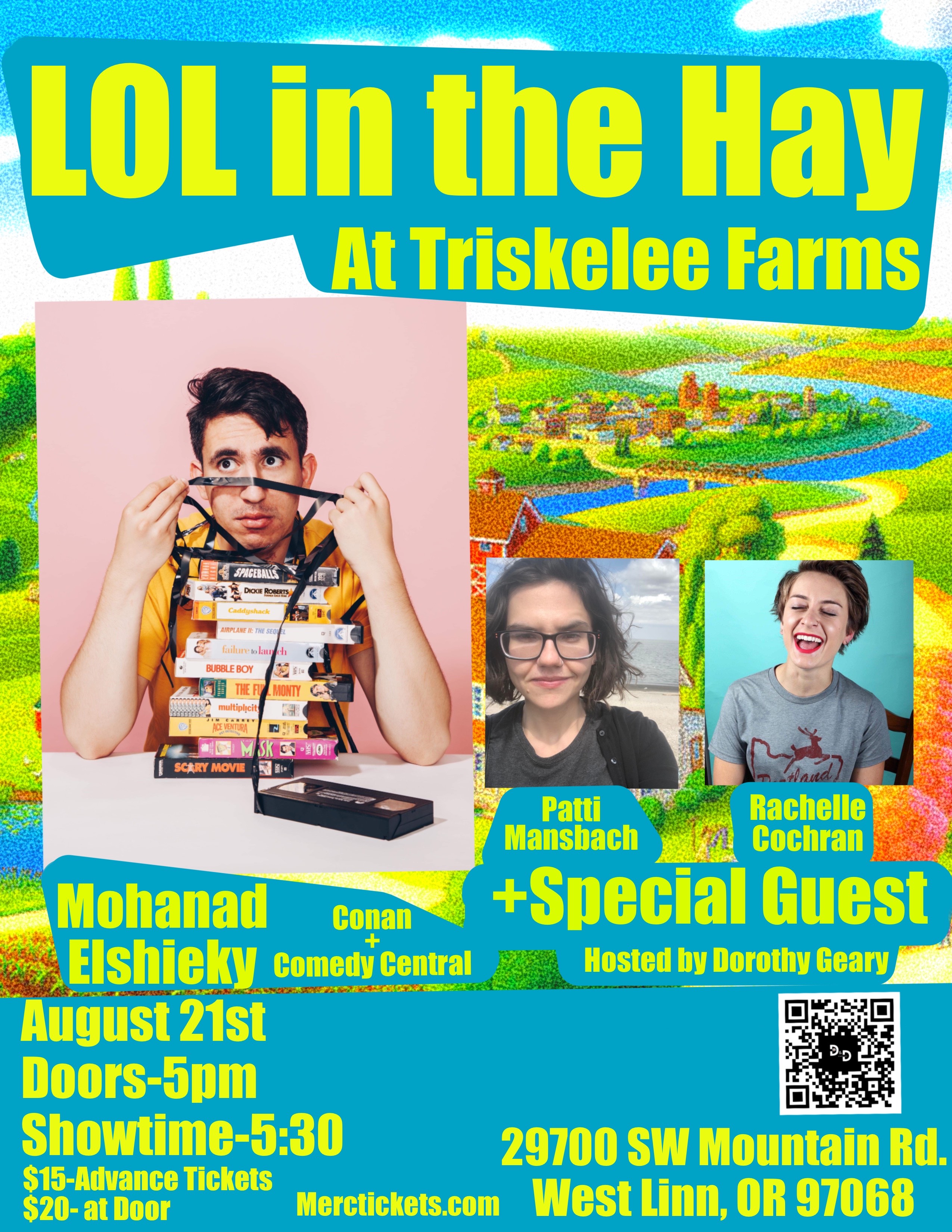 D&D Comedy Presents LOL in the Hay
Sun, Aug 21 at 5:30pm
Recommended 16+
No outside alcohol
bring a chair or a blanket
Everyone should go to at least one comedy show on a farm before summer ends. Sit on a bale of hay or bring a chair and enjoy wine, beer, Bellagio's pizza and laughter just 15 minutes from Portland.
Triskelee Farm opens a 4:45 and the show starts at 5:30
MOHANAD ELSHIEKY is a New York based comedian who made his national TV debut on Conan, has been featured on Comedy Central, and has toured with Pop Up Magazine. In 2018, he appeared in an episode of Epix's "Unprotected Sets" and was listed as one of Thrillist's 50 Best Undiscovered Comics. Mohanad, who is currently a digital producer on Full Frontal with Samantha Bee, has a special skill for making you laugh at the seemingly unlaughable. The Libyan-born comedian combines a deceptively laid-back demeanor with his whip-smart perspective on politics and culture. the Portland Mercury called him "an undisputed genius of comedy", and he's been featured on podcasts such as Lovett or Leave it, Pod Save the People and Harmontown. Elshieky zeroes in on topics that seem off limits—then surprises you with how hard you're laughing.
You will be glad you got to see the SPECIAL GUEST COMEDIAN from LA.
The show also features RACHELLE COCHRAN and PATTI MANSBACH, two popular Portland comedians who will add to the evening's laughter.