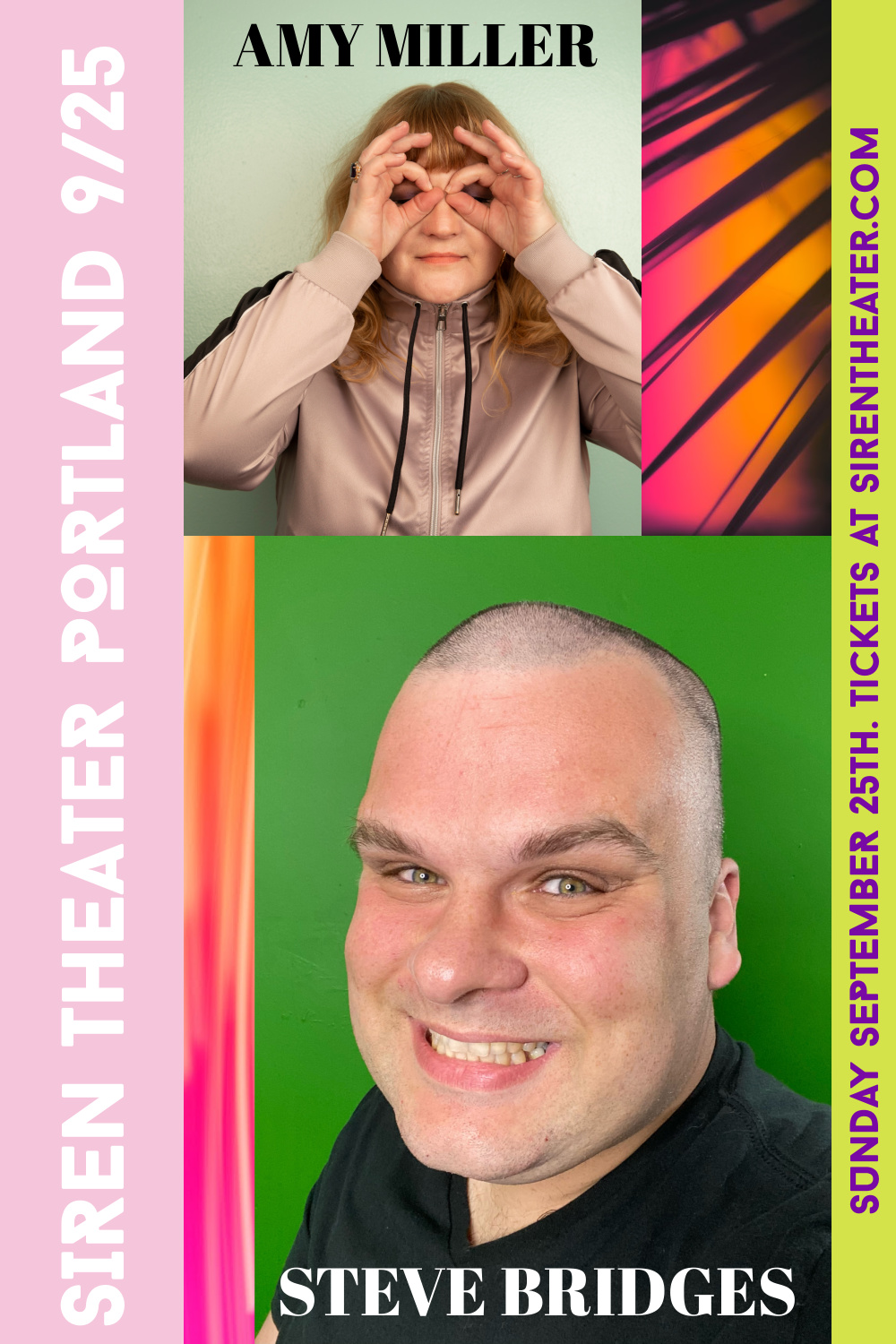 Amy Miller + Steve Bridges
Sun, Sep 25 from 7:30pm - 9:30pm
Amy Miller & Steve Bridges!
One night only!
About Steve: Steve Bridges is a Viral TikTok star from Astoria, Oregon. When he's not blinding himself with his ring light you can find him shooting his family with Nerf guns.
About Amy: Amy Miller has a brand new Half Hour Special called Ham Mouth on Comedy Central. As a brand new comic she was a breakout favorite in the final season of Last Comic Standing. Amy is a paid regular at The Comedy Cellar, The Hollywood Improv, The Punch Line, The Comedy and Magic Club, basically every Laugh Factory that books women, and is in development at The Comedy Store. She has a half hour comedy special on Epix's Unprotected Sets and her Comedy Central Presents set has been viewed over 4 million times on Youtube and Facebook. She was also a featured comic on Viceland's Flophouse. On Last Comic Standing, Keenen Ivory Wayans said she had one of the "fiercest jokes he had ever heard." Originally from the East Bay, Amy found her comedy chops in Oakland and is still a regular at the SF Punch Line and Cobb's Comedy Club. Her material is personal, political, and 100% authentic. The Laugh Button says "She found a wildly creative way to find empowerment while simultaneously sparking laughter" and Courting Comedy says "Miller juxtaposes an unassuming demeanor with unflinching assurance." After a move to Portland, Amy quickly rose to the top of the Pacific Northwest comedy scene, winning Portland's Funniest in Helium's 2015 contest, as well as being voted Portland's Funniest Comedian for 2013 and 2015 in the Willamette Week. She was the first woman to win each position and the only one to win all three.
Amy's debut album Solid Gold is available on Kill Rock Stars, and was named one of the top 10 comedy albums of 2016 by The Interrobang. You may have also seen Amy on Viceland or heard her on Sirius XM, NPR, Doug Loves Movies, The Adam Carolla Show, The Bennington Show, All Fantasy Everything, Keith and the Girl, or her own podcast "Who's Your God?."
Amy is a nationally touring festival and comedy club headliner, and she has performed in the Moontower Comedy Festival, Bridgetown Comedy Fest, SxSW, the High Plains Comedy Fest, Laughing Skull, Big Sky, San Francisco Sketchfest, the Bumbershoot Festival and more.
At The Siren Theater (315 NW Davis)
Sunday, September 25
Doors at 7:00 show at 7:30
$20 adv/ $25 door
sirentheater.com for more info
The Siren Theater is all ages but not all show content is. Use your discretion when bringing younger audience members.