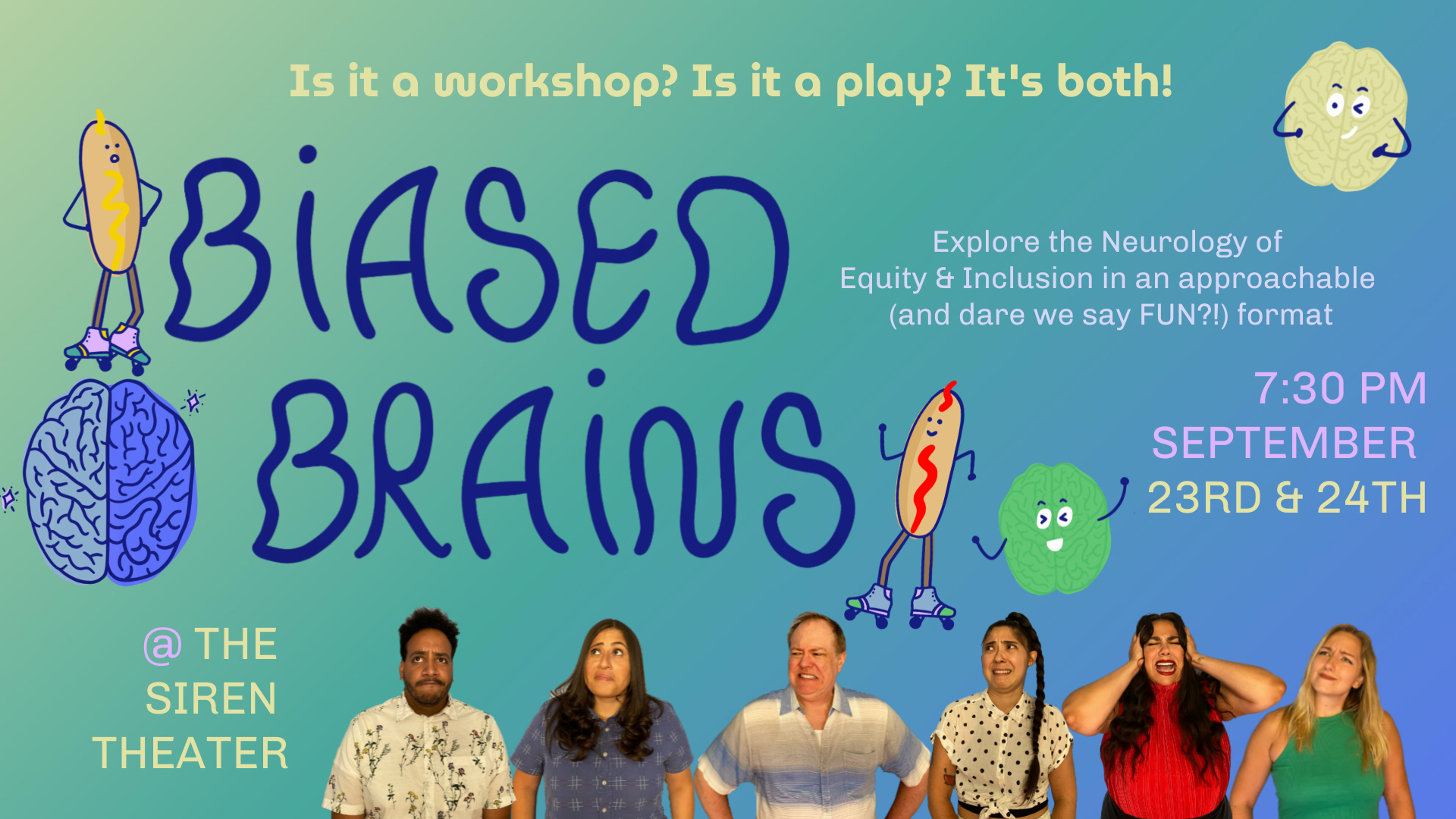 Biased Brains


Creating Belonging & Inclusion for Minoritized Folx
Sat, Sep 24, 2022 at 7:30pm
Beer, Wine, Cider
All Ages
ADA Friendly
Why Do Our Brains Care About Belonging & Inclusion?
We're leaving shame 'n' blame at the door as we explore the Neurology of Equity & Inclusion in an approachable (and dare we say FUN?!) format. Is it a workshop? Is it a play? It's BOTH!
We'll first learn about why our brains are hard-wired to do some weird sh*t in a 45-minute workshop facilitated by Monica Dailey. Everyone is at different stages in their personal Equity, Diversity, and Inclusion (EDI) journeys, and this workshop will be an opportunity to check in with yourself and take advantage of this safe space for quiet self-reflection. There will be no group discussion or public sharing.
After a 15-minute intermission, the workshop concepts come to life in a scripted play. Welcome to Sk8Town, where our fun-loving roller rink employees experience a barrage of brain biases! Our fully BIPOC and/or LGBTQIA+ cast collectively wrote the script, drawing on personal experiences and sprinkling on humor to make these stories more palatable.
STARRING & WRITTEN by Elena Afanasiev, Jonathan Wexler, Mariah Mercedes Munoz, Monica Dailey, Shelly Santa Cruz, and Talon Bigelow
TICKETS: Suggested scale of $20-$40 (PWYW)
RAFFLE PRIZES: Expect goodies galore from local PDX businesses
Doors at 7:00pm / Show at 7:30pm
- Cash & card accepted for concessions & tickets at the door
- Masks are highly appreciated when not actively drinking or eating
- Please stay home if you are not feeling well or have had recent exposure
- Performers will not be masked
**Biased Brains is funded in part by the Regional Arts & Culture Council**

Monica Dailey is a seasoned corporate facilitator (10+ years!) and PDX artist. Whether producing for film, theater, or vending machine experiences, she strives to create artistic environments where folx feel safe to bring their authentic selves and create connections. With a focus on FUN & inclusion, Monica encourages learners with her contagious enthusiasm and open heart.
As a certified facilitator for Paloma Medina's 4-part workshop series: The Neurology of Equity & Inclusion at Work, Monica hopes that support for Biased Brains will fund future events to continue our collective learning!