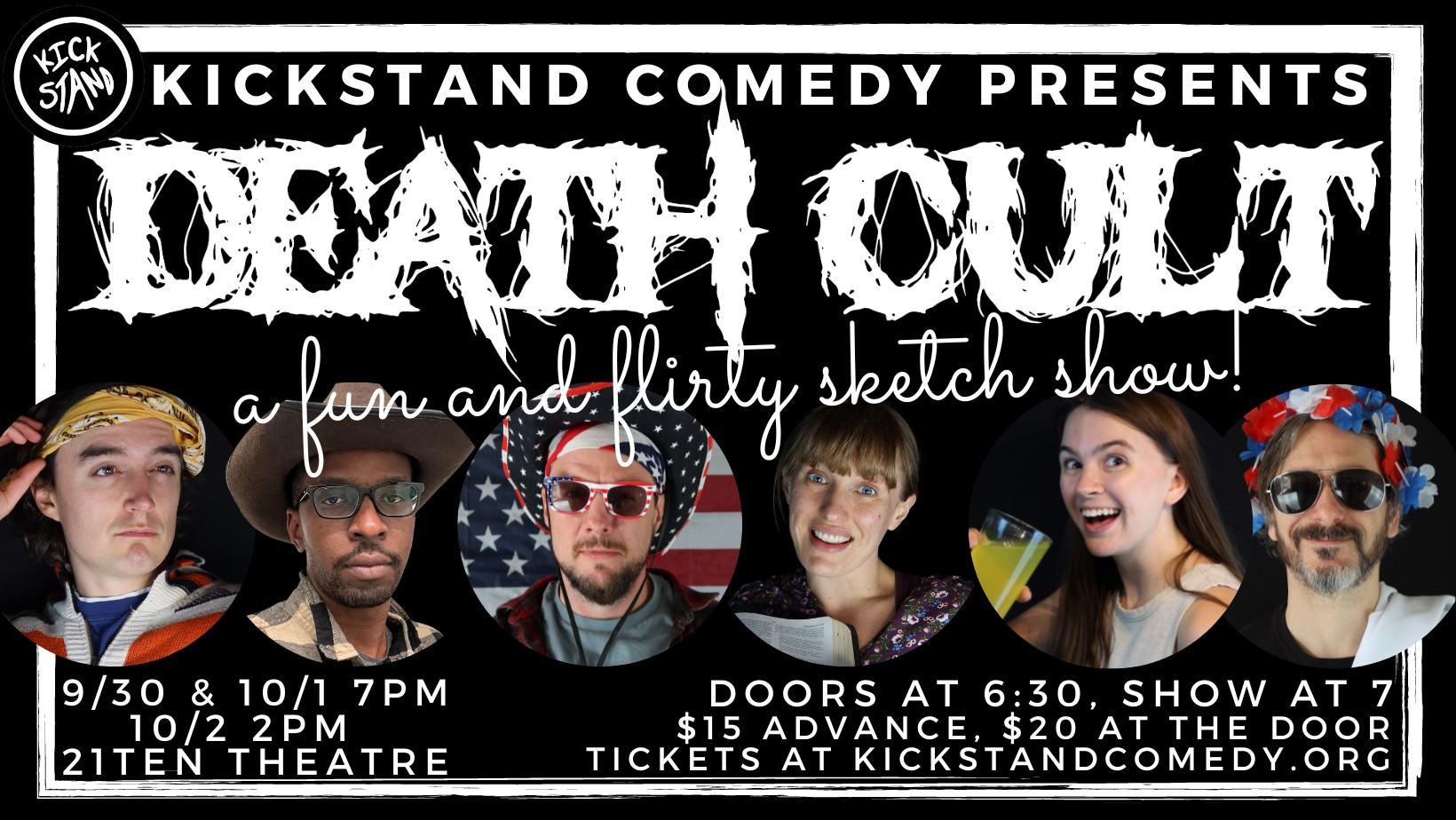 Kickstand Comedy Presents:
DEATH CULT: A Fun and Flirty Sketch Show
Kickstand Comedy Presents:

Death Cult: A Fun and Flirty Sketch Show!

Drink the Kool-Aid of comedy while we await the spaceship together!

Death Cult is a sketch comedy show which seeks to answer all of your existential questions in exchange for your worldly possessions and unfaultering loyalty. Stare into the void with us as we purchase religious insurance, conduct a police bureau audit, watch horny spy
movies, and so much more!

Starring Portland's top comedic talent:

Alex Beeken (Friends With Formats Podcast)
Jaren George (Kickstand Comedy In the Park)
Ryan King (Death Hammer)
Nariko Ott (Helium Comedy Club)
Tory Ward (Helium Comedy Club)
Lauren Sigler (Kickstand Comedy)

Directed by Dylan Reiff (Artistic Director of Kickstand Comedy)

**Must have full proof of vaccination

**Kickstand Comedy strives to eliminate barriers from comedy - a
portion of seats at every Kickstand show are pay-what-you-want at the
door.

WHEN: Sept 30th and Oct. 1st • Doors at 6:30pm // Show at 7:00pm -
Oct. 2nd (Matinee) • Doors at 1:30pm // Show at 2:00pm

WHERE: 21ten Theater • 2110 SE 10th Ave, Portland, OR 97214
(formerly The Shoebox)

TICKET PRICES: $15 in Advance / $20 at the door / ART SUPPORTER $100 / PWYW**

ARTS SUPPORTER ticket includes:
- TWO tickets for entry
- Kickstand Swag
- A Death Cult poster signed by the cast
- That fuzzy feeling inside that you're supporting local comedy!

PRESENTING SPONSOR Kickstand Comedy is a 501c3 non-profit, an all-inclusive space for Portland's comedy scene to perform, collaborate, and learn. They offer shows, affordable comedy classes, and development opportunities for the community. Kickstand strives to break down the barriers to seeing and doing comedy. Expect curated live comedy with a focus on quality, community, and unique voices.