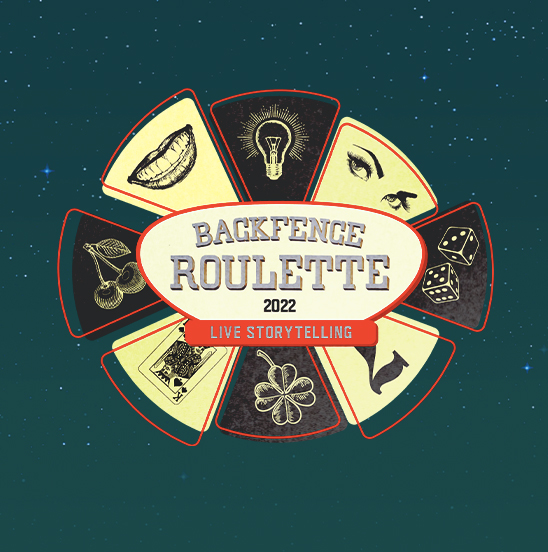 BACKFENCE PDX: ROULETTE
Sat, Mar 11 from 7:30pm - 9:15pm
VIP
more info
Reserved seating until start of show + VIP goody bag!
PARTY PACK discount (5 or more people)
Doors 6:30 I Show 7:30 Come early enjoy a drink, the art gallery, and lovely space.
Come and see first show in the 2023 season at ALBERTA HOUSE to hear some incredible stories!
Hosted & Produced by FRAYN MASTERS & MINDY NETTIFEE
_____________________
STORYTELLERS FOR THIS ROUND:
GRANT GOSCH Our Dec 3 ROULETTE winner returns! Grant has written and directed content for Nike, Intel, and other global brands. While working for large brands, his passion for storytelling translated to a weekly live storytelling performance called Live from Ocean Creek. Grant's latest novel Kingfisher Lane can be found on Amazon. He's adamantly opposed to both daylight savings time and salad spinners.
EDEN DAWN is the host of Bad Dates live talk show and Fashion in Film at the Hollywood Theater, the author of Portland Book of Dates (and manyyyy articles from her years as a journalist), and the owner of Claws Out nail polish. She was once rescued from a flash flood in Israel by being carried in the scoop of a bulldozer through the raging waters. You can read more things about her on Al Gore's Internet. She is a past ROULETTE winner!
MONICA CHOY is an artist, medicine maker, cat communicator, sometimes psychic, kitchen witch, who once criss-crossed the country in a giant tortoise tent trading objects and their stories with strangers in 33 cities. She is a past ROULETTE runner up (by like two votes!)
DAYVID FIGLER is a performer, author and trial lawyer. As native Las Vegan, he became one of the youngest lawyers in Nevada history after successfully taking the bar exam at age 23. Voted favorite Las Vegas Poet, he is also one of the hosts of the Las Vegas Citycast podcast.
_________________________
How does BACKFENCE PDX: ROULETTE work? Each show begins with a giant game show size wheel packed with juicy story prompts. One of our five seasoned storytellers is randomly drawn. To determine the random prompt for their story, they spin that giant wheel! They can play or pass their prompt (once). If they pass, another teller can steal their prompt. Then the risky part… each storyteller has only 5 minutes to come up with a true 5-minute story based on their prompt! It's like we invented a new game called truth AND dare. The audience votes on a winner at the end of the night – both the storyteller winner and one lucky audience member win a veritable bevy of prizes! We'll have some other new surprises for 2023 shows!
________________________
When you buy tickets to our shows you automatically help support our Triple 10 Donation Coalition! What is that you say? Both the shows and the venue have committed to donating portions of profits to support the community. BACKFENCE PDX: ROULETTE has donated 10% of all ticket sales to Oregon Food Bank since 2016, and will continue to do so, to fight food insecurity. 10% of ticket profits from the BAD DATES show go to the Q Center and the work they do supporting our LGBTQ+ community as everyone deserves to be loved just as they are. And ALBERTA HOUSE will set aside 10% of its bar sales into the BACKFENCE PDX Community Pot, providing assistance to those who need funding to hold events at Alberta House.