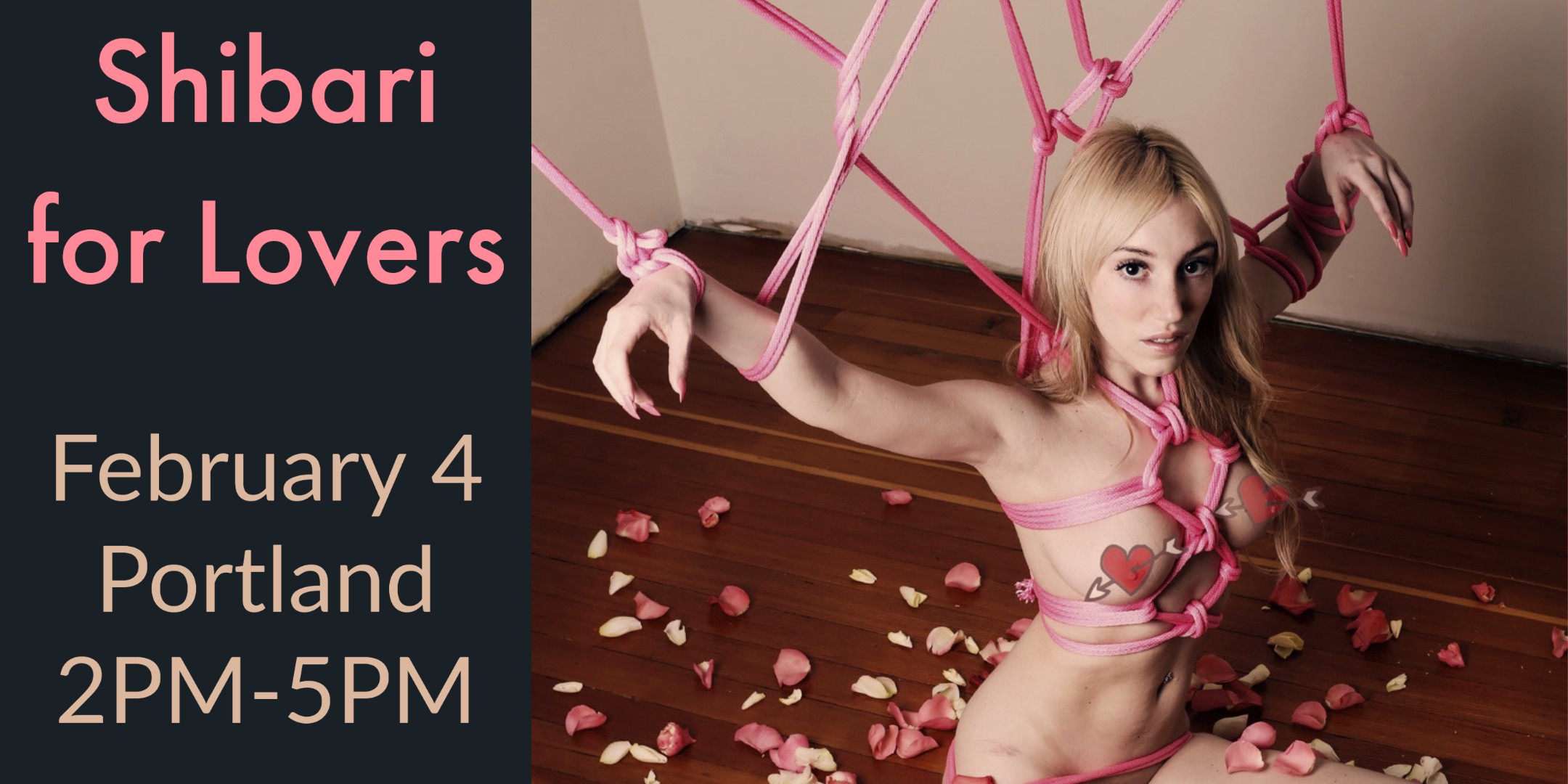 Portland Shibari Salon Presents
Shibari for Lovers 2-5PM


a workshop with Jonathan & Sappho

Sold Out—Please click the link at top of event to be added to the waitlist
This Workshop is Sold Out—but please click here to be added to the waitlist!
Come learn to make your rope play hotter, deeper, and more intimate in a fun, playful, supportive class!
Fancy ties are cool, but for many people, the attraction of doing rope is the powerful feelings of intimacy, power, and surrender it evokes. In this three-hour class, we'll explore safe, beautiful, and effective ways to move away from just putting knots on your partner, and build skill and intuition for tying the spirit. Drawing especially on the traditional and beautiful ties found in the Japanese art of Shibari/Kinbaku, and core physical partner skills found in martial arts and dance, we'll explore exercises for building intimacy with rope. We'll also learn basic knots and ties needed to make your rope look and feel sexy on your partner, and of course, examine safety issues as well.
Tops: This is a great class for learning those precise tying and key soft skills for making a rope scene hot.
Bottoms: This is a great class for learning how to mesh and connect with your partner in rope! Expect to spend the majority of the class getting plenty of hands-on practice in a friendly, relaxed environment.
There is no prerequisite for this course, and it is definitely appropriate for all genders, sexual orientations, and body types.
Equipment & Dress: Comfortable clothing that is easy to move in and snug fitting. No nudity, please.
Rope tops will need to bring:
(2) 26' to 30' ropes, and (2) 12' ropes 5-6mm in diameter. Hemp or Jute is recommended. It's also helpful to have some shorter lengths of rope in your kit. Need Rope? We have a special kit for sale for this workshop! Contact us for details.
To ensure personal attention to each participant, class size will be limited to 8 duos. Due to the small class size, early registration is highly recommended.
Please note that proof of vaccination is required to attend this event. You will show proof to Jonathan or Sappho during check-in before the start of the workshop. No refunds or credit will be issued within 7 days of the event.
About the Educators:
International rope artist Jonathan (Seattle Shibari)performs on stage, ties for photoshoots, and teaches the art of Japanese-style rope bondage. Jonathan has taught numerous sold-out workshops, and teaches & performs internationally. He holds a teaching license awarded to him by Kinoko Hajime of Tokyo, Japan, and works to spread appreciation for this beautiful art via his website, SeattleShibari.com.
Sappho is an unabashed lover of rope who brings expertise in Latin dance forms and a spirit of sensual inquiry to her kinbaku. She and Jonathan have taught & performed together in the Americas, Europe, and Asia. Sappho combines a methodical analysis of physical movement with a deep knowledge of neuro-anatomy in her approach to rope bottoming, and loves to share this knowledge with others.