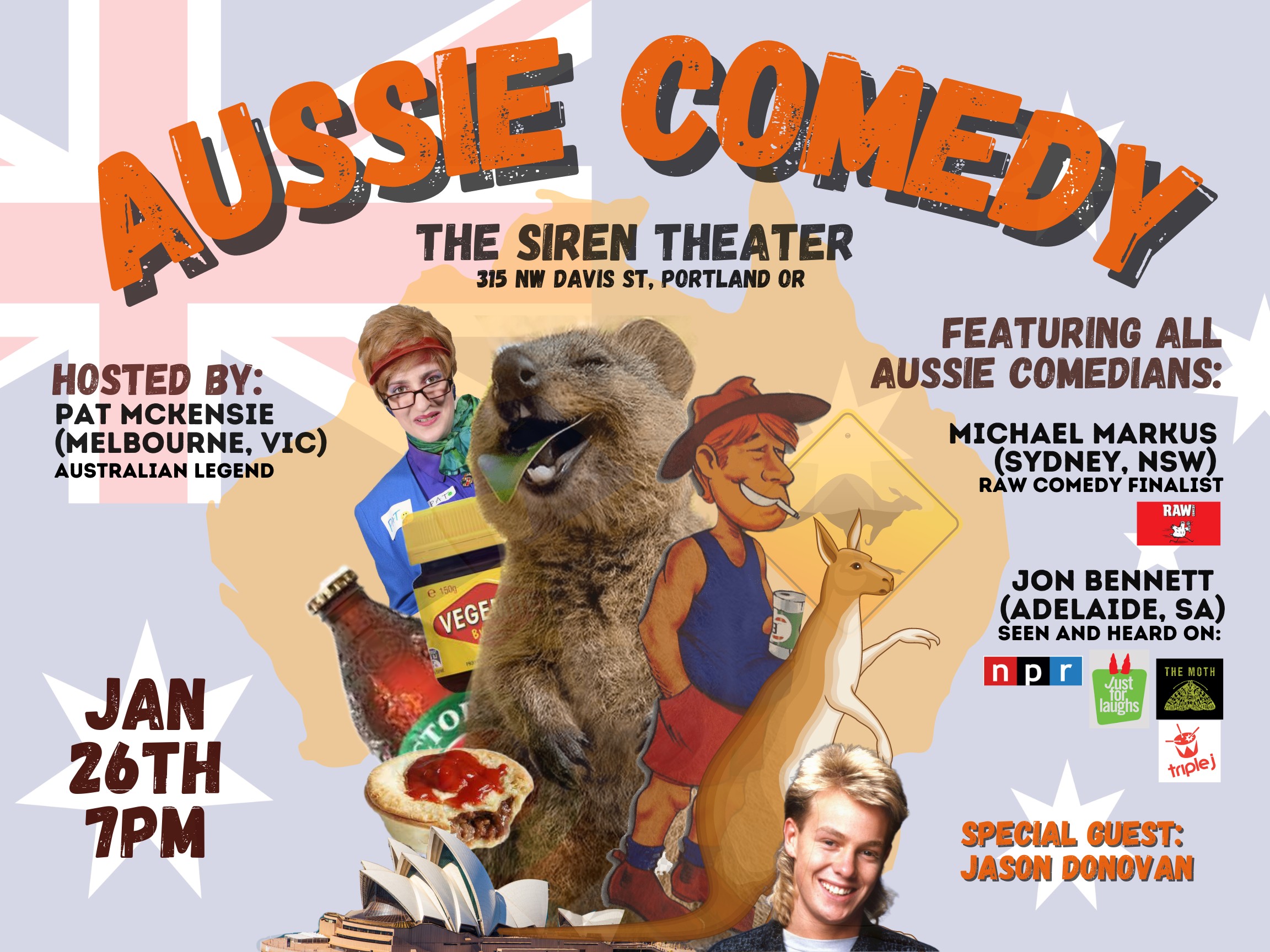 Aussie Comedy Night
Thu, Jan 26 from 7pm - 9pm
One night only!
Celebrate Australia Day in Portland and join an all-Aussie lineup for a side-splitting evening of stand-up comedy. Taking to The Siren Theater stage are Michael Markus (Triple J RAW Comedy finalist), Pat McKensie (Australian Cultural Ambassador of Australia (self appointed)), and Jon Bennett (NPR, The Moth, New York Times Best Seller). They will be serving up the best of their humour from down under. There's no better way to embrace the Aussie spirit than this exclusive, one off comedy show. Aussie! Aussie! Aussie! Oi! Oi! Oi!
Doors at 6:30/ Show at 7:00
$15 Early Bird Tix (available until 1/19) $20 general admission
sirentheater.com for more info
Michael Markus is an Australian Comedian from Sydney who now lives in Portland, Oregon. A no frills, no nonsense man who gives you exactly what you ask for: laughter. He's seen some things and some stuff.
Pat McKensie: Australian Cultural Ambassador of Australia (self appointed), DIY health practitioner and inspirationalist, Pat McKensie is taking the world by storm. Whether it's teaching Australia 101 to anyone who'll listen, or simply having a cuppa (cup of tea) and a bickie (cookie), Pat will inspire you with her larger than life personality and home-grown wisdom. Born in Frankston, Melbourne, Pat now tours the world educating the masses on the many marvels of Earth's most adored continent, her beloved homeland: Australia!
"...she has the beauty of Dame Edna coupled with the expertise of a not-so-experienced, Crocodile Dundee." (Pat's sister, Marie)
Emily June Newton is an international multi-skilled comedic performer specializing in the areas of clown, physical comedy and character creation. Originating from Australia, she now resides in Portland, Oregon. Emily has performed both nationally and internationally with companies including Terrapin Puppet Theater (AUS), Oregon Children's Theater (OR, USA), The Children's Art Theater of China (Shanghai, CHN) and Dell'Arte International (CA, USA). She also writes, performs and tours solo interactive comedic works throughout the USA including 'Frank: to be Frank' and 'For the love of down under: an evening with Australia'. Emily holds a Master of Fine Arts (MFA) degree in Ensemble-Based Physical Theater from Dell'Arte International (CA, USA), and is a member of the Coho Clown Cohort (CoHo Productions PDX).
Jon Bennett is a world renowned comedic storyteller and 7 X JUST FOR LAUGHS AWARD nominee. Jon's comedy career began in his homeland Australia, and after 18 years in the business he is now known as one of the most prolific storyteller-comedians touring the world.With a total of 8 one-hour-long individual comedy shows (Pretending Things are a Cock, Fire in the Meth Lab, My Dad's Deaths, How I Learned to Hug, IT'S RABBIT NIGHT!!!, Playing With Men, Jon Bennett VS Jason Donovan, Jon Bennett: Jonbenet) and appearing in over 125 festivals, Jon is constantly performing across the globe making people laugh through exceptional comedic storytelling.
After touring the world for the past 10 years, Jon now calls Portland, Oregon home.