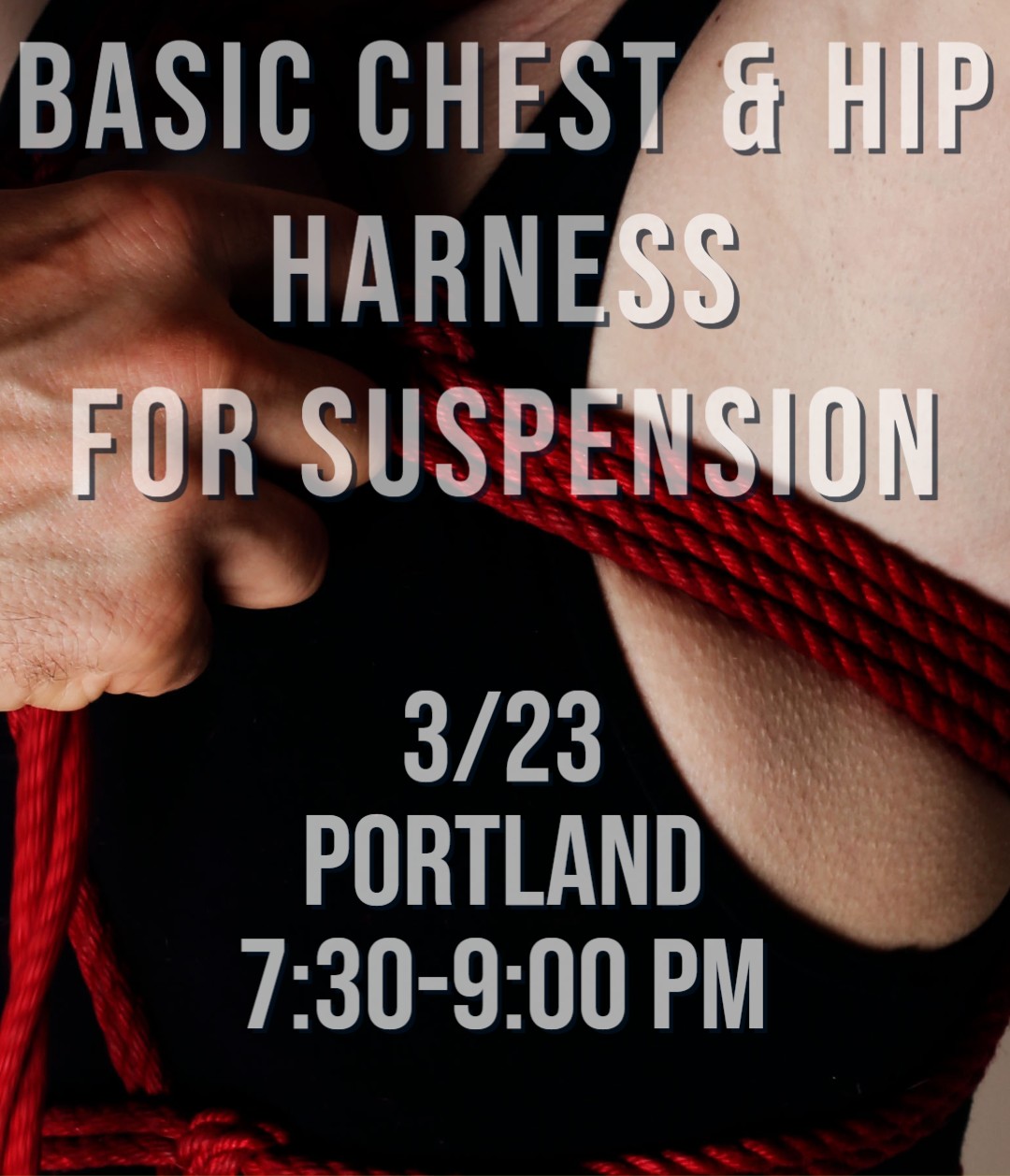 Portland Shibari Salon Presents
Shibari Chest Harness & Hip Harness for Suspension


a workshop with Jonathan & Sappho

Sold Out—Please click the link at top of event to be added to the waitlist

Chest & Hip Harnesses are two of the primary ties used for shibari suspension. Come learn to tie two reliable, suspension-worthy harnesses in this 1.5 hour workshop at the Portland Shibari Salon! We'll study & practice:
anatomy considerations and nerve safety
adaptions based on differences in body shape
proper rope tension
precise rope positioning
several types of frictions
We'll also discuss consent & negotiation associated with rope bondage, and learn tips & tricks for tying fluidly.
Prerequisite: Tying Participants should be able to easily and reliably tie a secure, non-collapsing single-column tie quickly and without difficulty, and be familiar with basic rope bondage ties such as a basic chest harness.. Participants being tied should feel comfortable communicating about rope tightness or discomfort with your partner. Due to the pacing of this class, while you are free to switch roles, you likely will not have time to do so. Therefore, it is optimal to have one person tie.
Please bring:
(5) 26'-30' lengths of soft rope, about 5-6mm in diameter. .
(1-2) 12—15' lengths of soft rope, about 5-6mm in diameter.
Need Some Rope? We have high-quality jute bondage rope for sale that can be delivered to you at start of the workshop. Please contact us for details.
This workshop will be limited to 8 tying pairs. Due to the limited size, early registration is recommended. No refunds or credit will be issued within 7 days of the event.
Please note that proof of vaccination is required to attend this event. You will show proof to Jonathan or Sappho during check-in before the start of the workshop.
About the Educators:
International rope artist Jonathan (Seattle Shibari)performs on stage, ties for photoshoots, and teaches the art of Japanese-style rope bondage. Jonathan has taught numerous sold-out workshops, and teaches & performs internationally. He holds a teaching license awarded to him by Kinoko Hajime of Tokyo, Japan, and works to spread appreciation for this beautiful art via his website, SeattleShibari.com.
Sappho is an unabashed lover of rope who brings expertise in Latin dance forms and a spirit of sensual inquiry to her kinbaku. She and Jonathan have tuaght & performed together in the Americas, Europe, and Asia. Sappho combines a methodical analysis of physical movement with a deep knowledge of neuro-anatomy in her approach to rope bottoming, and loves to share this knowledge with others. Together with Jonathan, she directs the Portland Shibari Salon.