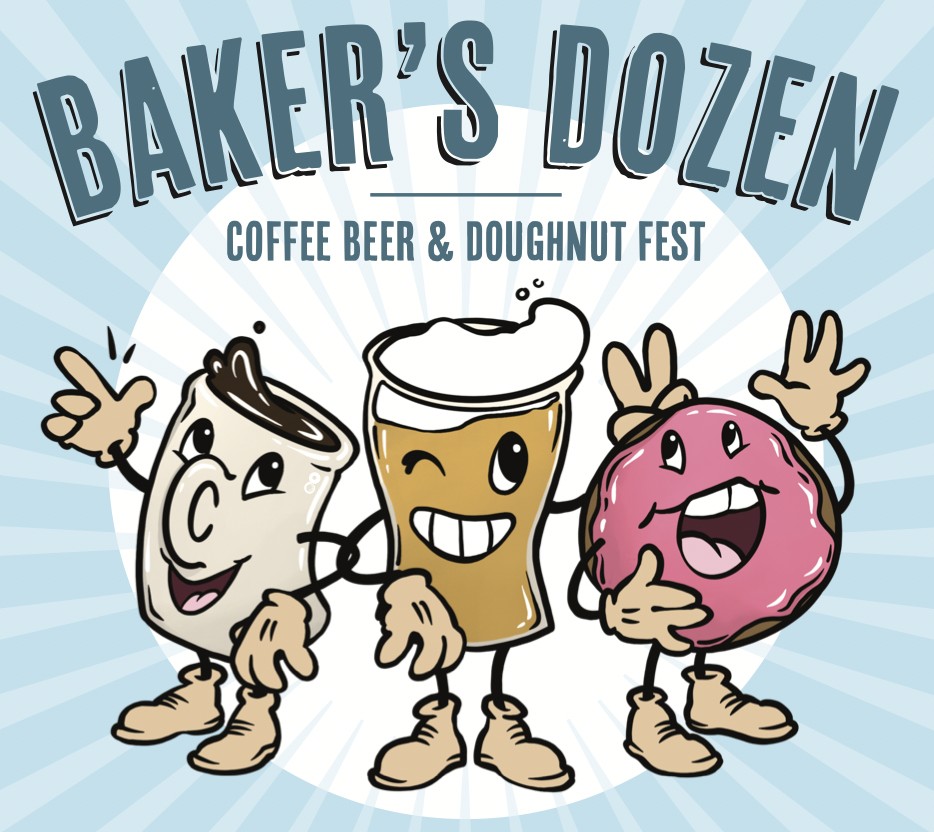 2023's 7th Annual Baker's Dozen Coffee Beer & Doughnut Festival
Sat, Apr 22 from 10am - 1pm
Admission + SHIRT (shown below)
more info
This ticket includes the official Baker's Dozen Fest shirt to be picked up at the event. Scroll down for shirt mock-ups FRONT & BACK. Sizes S-XL (2-3XL $3 extra). LIMITED TO 20.
The 7th Annual Baker's Dozen melds 3 things Portland does best: coffee, beer, and doughnuts. Each brewer uses beans from a different roaster. Admission includes all 13 coffee beers, samples of several of the specific coffees, morsels of all 13 doughnuts, and a souvenir glass. (No extra drink tickets needed/sold). As always, several of the specific coffees featured in the beers will be available to sample. Tickets are only available for those 21+, though all ages are welcome to attend. (Also please note: doughnuts not sold separately; only available with event admission). Keep up on event info at Facebook.com/BakersDozenFest or Insta, @BakersDozenFest. Cheers.
Tickets are $40 and only 500 are available. If not sold out in advance, tickets will be $50 at the door.
2023 Breweries (beers subject to change):
Breakside
Departed Soles (exclusive coffee doughnut stout from New Jersey)
Deschutes
Fracture collab w/ Great Notion (made with Portland Cà Phê Roasters)
Fremont (barrel-aged coffee-cacao-vanilla stout)
Gateway (made with Rocky Butte Coffee)
Labyrinth Forge (barrel-aged coffee stout made with Trailhead Coffee)
Little Hop (made w/ Ace Run Roastng)
Living Haus (made w/ Puff Coffee)
McMenamins (made with house-roasted coffee)
Steeplejack
Threshold (made with Hinterland Coffee)
Wayfinder (made w/ Proud Mary Coffee)
2023 Bakeries (doughnuts subject to change):
Angel's
Annie's Donuts
Blue Star
Coco Donuts
Delicious Donuts (Double D)
Donut Queen
Hey Day
Heavenly Donuts
Helen Bernhardt Bakery
Joe's Donuts
Matt & Memere's
Sesame Donuts