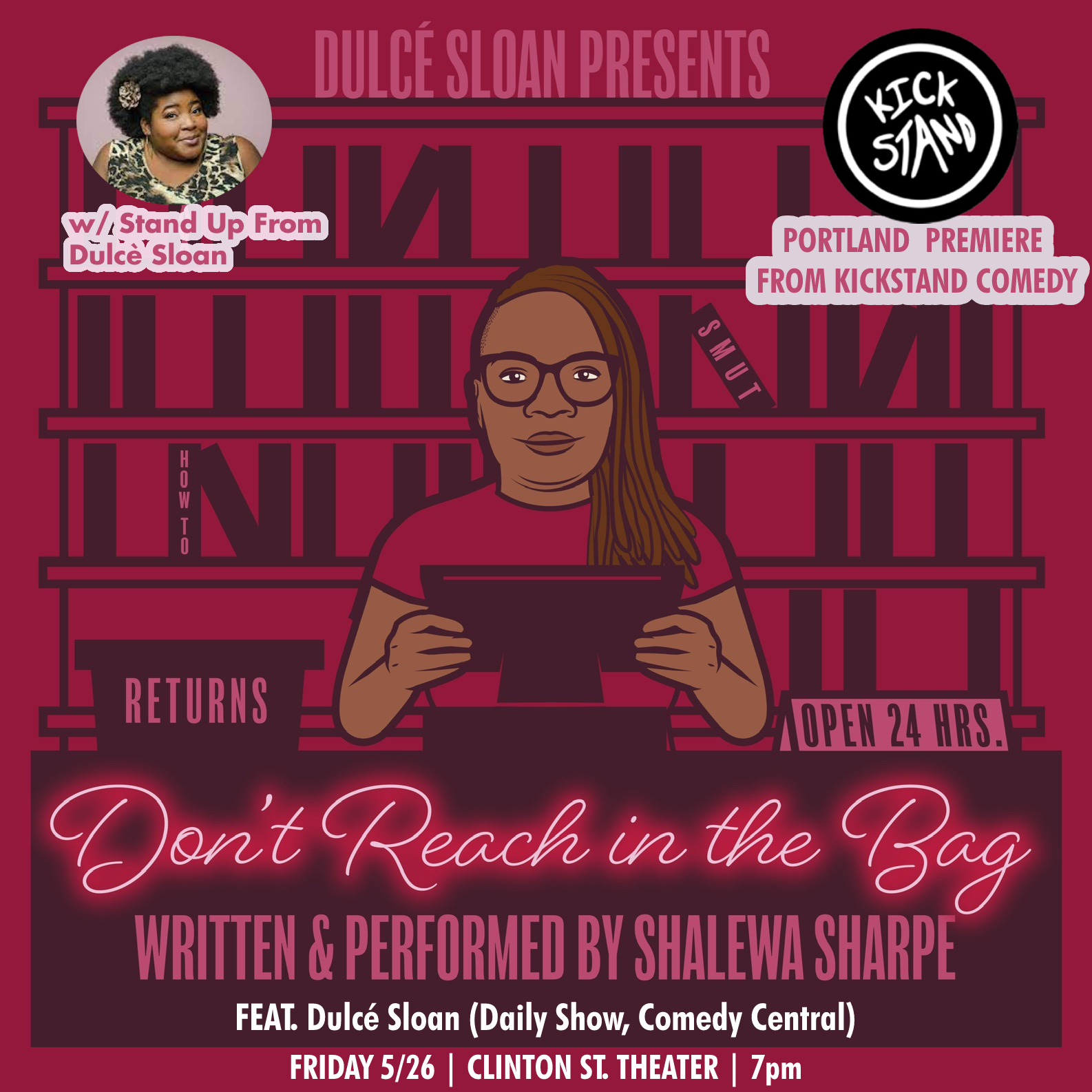 Kickstand Comedy Presents:
Shalewa Sharpe: Don't Reach in the Bag feat. Dulcé Sloan
Fri, May 26 at 7pm
18+
Beer / Wine / Cider
Snacks
ADA Accesible
Kickstand Comedy + Dulcé Sloan Presents the Portland Premiere of: Shalewa Sharpe: Don't Reach In The Bag
Kickstand Comedy is proud to bring a brand new solo show from the amazing and hilarious Shalewa Sharpe (HBO, Comedy Central) to Portland.

SHALEW SHARPE: DON'T REACH IN THE BAG
A prudish young woman's unusual job leads her to valuable life lessons in "Don't Reach In The Bag" - a solo show written by comedian Shalewa Sharpe about working in an adult video store at the turn of the century. With freewheeling stories and razor sharp insights, Shalewa chronicles her attempts at being cool with smut peddling. Both hilarious and heartwarming, "Don't Reach In The Bag" is a must see show about the people who need porn and the folks brave enough to sell it to them.

The show will kick off with a stand up set by Dulcé Sloan (Daily Show, HBO)
This show most certainly excels…thanks to Sharpe's clear talent as both a writer who pays attention to detail, and a performer who tells her stories with both humor and charisma that make it impossible to stop paying attention to each word she says.
-Anthony Piccone

Brooklyn-based comedian Shalewa Sharpe has appeared on HBO, Comedy Central, The CW, Peacock, and Showtime. She has two albums: "Stay Eating Cookies" (2016) and "So You Just Out Here?" (2019), both available everywhere. She is currently a co-host of the weekly podcast, "The War Report with Gastor and Shalewa." She can be found on Twitter and Instagram at @silkyjumbo

WHEN: Friday, May 26th • Doors at 6:00pm // Show at 7:00pm
WHERE: Clinton St. Theater - 2522 SE Clinton Street, Portland, OR 97202
TICKET PRICES: $25 in Advance / $30 at the door / PWYW**

**Kickstand Comedy strives to eliminate barriers from comedy - a portion of seats at every Kickstand show are pay-what-you-want at the door.
PRESENTING SPONSOR: Kickstand Comedy is a 501c3 non-profit, an all-inclusive space for Portland's comedy scene to perform, collaborate, and learn. They offer shows, affordable comedy classes, and development opportunities for the community. Kickstand strives to break down the barriers to seeing and doing comedy. Expect curated live comedy with a focus on quality, community, and unique voices.