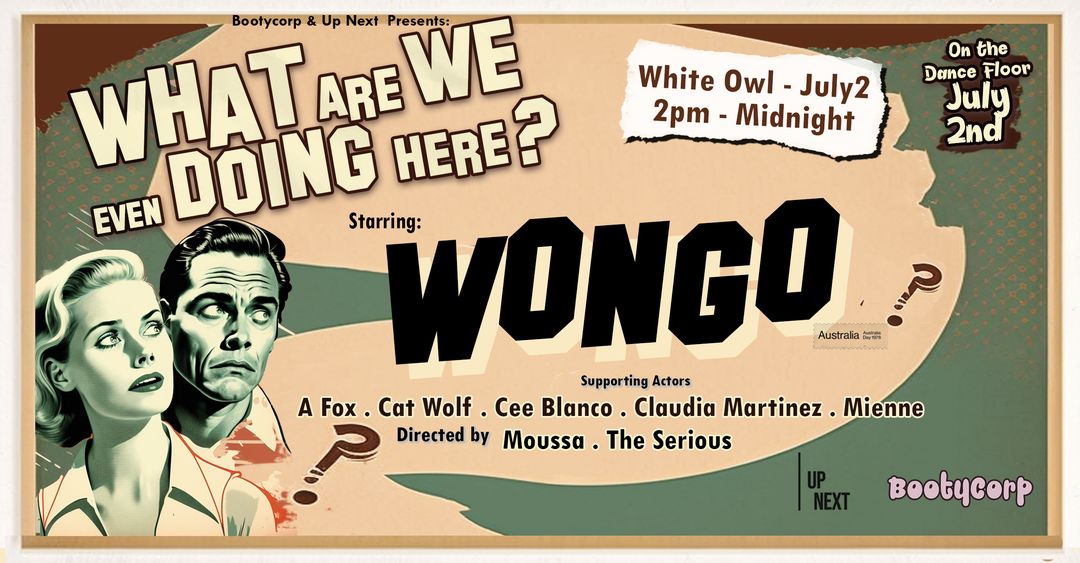 Bootycorp & Up Next Present: Wongo
Bootycorp & Up Next present: Wongo (Box ofcCats / Need2freak)

Lights, camera, action! It's time for the party of the summer, and it's coming to you in full cinematic style. Get ready to experience the event of the year with "What Are We Even Doing Here?" – a party that feels like a movie.
What Are We Even Doing Here? A question that makes you wonder, are we alone in the universe? Is this party even real? Are we here to dance, to connect, to laugh, to love? What Are We Even Doing Here? Find out as the plot unfolds...
The story begins on a sunny day in July, with the White Owl Social Club transformed into a classic 50's music scene. As the crowds gather, they're transported back in time to a simpler era, where music was king and dancing was the only thing that mattered.
As the opening credits roll, we're introduced to our cast of characters – the DJs who will take us on this musical journey. Wongo, the Australian mega star, is headlining the show, with his electrifying beats and magnetic personality. He is not alone - he's getting amazing support from local DJ's A Fox, Cat Wolf, Cee Blanco, Claudia Martinez, Mienne, Moussa & The Serious who will provide the perfect supporting roles of daytime grooves and house beats, keeping the dance floor energy high.
But this is no ordinary party – there's a plot twist . Our confused-looking starring couple in black and white, with question marks hanging over their heads, are searching for meaning in this crazy world. As the music plays on, they realize that the answer lies in the music itself – the rhythm, the beats, and the energy that brings us all together.
As the party reaches its climax, the dance floor transforms into a stage, and the DJs take on the roles of their cinematic counterparts. Wongo becomes the leading role, with the other DJs supporting him like true professionals, creating a musical masterpiece that will keep you dancing all night long.
Tickets for "What Are We Even Doing Here?" are available for $20 in advance & $25 at the door.

Our cast!
Starring:
Wongo https://soundcloud.com/wongomusic

Producer, DJ, label head, radio show host, former international breakdancer, full time funnyman… Gold Coast-bred party-starter Wongo is no one trick pony.
Not only does this guy run a successful radio show, record label and, sell out his own events called Need2Freak, but Wongo still classifies himself as a producer over all else. Doing countless remixes for the biggest artists and labels in the world, working with artists like A-trak and Yolanda Be Cool, multiple #1 Aria club records, seems like just another day at work for the big fella. Wongo's most notable records would be D.A.D (Dance All Day) and Mars, both being that dark-ass club music you wanna hear at both peak time and the after-party. Not only is this shit popping at the clubs but his record Caught Up is now clocking over 2.5M plays on Spotify, so it's obvious he's not the only one who likes the sound of his shit..
His production CV includes originals like 'Mars', 'Hollywood', 'Relax! and 'Be 2 Be' and releases on labels like Insomniac Records, plus DJ mixes for triple j and Skrillex's Nest HQ. He's even been tasked with crafting official remixes for Beyoncé no less than three times.
What really drives everything Wongo does is his love for music and the community around him. Case in point is his fast-rising label Box of Cats, which he uses to support and shine a light on the producers he sees doing good things. Big tunes, big sets and big love – it's all in a day's work for dance music's biggest multitasker.
Supporting Actors:
A. Fox
Cat Wolf
Cee Blanco
Claudia Martinez
Mienne
Moussa
The Serious
Directed by
Moussa & The Serious

Produced by
Bootycorp & Up Next
What Are We Even Doing Here? On a dance floor near you 07/02/23