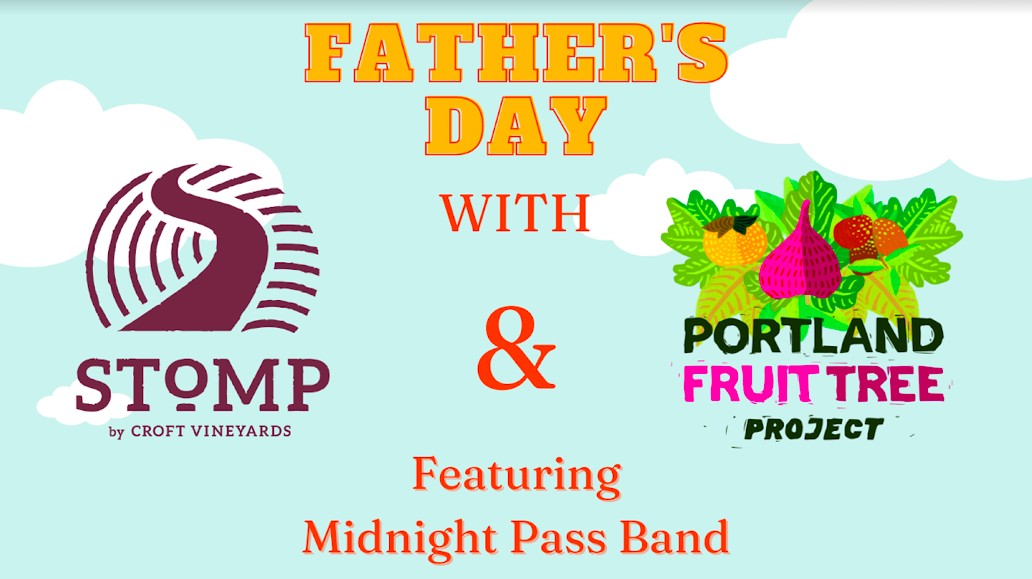 UPDATED JUNE 18th-12pm to 7pm: Live Music, Sips and Brews - Fathers Day with Croft Vineyards and Portland Fruit Tree Project
*UPICK postponed - please attend this event for free!
UPICK postponed - please attend this event for free while we watch for a new date for the Cherry Harvest!
Let's celebrate Spring and the kick off to the 2023 Harvest Season with our families!
Midnight Pass will play rhythm and blues from 3:00pm - 6:00pm.

Picnic tables in the orchard available first come, first serve. Please feel free to bring your own lawn chair to enjoy the live music.

U-Pick permission will include one 2.5 quart basket (approximately 4 pounds) per entry. (U PICK Postoned - we will send Cherry ticket holders an option to be contacted for the new date, or issue refunds)
Please no outside food or beverage, please enjoy food from our partner Taqueria La Merced!
Bounce Houses onsite from PDXFUN to entertain the smallest visitors.
**We will "follow the cherries" as they ripen, if they are early, they will be picked and refridgerated for you. June 18th is our best guess date. The Cherries will be picked at a future date, we will keep you posted. Thank you for understanding!
From Our Host - Croft Vineyards: Many people are familiar with Croft Vineyards wine and our tasting room, Stomp. But did you know our tasting room is located on our family farmed 14 acre organic cherry orchard?!
Our family has been organically farming our small cherry orchard for almost a decade. This year we want to share the fruits of our labor with our community.
Wine bar serving Croft Vineyards wine and other additional beverages.
*Tickets will be limited.
*U-Pick permission will include one U Pick container per person, no BYO containers please. IF there are enough cherries, additional baskets will be gifted.
Additional FAQs
What if I can't reach some cherries?
Find someone more vertically inclined to aid you; if neither of you can reach the cherries - please find some lower fruit! We will have a limited number of ladders manned by PFTP volunteers and staff to assist you in picking - please note the waiver language at check out, climbing ladders and using bounce houses is at your own risk.
Absolutely no climbing the trees! Please respect our old and young trees, they are very fragile.
Also - For your health and safety, please do not collect cherries that have fallen on the ground.
Are you kid/family/dog friendly?
Always! We just ask the same for both kiddos and doggos - that they are friendly and well-behaved. Also - Free admission for kids 10 and under and dogs of all ages!
*Please note: Dogs must remain on leash at all times however kids can be off-leash ;)
We will have many picnic tables for first come, first serve seating. We recommend bringing your own chairs and blankets to relax and enjoy the live music.
Can I bring my own food and drink?
No! With the exception of water. Please support our local vendors by leaving your outside food and beverages at home.
If I have to leave, is re-entry allowed?
Yes, as long as you have an in-tact wrist band on your wrist (ie. No passing already used wrist bands along to family and friends)
*Please note: We are trying to keep traffic in and out of the orchard to a minimum, so please plan on only leaving when you are ready to go home.
This event will run rain or shine! The cherry trees will offer some shade, but please plan according to the weather.
What will happen to leftover fruit?
Portland Fruit Tree Project with have Gleaning volunteers to harvest the rest of the fruit and distribute it for free to folx that can use it, in Salem and in Portland.