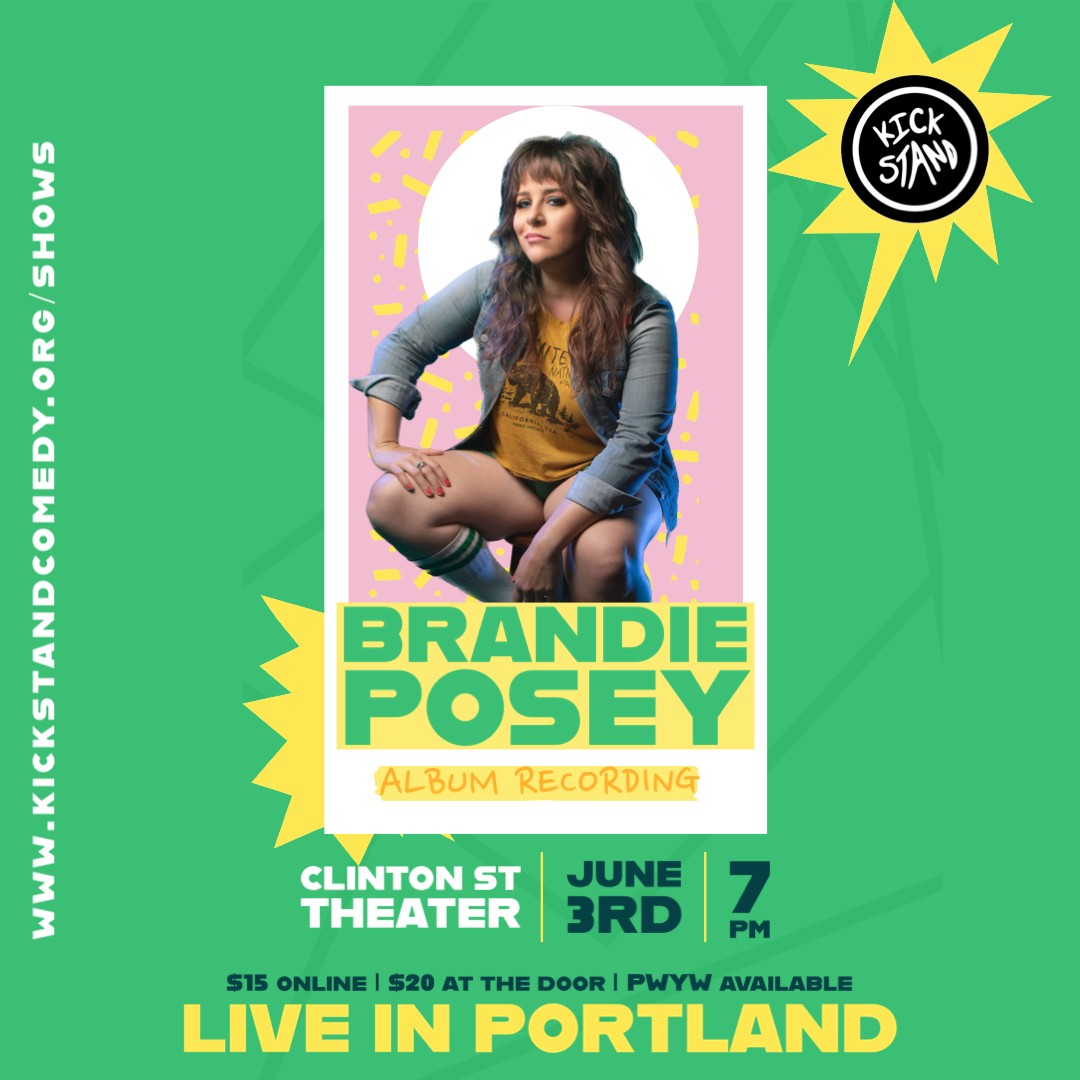 Kickstand Comedy Presents:
Brandie Posey Live Album Recording
Sat, Jun 3 at 7pm
18+
Beer / Wine / Cider
ADA Accesible
LGBTQIA+

BRANDIE POSEY IS RECORDING HER NEXT COMEDY ALBUM IN PORTLAND!!
Kickstand Comedy Presents: Comedian Brandie Posey (Comedy Central, 3X Bridgetown Comedy Festival alumni, Lady to Lady Podcast) as she returns to Portland to record her second comedy album, a follow up to her critically acclaimed debut Opinion Cave.
Originally planned to be recorded in 2020 but postponed due to the pandemic, Brandie's sophomore effort has become even more robust and precision-honed as she continued to tour across the country from the stages of the Kennedy Center in D.C. to crowded DIY basement shows in Whitesburg, KY. In this new hour of material, Brandie points her trademark whimsical, yet fierce storytelling style towards her love of dogs, 12 foot skeletons & the triumph that is aging into a person your younger self would think is rad as hell!
Brandie has chosen Portland to record in because of how amazing the audiences have always been to her, and is excited to work with Kickstand Comedy, an organization that shares her values & brings the same DIY energy to every project. She is excited to perform at the historic Clinton Street Theater, as she has worn just about as many hats in entertainment as its hallowed halls.
The recording of Posey's last album Opinion Cave was listed by Comedy Cake as one of 2015's Most Memorable Stand Up Comedy Moments.
"Huddled in the back of a comic shop in Ventura about an hour north of Los Angeles, punk rock comedian Brandie Posey proceeded to make magic while she recorded her debut comedy album… Posey's stories are equally an intimate affair and a pure riot. Being there I felt like I was in on one of the raddest secrets in comedy, but I know that even more people will know Brandie Posey soon enough when the album drops in 2016. I can't wait to re-live it."
Who: Brandie Posey (Comedy Central, Lady to Lady Podcast)
Rick Wood (Ridiculousness, Limestone Comedy Festival)
With local supporting comedians
WHERE: The Clinton Street Theater, 2522 SE Clinton Street Portland, OR 97202
WHEN: Saturday June 3, 2023 6:00PM Doors, 7:00PM Show
COST: $15 online/$20 door / pay-what-you-want**
**Kickstand Comedy strives to eliminate barriers from comedy - a portion of seats at every Kickstand show are pay-what-you-want at the door.
Kickstand Comedy is a 501c3 nonprofit theater that seeks to serve the needs of our community—providing programming and educational outreach that helps people laugh, connect, and thrive together. We are known for curated live comedy with a focus on quality, community, and unique voices and are guided by a diverse and dedicated Board of Directors. We work tirelessly to advance our mission, our vision, and strive to make Portland comedy undeniable!