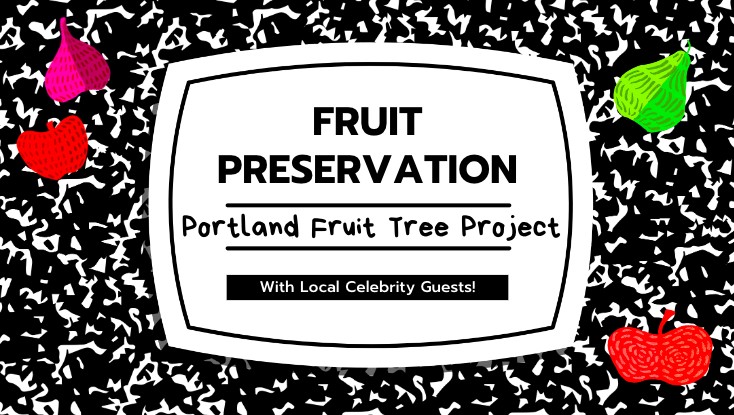 10/15 Fruit Preservation with Portland Fruit Tree Project and Guest Celebrity Chefs!
10am to 3pm - Chutney, 3:30 to 7:30 Fermenting and Jam!
10am - 3pm Fruit Chutney Preservation with Cardamom Hills
3:30pm - 7:30pm Jam with Danita, Fermenting with the Fermintista
Join Portland Fruit Tree Project, Cardamom Hills Trading Co, OSU veteren food preservation Teacher Danita Macy, and the Fermintista for a day of fruit preservation as we partner with OSU experts to learn the art of transforming fresh, ripe fruit into delightful preserves. Whether you're a seasoned preserver or just starting out, this workshop offers hands-on experience and expert guidance in creating delicious chutneys, fruit ferments, pickles, jams and hopefully membrillo (quince paste). Collaborate with fellow participants in a lively, interactive environment to create a variety of preserves using locally sourced fruit.
Participants will take home their own jars, and additional product will be featured on our World's Largest CharFruitTree Board 15th Anniversary Fundraiser, set to go live as our largest ever Portland Fruit Tree Project Harvest Celebration: October 26th at the Redd on Salmon Street, tickets available here!
Workshop Details:
10:00 am - 3:00 pm: Chutney Workshop with Sophie from Cardamom Hills Join Sophie as she shares her knowledge and passion for creating flavorful chutneys. Learn the techniques, ingredients, and secrets behind crafting the perfect chutney. Class size limited to 25 participants.

3:30 pm - 7:30 pm: Pickling, Jam and More with Danita and Sarah "The Fermintista" In this session, discover the art of preserving fruit through pickling and canning techniques. Class size limited to 25 participants.

Throughout the Day, we hope to also offer participants the option of mastering the creation of membrillo, a sweet quince paste that complements a variety of dishes. This will be fruit dependant as we are waiting on the quince harvest in Portland, and hope to have ripe fruit by 10.15.
Instructors:
Sophie: Sophie Rahman, an avid Chutney maker, and owner of Cardamom Hills Trading Co., moved to Portland, Oregon from England. She was amazed to find such an abundance of fruit growing in people's yards that was not being harvested. So what began as an annual tradition of harvesting fruit every fall to make chutney to give as gifts to family and friends became her full-time occupation. Sophie grew up on the Indian sub-continent and as a child would accompany her father to the local market and was exposed to local and seasonal fruits and vegetables which her mother, a fabulous cook, would transform into delicious meals for the family. Through her brand of chutneys she aspires to offer a fresh, local and seasonal product with an exotic twist and unusual flavor combinations. She loves to share her passion and love of making chutney. Join us for this interactive, hands-on chutney making class using fruit that has been harvested from local Portland neighborhoods. Learn about the different varieties of chutneys and suggestions on how to use and serve chutney.

Sarah: The Fermentista works with local farms to preserve the abundance that the seasons have to offer by fermenting local produce into sauerkraut and other products for you to find at your favorite Portland farmer's market. Sarah specializes in using the overflow of abundance from our local farms in innovative new ways.

Danita Macy: Serves several local and nationwide food sovereignty collaboratives and is the Family & Community Health / SNAP-Ed Program Coordinator for the Urban Native Indigenous programs and is a member of the Indigenous Ag Tribal Food Safety Alliance.She consults for organizations Nationwide: including; regional and national USDA/FNS desiring to work with Tribal communities in culturally appropriate interactions. At The Indigenous Peoples Workgroup (IPWG) at OSU, she co-leads supports Extension colleagues at OSU serving Indigenous populations by creating a space for building and strengthening supportive Tribal-led partnerships within Indigenous Tribes and organizations and becoming allies in the community, learning about and supporting Tribal sovereignty, Indigenous data, food sovereignty, and traditional foods in schools.

About Portland Fruit Tree Project:
The Portland Fruit Tree Project is a pioneering nonprofit organization committed to cultivating a sustainable and equitable food system by harvesting and caring for fruit trees in urban areas. With a deep focus on community engagement and resource sharing, we strive to increase access to fresh food, reduce food waste, and foster connections among neighbors. Our work embodies the spirit of collaboration and shared abundance, transforming our urban landscapes into thriving orchards for all.