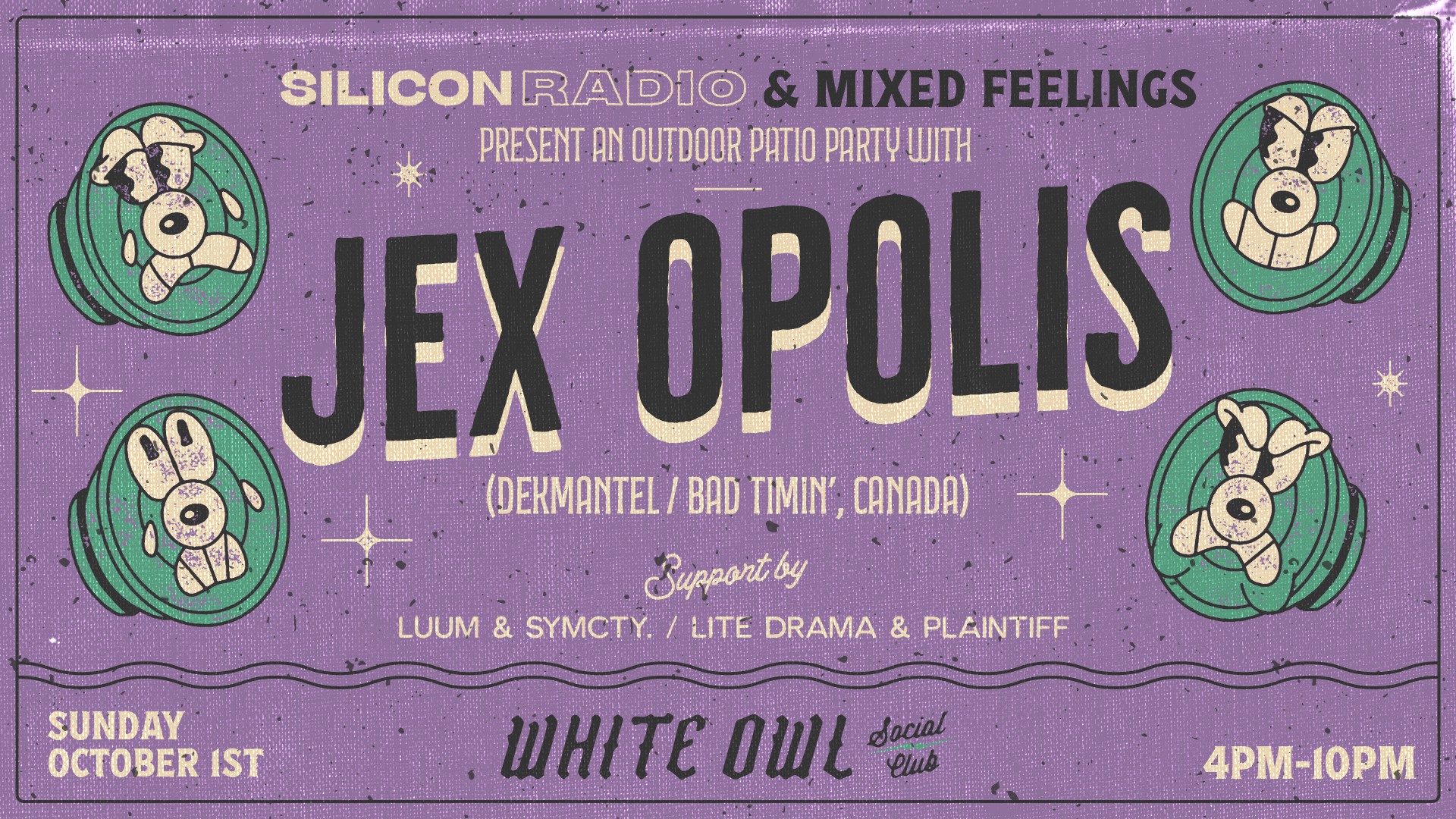 Silicon Radio + Mixed Feelings present
JEX OPOLIS (Dekmantel/Bad Timin', Canada)
Sun, Oct 1 from 4pm - 10pm
Electric Drizzle Sound
Reactive Lighting and Fog
Limited number of Presales available. All presale ticket holders are ensured entrance.
Door: $20 CASH ONLY
21+
Online ticket sales have ended. Door Tickets are available
Get ready to groove to the electric sounds of Jex Opolis, who makes his Portland debut for a sizzling end-of-summer outdoor party at White Owl Social Club!
Fresh off the heels of some seriously stunning releases on his own Good Timin' label, Jex Opolis knows how to ignite a dance floor and make a party *bang*. Jex has graced the decks at legendary parties and clubs across the globe, including world-renowned Dekmantel festival (have you heard of it? 😜), Gop Tun, VENT Tokyo and Sunday Sunday.
With his sun-soaked yet heart-pumpin' style and ear for feel-good, colorful groovers, Jex Opolis is here to make your summer's end an unforgettable experience. Get ready, Portland, it's about to GO OFF! 💃🕺🌞
Jex will be playing a special 3 Hour Set
Expect an epic journey ... from day to sunset into the night!
Support by:
Lite Drama (UwU / Mixed Feelings) & Plaintiff (Mixed Feelings)
Luum (Silicon Radio) & SYMCTY. (Silicon Radio / Electric Drizzle)
Silicon Radio and Mixed Feelings events are a space for everyone to feel safe and welcome.
Consent is mandatory and we have a zero tolerance policy for harassment, unwanted touch, homophobic, transphobic, racist, sexist, ableist or other discriminatory behavior. If you are making someone uncomfortable by your actions you may be asked to leave. Be respectful.
For BIPOC/LGBTQ+ community members experiencing economic hardship, a dedicated tier of discounted tickets is available. Please send an email to hello@siliconradiopdx.com for more information.

About Jex Opolis (Canada)

Jex Opolis is a Canadian multi-instrumentalist, composer, vocalist, and DJ who stands as a unique voice in today's electronic music scene. With classical training in piano and guitar from a young age, Jex seamlessly blends traditional melodic craftsmanship with meticulous electronic production. His musical journey spans self-released gems on his own Good Timin' label, as well as a collection of acclaimed 12-inch singles on esteemed European imprints like Dekmantel and Running Back. Jex Opolis's melodically-driven and emotive tunes will take you on a sonic journey all his own.
Jex defies genre constraints, effortlessly transitioning between Italo-infused house, Balearic chuggers, synthy escapades, and progressive '90s-inspired thumpers. His diverse catalog caters to both club enthusiasts and home listeners, with each set promising an auditory delight.
About Silicon Radio and Mixed Feelings (Portland)
Silicon Radio is a POC led collective and radio show based in Portland, Oregon. Silicon Radio focuses on the search and discovery of musical gems from around the world, offering an eclectic mix of musical styles so listeners can broaden their horizons and explore new and exciting trends. Silicon Radio has also been hosting events and bringing a diverse range of always groovy music to dance floors around Portland.
Mixed Feelings is a Portland-based radio show hosted by Lite Drama and Plaintiff. During each broadcast, Mixed Feelings traverses the dance music spectrum and showcases a blend of emerging artists, labels, and sounds.