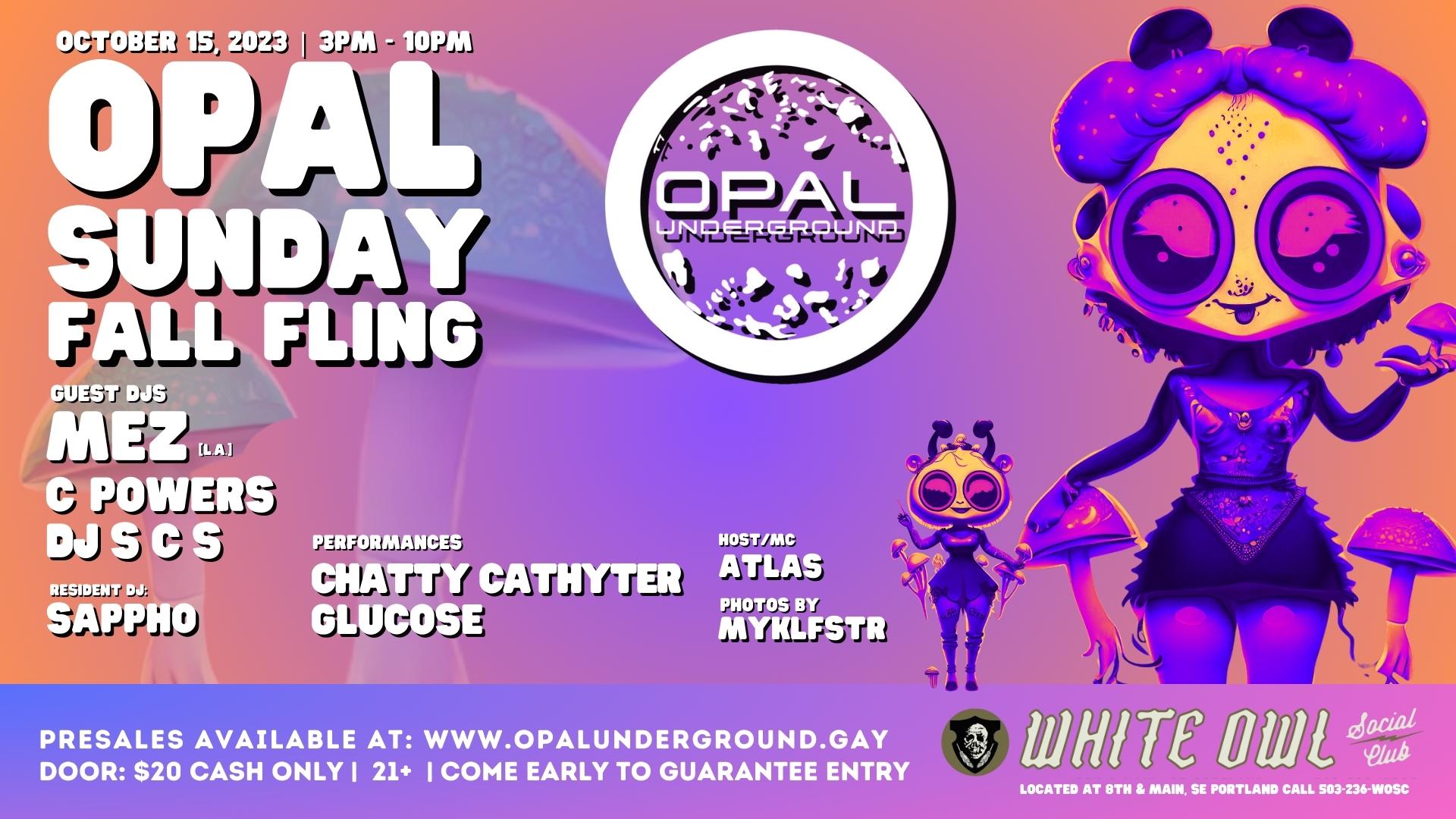 Opal Underground -- Fall Fling: Queer Patio Dance Party featuring Mez (LA)
Sun, Oct 15 from 3pm - 10pm
Get ready for an epic queer patio dance party featuring DJ Mez (LA) at Opal Underground's Fall Fling on October 15th, 2023, starting at 3:00 PM!
They say that summer is the season to fall in love, but…what about autumn? Why can't you

FALL

head over heels in love with someone(s) THIS season? We invite you to join us on October 15th at the patio of White Owls Social Club to dance (& flirt) to incredible djs, be wowed by some of PDX's amazing drag performers and to come together to create a safe space where we can all harvest our vision of a Queer Utopia.

This party is for every single person in the LGBTQ+ community and our allies.
Guest DJs:
Mez (Los Angeles)
C Powers
DJ S C S
Opal Underground Resident DJ:
Sappho
Opal Underground Host & MC:
Atlas
Performances by:
Chatty Cathyter
Glucose
Photographer:
MYKLFSTR
White Owl Social Club
1305 SE 8th Ave.
October 15, 2023
3pm-10pm
Limited number of Presales available. All presale ticket holders are ensured entrance.
Door: $20 CASH ONLY
21+
Come Early to Guarantee Entry
THE VIBE & SOUND: Opal Underground's continuing the Sunday tradition that is all about putting the cell phone down and getting up on the dance floor on the expansive open air patio of White Owl Social Club. The DJs and Performers will be uplifting us all by sharing their craft and passion to move our bodies. Let's come together and celebrate the magic of Portland in the Fall with a party that uplifts Portland's vibrant queer community. Incredible DJs, from up and down the West Coast, will bring heat with their cuts of disco and house music and encourage sweaty sęxy togetherness on the dance floor. PLUS, let's not forget our Drag Performers!!! They will be serving it with their performances at 8pm so don't forget to show them your appreciation for the art they create by showering them with TIPS.
THE CROWD: This is a queer-run event that centers the safety and needs of Portland's LGBTQ+ communities. Supportive and respectful allies are welcome. Let's bring our HOT Queer Autumn looks and vibes and turn it out the patio of White Owl proper.
SAFETY: Consent: Anything other than yes means no. Consent is never coerced or forced. Incoherent people can not give consent. Consent is negotiated through each interaction.If you experience any hate or harassment, please report it immediately to White Owl Social Club's security staff.
Don't feel well? STAY HOME! Listen to your body.
ACCESSIBILITY: White Owl Social Club is ADA accessible and has two all-gender bathrooms with multiple stalls.
For LGBTQ+ community members experiencing economic hardship, a dedicated tier of discounted tickets is available. Please send an email to info@opalunderground.gay for more information.



Opal Underground's Mission
Now more than in recent memory, it is important for us as a community to support and uplift Queer art and music, especially trans and gender expansive visions and voices. Opal Underground is committed to our value of booking and supporting Queer talent, particularly marginalized QTBIPOC DJs, artists, performers, dancers, and hosts.
Opal Underground's Vision
Uplifting PDX Alternative Queer Nightlife
Historically, queer people have found their chosen family through nightlife culture. Even in today's digital age, in-person events are irreplaceable.
Opal Underground's goal is always to create an inclusive, safer space for Portland's queer communities so that we can come together in collective healing experiences.
We focus on local talent and community building. That means a focus on PDX/PNW artists, creative bookings, live acts and community organizing.
Opal Underground's Values
Safety, Inclusion, and Supporting the PDX Queer Community
No racism, no sexism, no bigotry, no violence.
Physical accessibility.
Inclusion and representation: no gatekeeping, booking and supporting local queer talent, particularly marginalized QTBIPOC DJs, artists, performers, dancers, and hosts.
Safety: consent is required, substance abuse harm reduction, and fire safety.