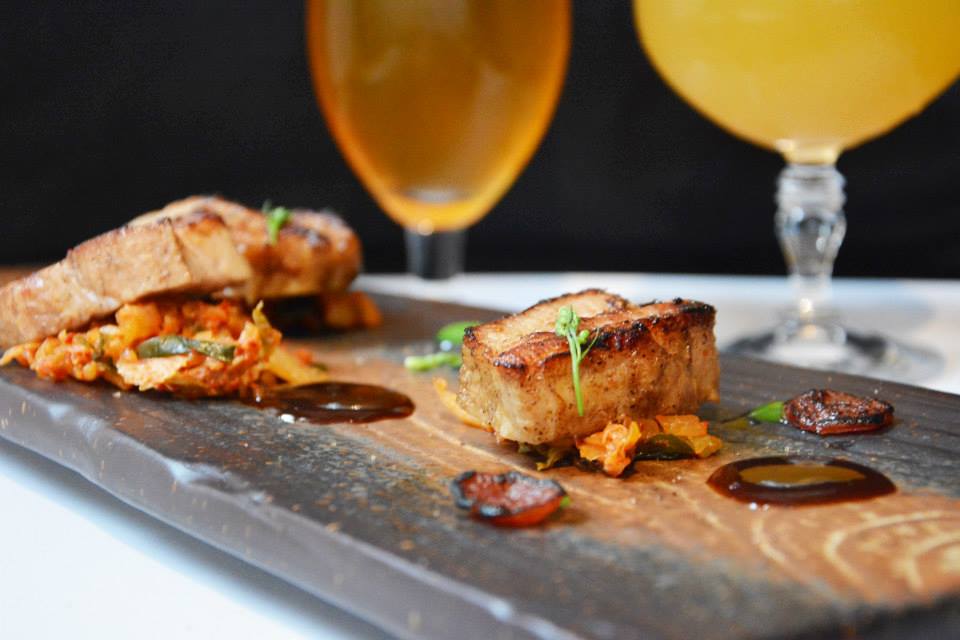 Brewed Food Presents: A Brewing Dinner with Biwa Restaurant
Tue, Apr 19, 2016 at 6pm
21+, Ticket price includes Gratuity and Pairings
Brewed Food is coming to Portland!
Brewed Food has a core philosophy to celebrate brewing as a culinary art by cooking with ingredients and techniques used to create the best craft beers, rather than the norm of cooking with finished beers. This original approach of looking at brewers as chefs and the brewhouse as a kitchen is creating a new collaborative spirit of inspiration between Chefs and Brewers.
Chefs Jensen Cummings of Brewed Food and James Davidson of Biwa Restaurant will present a six course Brewing Dinner (not your average beer dinner), with every dish featuring a brewing ingredient from breweries New Belgium and Base Camp along with beers from these breweries paired with each course.
Chef and Certified Cicerone Cummings founded Brewed Food, a collective food movement the likes of Farm to Table, Fusion or Molecular Gastronomy, in 2014 to push culinary boundaries with chef-brewer collaborations, special events, catering, educational platforms and producing digital media.

Our Event Partners include Biwa Restaurant, Base Camp Brewing Company, Tender Belly, New Belgium Brewing Company, Ten Strawberry Street, Wild Goose Canning, Colorado Tourism Office, & Simpatica Dining Hall.
Please join us for this truly unique dining experience!
| MENU |
RECEPTION
New Belgium 2016 La Folie
Tender Belly Pig Heart Yakitori / malted barley miso, funky daikon, kaiware
&
Base Camp "B" is for Boysenberry Brettanomyces Sour Ale
Ocean Trout Sashimi / boysenberry brew sauce, okara cucumber
FIRST
New Belgium Fat Tire Amber Ale & Rampant Imperial IPA
New Style Beef Tataki / sour mustard, hop cured egg yolk, grilled enoki
SECOND
New Belgium Citradelic Tangerine IPA
Pork Belly Bugolgi / sesame leaf, wild yeast baechu kimchi, fermented cherry sriracha
THIRD
Base Camp In-Tents IPL
Duck breast / fermented yuzu kosho, 3rd Anniversary Belgian Dark Strong shoyu
FOURTH
Base Camp Belgian Tripel
Ochazuke / wort dashi, barley, nuka pickles, albacore