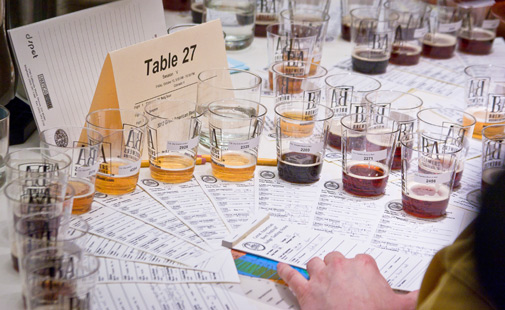 Beer Flavor 101 Workshop
Fri, Jun 17, 2016 at 5:30pm
Oregon State University presents the Beer Flavor 101 workshop:
What makes beer taste the way it does? Where does beer flavor come from? Beer Flavor 101 will answer these questions while guiding you through the brewing process from raw materials to finished beer. This 90-minute session is designed for beer aficionados and those who want to learn more about the origins of flavor in beer. Experts from Oregon State University will provide insight into each raw material and the beer flavor of unique styles. Oregon State University is home to one of the nation's few Fermentation Science programs, and renowned brewing scientist, Dr. Tom Shellhammer, will guide you on a journey from grain to glass.
OSU Professional and Continuing Education partners with OSU's Brewing Science team to provide onsite and online workshops for brewing industry professionals, craft beer and cider entrepreneurs, cider makers, homebrewers and more. Drawing upon expertise as the leader in hops and brewing research and experience with the nation's Fermentation Science degree programs, our workshops include: Craft Brewery Startup Workshop, Craft Cidery Startup Workshop, Beer Quality and Analysis Series, Cider Making Workshop, Cider Quality and Analysis, and Origins of Beer Flavors and Styles. You'll find alumni of our degree and workshop programs among the ranks of those leading the craft beer and cider boom. Participants in our workshop benefit from the expertise, insight and guidance of industry leaders and our own experts in hops, brewing, beer quality and sensory analysis. Our team is pleased to serve as the education sponsor for Portland Beer Week 2016, and we look forward to meeting both old and new friends alike at this year's events.