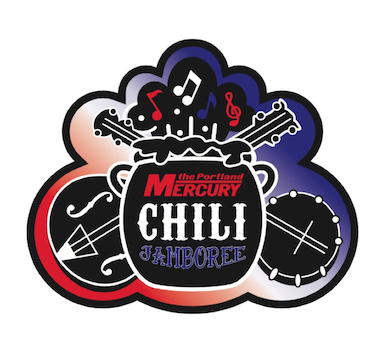 The Portland Mercury's Chili Jamboree 4
Sat, Nov 19, 2016 from 12pm - 4pm
On Saturday November 19 the Portland Mercury will team up with White Owl Social Club, Jim Beam, and Nicky USA to bring you the 4th annual CHILI JAMBOREE! Together we're bringing you spicy, savory, slow-cooked chili from a dozen of Portland's best celebrity chefs, and adding boot-scootin' country music-and we mean the GOOD kind of country-for a party your mouth and ears won't ever forget. Taste 'em all, then vote for the chili champ, who'll be awarded the highly coveted Chili Belt. There's also beer and cocktails! This is WHY you live in America.
Musical guests The Lonesome Billies
Chefs include
Anh Luu (Tapalaya)
Carlo Lamagna (Clyde Common)
Craig Martin (White Owl Social Club)
Devon Chase (Hamlet)
Han Hwang & BJ Smith (Kim Jong Smokehouse)
Jenn Louis (Lincoln Restaurant / Sunshine Tavern)
Karl Holl (Let Um Eat)
Keith Morris (Coopers Hall)
Mika Paredes (Girls Club PDX)
Rick Gencarelli (Lardo PDX)
Ricky Bella (Bit House Saloon)
Ryan Day (Podnah's Pit Barbecue)

We will not be resevring any inventory for day of sales. Last year's event sold out well in advance, so we encourage you to purchase an advance ticket. IF we do have tickets available at the door they will cost $25.