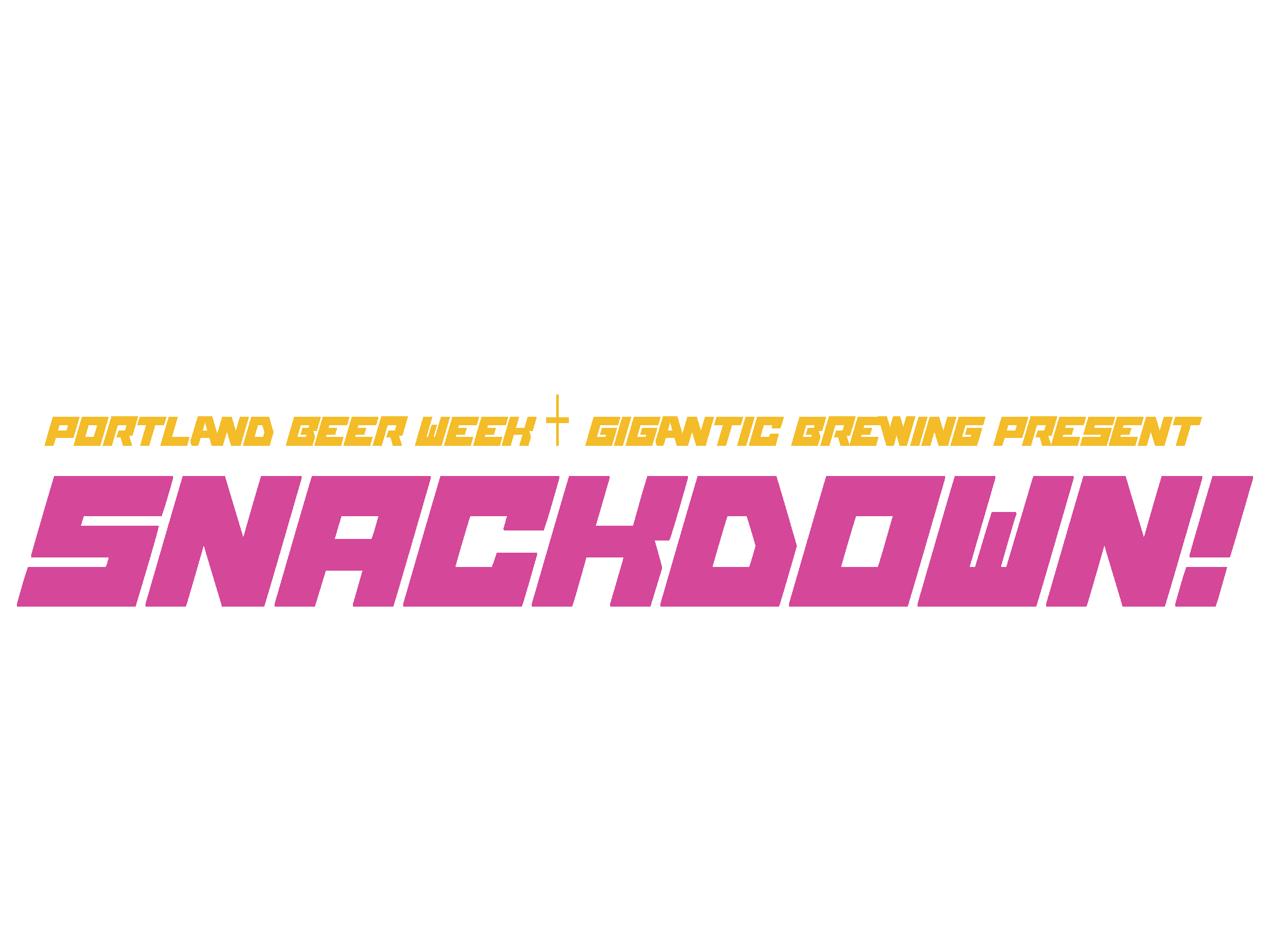 SNACKDOWN!
Sun, Jun 18, 2017 from 12pm - 4pm
Sorry Tickets are no longer on sale.
Portland Beer Week & Gigantic Brewing present SNACKDOWN! on Sunday June 18th at The Evergreen event space above Loyal Legion. SNACKDOWN! is a fun and entertaining food and beer pairing event where 10 of Portland's best Chefs and 10 Oregon Brewers are paired into 10 Brewer/Chef teams to make their greatest snack and beer pairing. Guests will choose their favorite pairing and the winners will be awarded the SNACKDOWN Belt!

This event is designed to be more fun and loose than you're standard beer dinner. Imagine a WWF style Smackdown with brewers and chefs hyping their pairing on the mic - possibly while sporting wrestling themed costume. DJ Rev Shines will be on the decks keeping the party live. $49 includes all 10 small plates and TEN 5oz beer pours + a collectible glass.

Join us for great beer, great food and a real party!

SNACKDOWN! Is the official closing event of Portland Beer Week.
Brewery/Chef Pairings:
☐ Mi Mero Mole/Gigantic
Barbecue Brisket Tostada with smoked Tillamook cheese sauce
Salted Hibiscus Wit with Lime
☐ Loyal Legion/Ecliptic
Kalua Pork with stone fruit slaw on Hawaiian sweet roll
Carina Peach Sour
☐ HOTLIPS/Culmination
Fun Guys with Whips - porchini mushrooms, garlic whip pesto & HOTLIPS crostini
Hop Berry IPA
☐ Lardo/Commons
Soft Shell Crab with caviar cream cheese on buttered brioche
Gose
☐ Toro Bravo/Hopworks
Baller "Fish & Chips"
Berliner Weisse with cherry syrup + lemon foam
☐ Salt n Straw/Breakside
Breakside S'more Ice Cream
Smoked Porter
☐ Dawei Canting/Buoy
Pork and Dungeness crab wonton with chilies, black vinegar and crispy garlic
Citrus Wit
☐ BUNK/Pfreim
Cincinnati Chili Dogs w/cheddar, mustard & onions
Helles Lager
☐ Old Salt/Heater Allen
Warm Potato Salad with Old Salt weisswurst, spring peas, house mustard and Ben's bacon
Lenzbock - Helles Bock
☐ Biwa/Baerlic
Dried Beef with rayu and pickled daikon
Eastside Pilsner
WHAT: SNACKDOWN!
WHEN: Sunday, June 18th, Noon - 4pm
WHERE: The Evergreen Ballroom (above Loyal Legion), 618 SE Alder St, Portland, OR 97214
PRICE: $49 advanced tickets