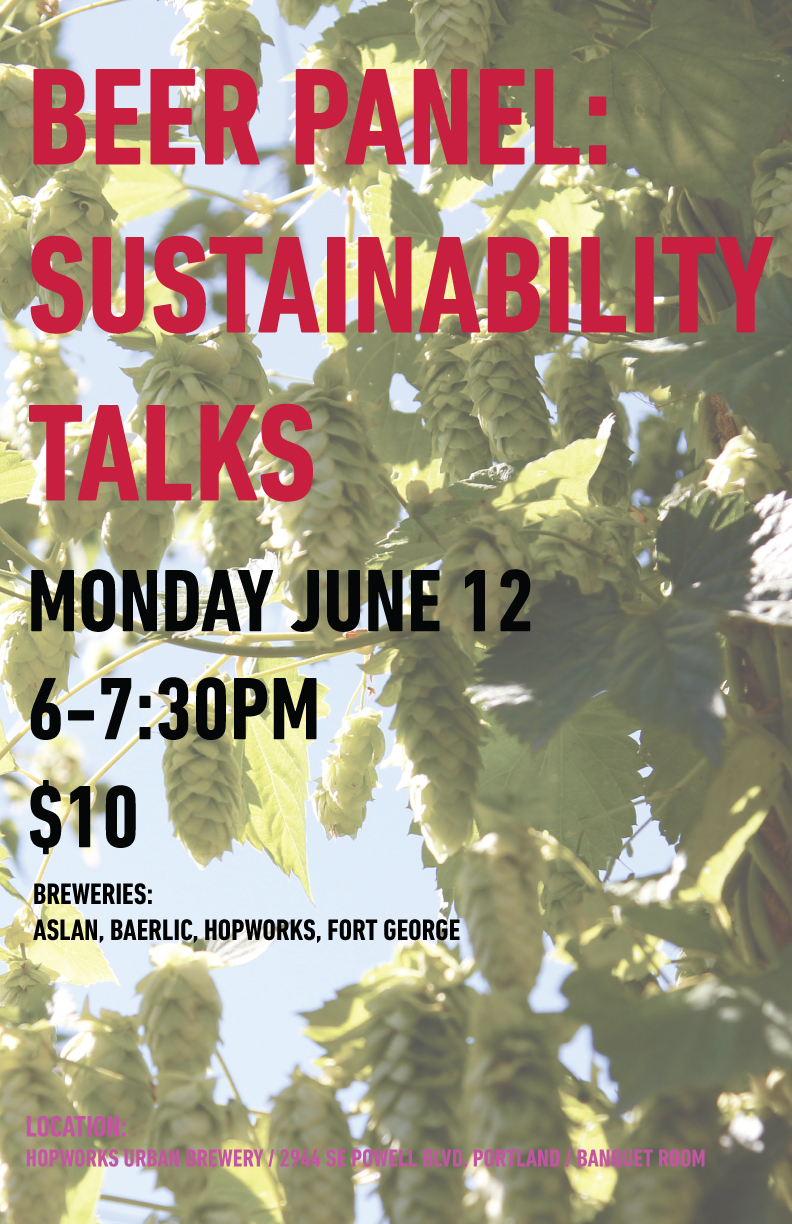 Sustainability Talks
Oregon State University, The HR Group and Hopworks Urban Brewery present the "Sustainability Talks" seminar.
Learn how a few local breweries approach sustainability through community outreach, ingredient sourcing, and activities within the brewhouse. Presenters and topics include:
Aslan Brewing - Jack Lamb, CEO and Founder
Every year, Aslan Brewing Company brews a beer in collaboration with a local nonprofit to raise funds and awareness for a worthy cause. We use beer as a unifying element to help encourage conversation, increase attendance, and keep the stoke high!
Baerlic Brewing - Ben Parsons, Owner
Can a really, really small brewery realistically brew a sustainable or environmentally conscious or low carbon beer? Is it even possible at this scale? We aimed to find that out as we take on the Low Carbon Beer Challenge put on by the Emerging Leaders Board of the Oregon Environmental Council.
Hopworks Urban Brewery - Christian Ettinger, Brewmaster and Founder
From B Corp to 1% For the Planet, Hopworks Urban Brewery looks at ways to expand sustainability outside of operations and sourcing
Fort George Brewing - Renee Johnson, Sustainability Director
Spruce Budd is a locally foraged, wildcrafted beer that gets to the heart of everything we love about the Northwest and why we source close to home whenever possible. We'll show you how Spruce Budd is made along with some general sustainable processes in our brewery.
Moderated by Heather Sorenson, President of Plugged In PR

Monday, June 12
6:00 - 7:30pm
Hopworks Urban Brewery Banquet Room - 2944 SE Powell Blvd. Portland, OR
$10 ticket includes pours from each brewery
Oregon State University's Brewing Science experts partner with beer industry pros to provide on-site and online workshops for brewing industry professionals, craft beer and cider entrepreneurs, cider makers, home brewers and more. Drawing upon expertise as the leader in hops and brewing research and experience with the nation's Fermentation Science degree programs, our workshops include: Craft Brewery Startup Workshop, Craft Cidery Startup Workshop, Beer Quality and Analysis Series for Pro Brewers, Cider Making Workshop, Cider Quality and Analysis, Sensory Evaluation of Wine and Origins of Beer Flavors and Styles. Take advantage of 15% savingson OSU beer and cider programs with code BeerWeek (through June 30). You'll find alumni of our degree and workshop programs among the ranks of those leading the craft beer and cider boom. Participants in our workshop benefit from the expertise, insight and guidance of industry leaders and our own experts in hops, brewing, beer quality and sensory analysis. Our team is pleased to serve as the education sponsor for Portland Beer Week 2017, and we look forward to meeting both old and new friends alike at this year's events.