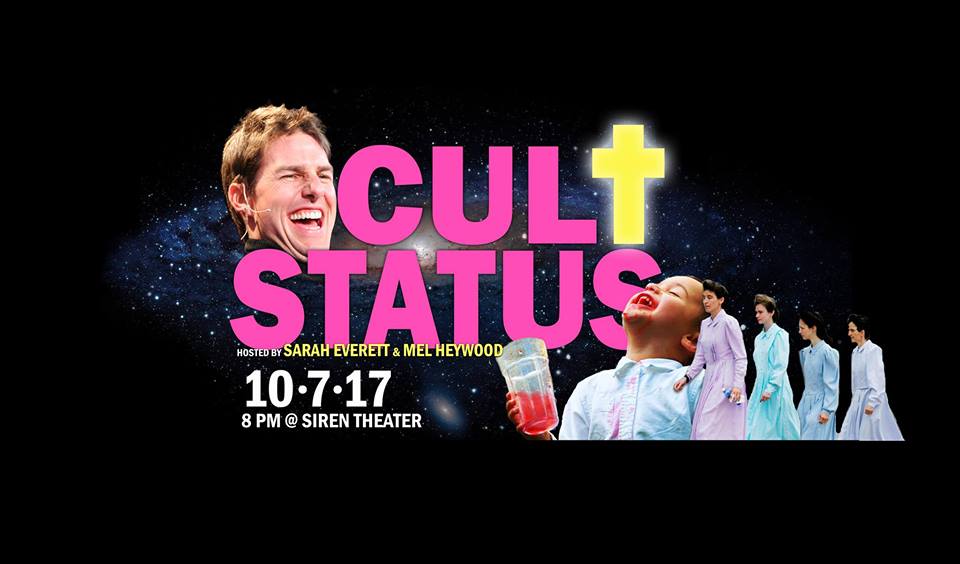 CULT STATUS!
CULT STATUS! returns to The Siren Theater Oct. 7th!

CULT STATUS brings you the true stories of people who've survived cults, extreme religions, pyramid schemes, and other hyper-intense group-think situations.

It's a night that will split your ribs AND make you think. Come pour yourself a fresh cup of red Kool-Aid and JOIN US...

This month we bring you tales straight from the mouths of:

JEFFERSON HAWKINS worked for the Church of Scientology for more than 30 years, most of that time as a senior marketing executive. He was the brains behind the successful Dianetics campaign of the 1980s. He left Scientology in 2005, and now works as a graphic designer and artist in Portland, Oregon. He is committed to helping individuals and families who have been victimized by Scientology. His blog, Leaving Scientology, is dedicated to exposing the abuses and crimes of the Church of Scientology, and helping people to leave the Church. http://counterfeitdreams.com/

TERRY BLAS grew up gay, Mexican and Mormon in Boise Idaho. It's a wonder he's not in therapy...anymore. He's a former missionary, currently a comic book artist and writer and is the subject of Latter Day Glory, a documentary examining the relationship between the LDS church and it's former members who are LGBT. He lives in Portland Oregon.http://terryblas.com/

ANTHONY LOPEZ is a founding member and co-host of Earthquake Hurricane, a standup showcase performed in Portland and at colleges throughout the northwest. He is also the new host of the long-running monthly show No Pun Intendo at Gound Kontrol. Anthony has written for the Gotham Awards and was the head writer for Late Night With Alex Falcone. He has performed at Bumbershoot, Hell Yes Fest in New Orleans, at UCB in New York and is a regular feature at Helium Comedy Club.

CORINA LUCAS is a Portland comedian who blasts the socks off audiences with her searing, lightning wit.

...with your HOSTESSES with the MOSTESSES, Sarah Everett and Mel Heywood, fomer Mormons and current sisterwives.

Doors at 7:30, Show at 8. $10

The Siren Theater is all-ages (with beer/wine for the 21+ crew) and Accessible.

SEE YOU THERE, OUR BIGHT-EYED ACOLYTES!