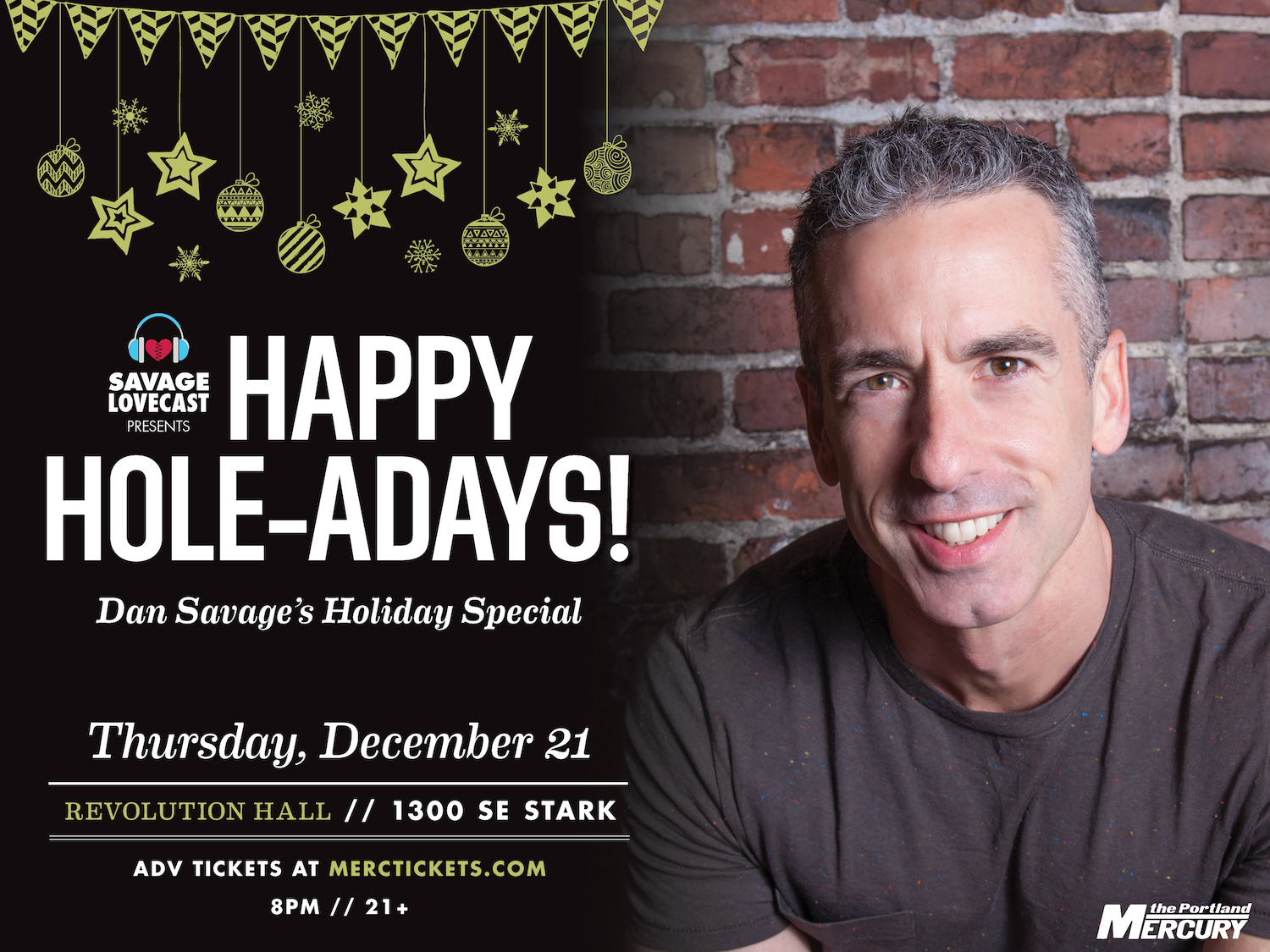 Savage Lovecast presents...
HAPPY HOLE-ADAYS!


a Holiday Special with Dan Savage

HAPPY HOLE-ADAYS

The Savage Lovecast returns to Revolution Hall for Dan Savage's popular sex-and-relationship-advice podcast! Join Dan for another special holiday hole-aday extravaganza with Santa's Pain-deer, Toys for Tits, A Gay in a Manger, Silver Balls, The Little Hummer Boy, Dirty Carols, Comedian Caitlin Weierhauser, Special Musical Guest Carsie Blanton and More. Plus, get all your sex-and-relationship questions answered before the holidays! The Savage Lovecast shows at Revolution Hall sell out quickly—get your tickets now!

Caitlin Weierhauser is a co-host of the wildly popular Lez Stand Up series, host of the Mercury's I, Anonymous Show, and was voted Portland's Funniest Person 2017—but there's so much more to this whip-smart comedian. Swerving from the personal to the political, Caitlin's stand-up gets sharper and more pointed by the day, and her mastery of face-mugging physical comedy is something you don't want to miss. So see her quick before Hollywood lures her away!

Carsie Blanton is an American singer-songwriter based in New Orleans, Louisiana who performs on guitar. Blanton has released five studio albums and has opened multiple shows on Paul Simon's So Beautiful or So What tour. She is also known for her blog which deals with topics of a sexual nature. Blanton is considered "one of the best singer/songwriters in the business." Loudon Wainwright III says she is a "young up-and-comer . . at the top of my list." http://www.carsieblanton.com/

Want to meet Dan and the Hole-aday cast after the show?
Savage Lovecast is teaming up with New Avenues for Youth, a nonprofit organization dedicated to the prevention and intervention of youth (14-22) homelessness. Any guest who brings a new, unwrapped item of a $20 minimum value from the list below (or a $20 gift card) can hang out with Dan Savage & the cast after the show for a special meet & greet, with Hole-aday photos and cake!
*Winter Coats, Hats, Gloves, Socks, Underwear, Toiletries (toothpaste, toothbrush, shampoo, soap, deodorant, latex-free condoms, etc), Backpacks, Shoes/Boots (Adult sizes).