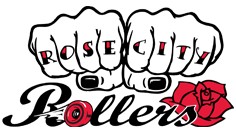 3/11 Juniors Season 2017-2018 Championships! Rose Petals and Rosebuds!
Doors at 12:30pm. Bouts at 1pm.
Juniors Season 2017-2018 Championships!
*Doors open at 12:30pm, Event starts at 1pm.
Junior Skaters who are currently on Home Teams can attend this bout free of charge by RSVPing RCRticketing@rosecityrollers.com. Please RSVP so we can make sure we save you a seat!
We are reserving a section of bleacher seats to the left of the main entrance to the hangar (in front of the RCR trophy case). Please remember that all youth under the age of 16 must be accompanied by an adult who is volunteering or has purchased a ticket online or at the door."
Interested in group tickets? Check out our Page
Want to win the Best Seats in the house? Auction goes live on eBay 7 days prior to event.