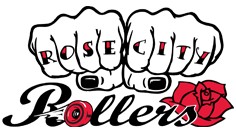 4/21 - 4/22 Bridge City Riot Juniors Tournament - 2 days! Rose Petals and Rosebuds!
See Track Schedule below for details!
*Please see below for Track Schedule per day, and for tickets to each individual day
Our first ever Juniors Tournament will host the Emerald City Gems (facing the Rose City Rose Petals) and Rose City Rosebuds facing off against the Emerald All Stars, Los Anarchists, Rocky Mountian Roller Punks, and the Inland NW Pixies!