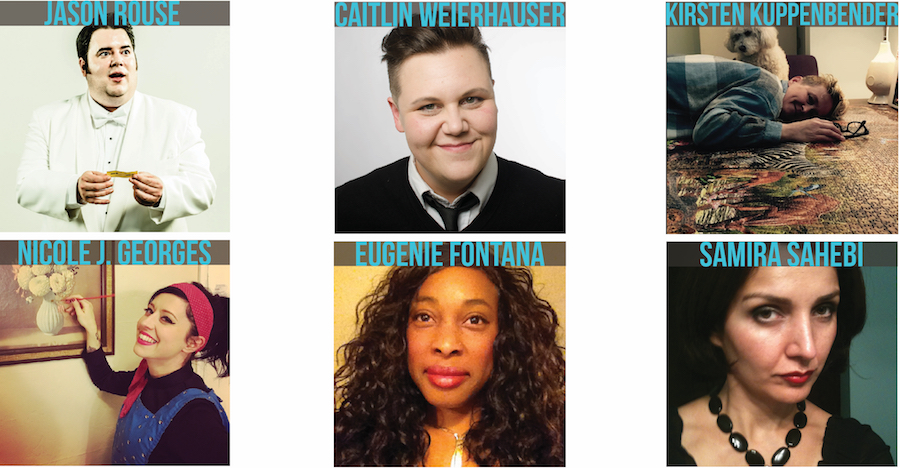 Back Fence PDX: RUSSIAN ROULETTE
FEATURING: JASON ROUSE The Winner From Our January Show Actor/Writer, Once Spoke To Mike Myers For 5-mins Before Realizing Who He Was, CAITLIN WEIERHAUSER Returning Two-Time Russian Roulette Winner, Portland's Funniest Person 2017, Member of Lez Stand Up, Voted Most Opinionated in High School, NICOLE J. GEORGES Author of the Award-Winning Graphic Novels Calling Dr. Laura and Fetch: How a Bad Dog Brought Me Home, Teaches MFA In Comics Students at California College of the Arts, Hosts the Podcast Sagittarian Matters, Her Life Partner Is a Half-Blind Chomeranian Named Ponyo, KIRSTEN KUPPENBENDER Finalist in Portland's Funniest Person Competition, Founder of Lez Stand Up, Extreme Jigsaw Puzzler, EUGENIE FONTANA Works in the Creative and Arts Communities, Founder of Gather & Garner/Co-Founder of w(HERE), Loves Riding Quads AKA 4-Wheelers, SAMIRA SAHEBI Real Estate Broker, Snuck Into The US Before Her People Were Banned, Loves Every Aspect of Living in Portland Except How Often She's Asked "Where She's Really From?", A Mean Cook
Hosted by B. FRAYN MASTERS & MINDY NETTIFEE
Music by DJ Bobby D from XRAY
A portion of this show's proceeds will go to The Oregon Food Bank. The Oregon Food Bank distributes food through a Statewide Network of 21 Regional Food Banks and over 1,200 partner agencies in Oregon & Clark County.

Their mission: To eliminate hunger and its root causes... because no one should be hungry.
$16-22 ADVANCE ⎮ $20 DOOR — Note: We will have walk-up tickets set aside for sale at the door. VIP ticket holders will have seats reserved on the main floor in the front rows until 5 mins before showtime.
Doors open at 6:30pm, show is at 7:30pm.
More about RUSSIAN ROULETTE…
How it works: each show begins with a full wheel of juicy story prompts. One of the 6 storytellers will be randomly drawn. They spin the wheel to decide the prompt for their story. They can play or pass. If they pass another teller can steal their prompt. Then the risky part…each storyteller has only 5 minutes to come up with a true 5-minute story based on that prompt! It's like we invented a new game called truth AND dare.
At the end of the night, the audience will select a winner who will receive 50 bucks and some other cool prizes, like bragging rights for life. The winner will be invited to come back to the next show! And one lucky audience member will also win some prizes!
*Storytellers subject to change without notice. Stories may contain explicit language and/or subject matter.