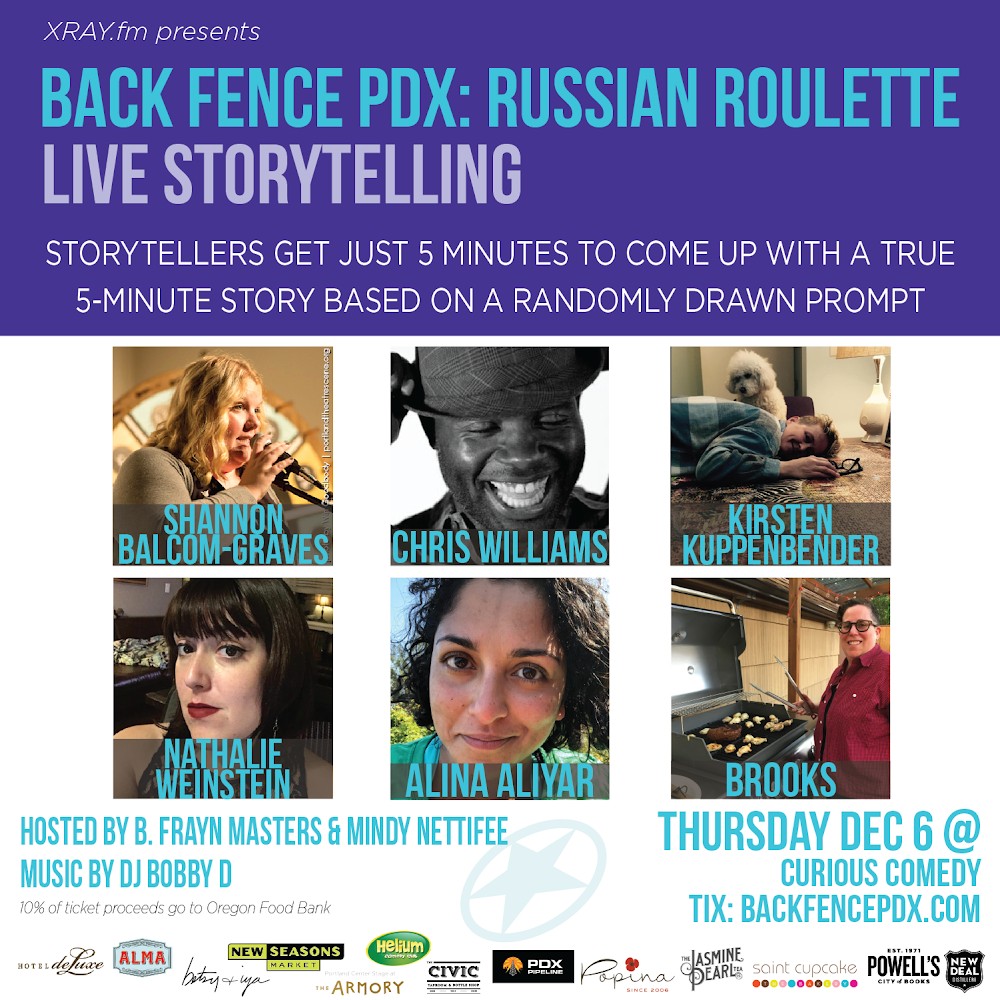 Back Fence PDX: RUSSIAN ROULETTE
Thu, Dec 6, 2018 at 7:30pm
Pre-sale tickets have ended or are sold out. But we have set aside tickets to be available at the venue as soon as door open @ 6:30.
FEATURING: SHANNON BALCOM-GRAVES 5-Time Back Fence PDX: Russian Roulette Winner, Co-Host of Sex, Drugs, & Basketball on X-Ray.fm, CHRIS WILLIAMS 2-Time Russian Roulette Winner, Creator of Front Porch Sessions and the Turnout Storytelling Series at The Secret Society, Does a Spot-On Marlon Brando Impression (Heavier Marlon Brando), Has Never Drank Coffee Ever, Not Once, In His Life, KIRSTEN KUPPENBENDER Past Russian Roulette Runner-up, Finalist in Portland's Funniest Person Competition, Founder of Lez Stand Up, Extreme Jigsaw Puzzler, with first-timers NATHALIE WEINSTEIN Co-Owner PDX Pipeline, Award-Winning Journalist, Professional Cat Lady, Wanna-Be Chopped Champion, Will Watch/Read Anything Horror-related, Hates Oranges, BROOKS Civil Servant, Recovering Journalist, Founding Member of Feminist Comedy Collective That's What She Said, Community Members Tried to Ban Her Bat Mitzvah Speech, and ALINA ALIYAR Proud Parent, Chocolatier, Executive Producer of 7 Deadly Sins Show, Public Ugly Crier
Music by Bobby D from XRAY.fm
$16-22 ADVANCE ⎮ $20 DOOR — Note: We will have walk-up tickets set aside for sale at the door. VIP ticket holders will receive a sweet treat from New Seasons Market, a tasting certificate to New Deal Distillery, $10 to Civic Taproom, AND have seats reserved on the main floor in the front rows until 5 mins before showtime.
Doors open at 6:30pm, show is at 7:30pm.
More about RUSSIAN ROULETTE…
How it works: each show begins with a full wheel of juicy story prompts. One of the 6 storytellers will be randomly drawn. They spin the wheel to decide the prompt for their story. They can play or pass. If they pass another teller can steal their prompt. Then the risky part…each storyteller has only 5 minutes to come up with a true 5-minute story based on that prompt! It's like we invented a new game called truth AND dare.
At the end of the night, the audience will select a winner who will receive 50 bucks and other cool prizes like jewelry and a gift certificate to Betsy & Iya, a tasting certificate to New Deal Distillery, a certificate for dots from Saint Cupcake, chocolate treats from Alma, a $20 gift certificate to Powell's, tea from The Jasmine Pearl, tickets to Portland Center Stage, tickets Helium Comedy Club, a New Seasons sweet treat, a gift certificate to Civic Taproom, and bragging rights for life. The winner will be invited to come back to the next show!
And one lucky audience member will also win all of the above prizes (except for the 50 bucks)!
*Storytellers subject to change without notice. Stories may contain explicit language and/or subject matter.