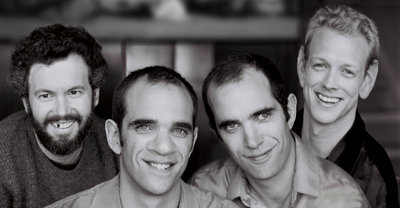 Portland Sketch Comedy Festival presents: Kasper Hauser (San Francisco)
Sat, Jul 14, 2018 from 8pm - 9pm
Advanced online ticketing ended at 5pm. Tickets available at the door for $15 starting at 7:30pm
Try not to freak out, but KASPER HAUSER is here.
Kasper Hauser, a San Francisco-based comedy group, is Dan Klein, James Reichmuth, (former member) John, and Rob Baedeker. They perform and produce live shows, digital content, and books. The group's work has been produced by the BBC, HBO digital and "This American Life." They are the masterminds behind the parody mag SkyMaul.
"This quartet is one of the few comedy teams which has rightfully earned the description 'Pythonesque' …. The foursome's show combines a hyperactive imagination with an inspired sense of lunacy." ~ Time Out New York
"Destined for comic greatness ... bizarre collective brilliance" ~ San Francisco Chronicle
Move over, National Lampoon." ~ The Seattle Times
Kasper Hauser performs on Saturday, July 14
Doors at 7:45pm, show at 8:00pm
$12 single ticket
Festival Passes and 4 show passes also available!
More info at sirentheater.com