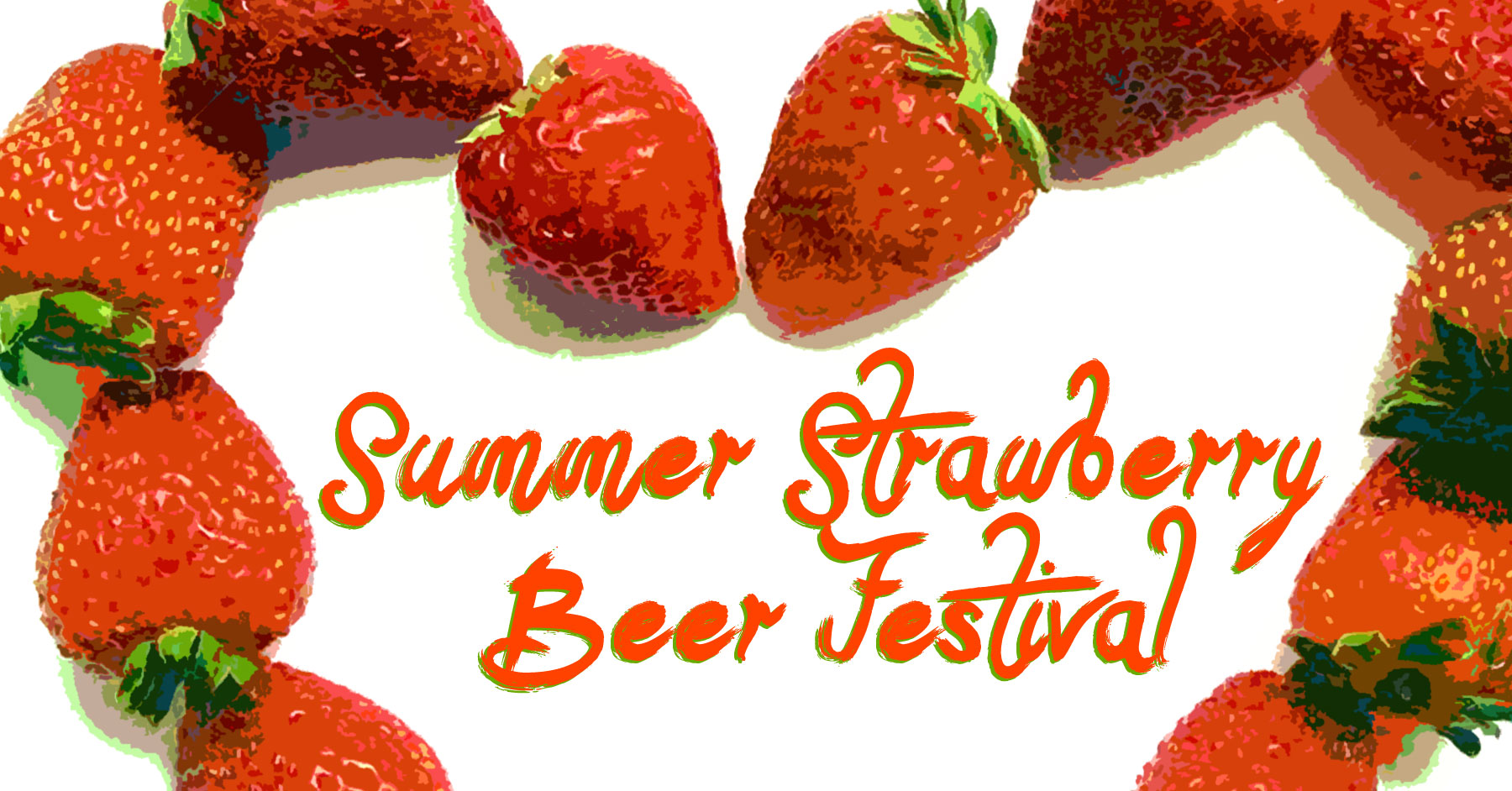 Summer Strawberry Beer Fest
Saraveza and the Fruit Beer Festival will reteam for the inaugural Summer Strawberry Beer Fest on Saturday, July 14th at Saraveza and the Bad Habit Room. Featuring fifteen + beers made with Strawberries and the first single fruit beer fest featuring in-season fruit with fresh eye popping and mouth watering strawberries. The lineup includes some of the west coast's finest and most talked about breweries and will include strawberry food specials like a beer float and much, much more.
Strawberries are among nature's most popular fruits - plump, juicy and easy to pop into your mouth and enjoy. Their health benefits include promoting heart health, reducing hypertension, preventing allergies, improving eyesight to even helping to prevent cancer. Surprisingly, Strawberry beers are rare as brewers have struggled to capture the distinct but elusive sweet and tart flavor of the fruit. Over recent years some of the northwests best brewers have began to master the Strawberry beer and this fest has collected many of them to be showcased at this one-off event. Fruit beer fans should also mark their calendars for October 6th when the 6th annual Peche Fest returns to Saraveza.
Mark your calendars for Saturday, July 14th when the Summer Strawberry Beer Fest will begin at noon at Saraveza and 3pm at the Bad Habit Room and run until 10pm. Tickets are only $10 and include a custom Perfection 9oz glass with 4 drink tickets if purchased in advance (3 tickets at the door). Additional drink tickets are $1.50 or four for just $5.
STRAWBERRY FOOD SPECIALS:
– Burger w/ Strawberry Compote, Brie, Butter Lettuce and a Brioche Bun.
– Strawberry Shortcake w/ Chantilly Cream
– Beer Float w/ Salt and Straw Ice Cream (flavor TBD)
BEER & CIDER LIST:
The Ale Apothecary: Garden Strawberry
the strawberry was 1st bred in France from North American and Chilean plants. Garden Strawberry is a blend of 15+ ales with 60 lbs of fresh strawberries in one of the breweries original barrels. Naturally carbonated and bottle fermented with Oregon honey. 7% ABV.
Almanac Brewing: Strawberry Melon
Sour farmhouse ale with fresh strawberries and honeydew melon. 7.1% ABV.
Beachwood Blendery: Strawberry Provence
Lambic-inspired ale with Strawberries and Herbs de Provence. 6.9% ABV
Blackberry Farm Brewery: Buckwheat Strawberry
A rustic farmhouse ale brewed with Buckwheat and Strawberries and fermented with a wild strain of native yeast harvested from our 9,200 acre farm. 6.3% ABV.
Block 15 Brewing: Strawberry Fields
This wild golden farmhouse is a harvest celebration of fresh strawberries from one of the finest strawberry-growing regions in the world—our own Willamette Valley. Initially fermented with a farmhouse strain in our open fermenter, it was then matured in pinot noir barrels, taking on added complexity from our wild cellar's house flora and resident micro-organisms in the barrels. Upon blending, we added perfectly ripe, locally-grown strawberries to our favorite barrels. 7% ABV.
Little Beast Brewing: Dream State
Aged for over 6 months in our Cabernet Sauvignon foeder and with 7 distinct microflora, Dream State contains 100 pounds of fresh whole Oregon strawberries per barrel. Full of lush fruit flavor, soft acidity and a complex depth of character.
7% ABV / 13 IBU
Great Notion Brewing: BA Strawberry Shortcake
Last Summer we filled Pinot Noir barrels with our Strawberry Berliner Weisse, 100 lbs of strawberries, and our house sour culture. 9 months later, we have this bright Sour Ale with balance, complexity and plenty of Strawberry!
Hopworks Urban Brewery: Strawberry Milkshake IPA
The sun is heating up the streets and we're getting thirsty! This milkshake IPA gets its foundation from Hazy IPAs. It's fluffy and velvety in character from generous amounts of what and oats. We added huge amounts of berry-forward Galaxy and Vic Secret hops for flavor and aroma, and we fermented the beer with strawberries. Lactose was added for additional sweetness and creamier mouthfeel. 7% ABV.
Matchless Brewing: Double Barrel Strawberry
For Double Barrel Strawberry, we took some of our favorite white wine yeast fermented sour beers and matured it along with 100lb of organic strawberries per oak barrel. The fruit came from our long time friends at Helsing Junction Farm! Look for intense notes fresh strawberry candy on the nose and rich strawberry and peach blossoms on the tongue. ABV 7%
New Belgium Brewing: Strawberry Lemon Ale
A delightful combination of strawberry and lemon purees fill the senses with an enticing balance of sweet and sour fruit. 4.2% ABV.
pFriem Family Brewers: Fraise
Fraise is created by blending our barrel-aged, lambic-inspired ale with extraordinarily fresh, hood strawberries. With crimson hues akin to a fire sunset, aromas of rose, raspberries and lemonade, with tart notes of berries, and kiwi, Fraise is memorable indeed! 6.4% ABV 7 IBU.
Propolis Brewing: Pi
Syrah Barrel-Aged Golden Ale with strawberries and Rhubarb GABF bronze medal 2016 – Wood and barrel aged sour ale with Fruit. 7.5% ABV.
Ruse Brewing: Barrel-Aged Patchwork
This year we took our patchwork recipe and conditioned it in Pinot Noir casks for 8 months with our house mixed cultured. The end result is a Funky Strawberry Basil Tart.
Urban Family Brewing: Strawbarb
Sour ale with strawberries and rhubarb. 9% ABV.
Wander Brewing: Strawberry Rhubarb Puncheon
Foeder fermented spelt saison aged with fresh Whatcom county strawberries and rhubarb. 9.2% ABV
Wildcraft Cider Works: Strawberry Spruce Tip
A favorite summer sipper blended with a cold fermented freeze pressed strawberry wine and infused with just a hint of early spring harvested spruce tips. A cider with good body, light acid and soft mouthfeel. A gentle spruce hit on the mid palate, finishes strawberry with a hit of citrus. 6.3%
1859 Cider Co.: Mt. Hood Strawberry
Taste of summer in a glass! Bright aromatics of fresh picked wild strawberries, full bodied with honeysuckle finish. Notes of peaches, cherries, watermelon, and spices throughout. 5.33% ABV