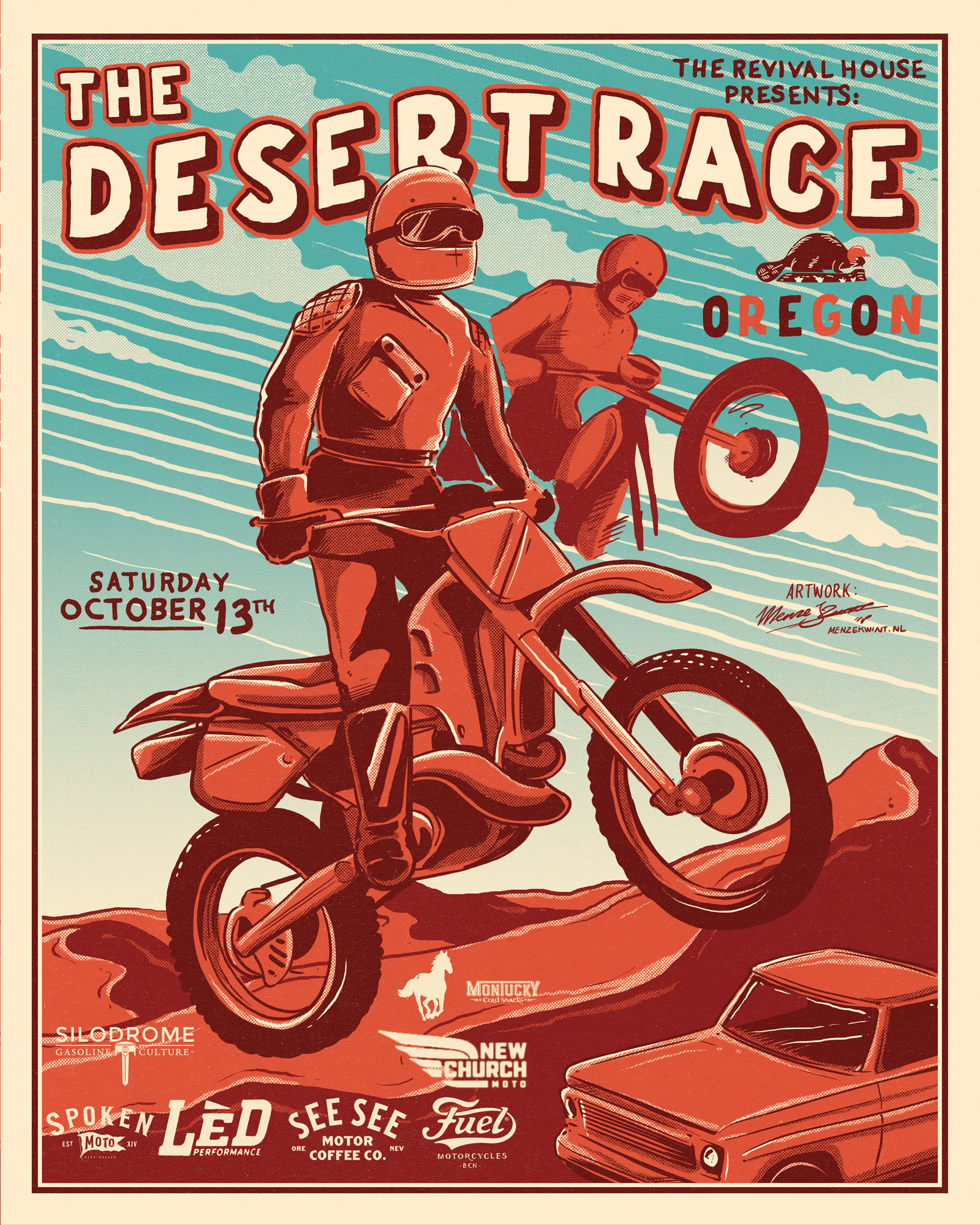 The Revival House Presents....
THE DESERT RACE ...The Wild West of Motorcycle Racing!


Plus food & drinks, music...just a good time!
Sat, Oct 13, 2018 from 8am - 11pm (Pacific)
RACE SIGN UPS AT THE GATE IS HIGHLY UNLIKELY!!! Be sure to purchase tickets in advance!
Alcohol wil be present but restricted to Areas 21+
Racing: we would love to have younger racers participate but at this moment due to staffing we can only safely manage Racers 15+
Entry onto the race location to include campgrounds and pits is at ones own risk (Signed Waivers Required for All Attendees)
Drinking & Riding will result in immediate removal of racers, no exceptions.
LAST CALL FOR DESERT TRAIN DEPARTURE October 13th 8:00 am!
Entry onto Campgrounds must be purchased at the gate: $5 (Saturdy Night only - October 13, 2018)
COME TO PARTY
THE DESERT RACE
The Wild West of Motorcycle Racing!!!!!
The Revival House presents this genuine grassroots event including good 'ole scramblers, motocross and sprints all under the umbrella of desert racing. The Desert Race is an alternative motorcycling festival that encourages a diverse blend of motorcycle fans, motocross racers, beginners and pros, custom bike builders, speed shops with legendary history, fans of 2 wheels or 4, and weekend race fans from all around the world. Regardless if a racer wins or loses by a mile, we hope that all racers leave with a sense of accomplishment. Our core culture believes in an equal and free inclusive enviroment that encourages and shows support. Honestly, we're all just happy to have a place to share our mutual love for motos & autos.
Yes, racing is at the heart of this event. To ensure The Desert Race differs in each state's race, Oregon for example will provide a different type of excitement than the previous race held in Joshua Tree, California. Our mission is to ensure that each stage differs and brings a different set of techniques and tricks of the trade into play, but also ensures each racer a fair chance of capturing the glory. With many classes available ranging from beginner to advanced, there is a class available for every type of motorcycle and rider. The Desert Race takes place on a well marked, high-adrenaline, loose-surface, approx. 4-5 bike width tract that includes turns, ruts, berms, potential jumps. Terrain includes dirt, sand, and rocks. No need to jump unless you feel you can safely do so. This style of racing is exciting race to in, and also provides nail biting entertaining to watch.
The Desert Race series provides this without the hassle, rules, and costs usually associated with professional motorsport racing.
The race location is near the national monument, Fort Rock. Nestled in Lake County in the Oregon High Desert region also known as "the Oregon Outback". You can sense the wild adventures that some of our ancestors embarked on in this rough and tough terrain. We wanted to ensure the location was special for a fun festival of speed. The music, the food and retail vendors are lining up to ensure adequate presence to help ensure attendees and race fans alike are well entertained.
Plus, The Super Cretin racers are itching to get their desert sleds sideways.. don't miss out on this uniqe grassroot race action!
SCHEDULE
October 13th Saturday - THE DESERT RACE BEGINS
07:00am - 08:00am - Coffee and Gas. Meet and Greet.
08:00 - DESERT TRAIN DEPARTURE
09:30 - Rider Meeting (Mandatory)
*Sunday load up and bug out. Or you can come to an arrangement with the race location owner and pay a day rate and extend your desert experience. Please clean up after yourself, the Revival House is very small!!!!
Single Day Ticket: $25
Saturday The Desert Race entries, gate not included: $40
---
The Desert Race Classes Include.
Beginner, Novice, Intermediate, Expert, Women, Cretin and maybe even other classes not expected racing and participating... TBA
PLEASE NOTE: No entries day of race if we are full from pre-registered racers!!!!
---
CLASSES
THE DESERT RACE is for the kind of bikes that don't usually get a chance to race anywhere else. Considered too old, too slow, not cool, too hipster, too chopperish, too innappropiate all pitched against the approiate bikes, the bikes designed for the terrrain, the style and the flair. Old vs New. Innapporpiate vs Appropiate.

One Rider per bike. One Class per rider.

Race Day Classes.
Please email anthonyscott@enginethusiast.com for questions concerning the event.
RACE RULES
All Motos Welcome.
All bikes must have number plates.
The Desert Race Event Sticker MUST be at top center of front number plate (handed out on race day).

#thedesertrace #thedesertraceoregon #revivalhouse
The Desert Race Program
Depending on time The Desert Race program will consist of a Moto I & Moto II. The final combined position of each moto will determine a racers overall final positon in chosen class.
The following event format will be used at The Desert Race events, in coordination with the race promoter. Changes to the format for specific events may happen, but only if deemed necessary.
a. Practice
l. Riders will be given practice session(s) on the track prior to racing
II. Promoter to determine how many laps and/or sessions will be held
Moto I & Moto II

3 - 4 lap Moto for each class (possible decrease for certain classes)

Riders will be staged in starting positions at the discretion of the promoter

Depending on the number of total riders entered, the promoter will organize

class races to have as even of a number of riders as possible in each race

Promoter will determine the following on a per-race basis, depending on amount

of entries:
Determine BLACK FLAGGED and appoint DNFTDR (Did Not Finish The Desert Race).