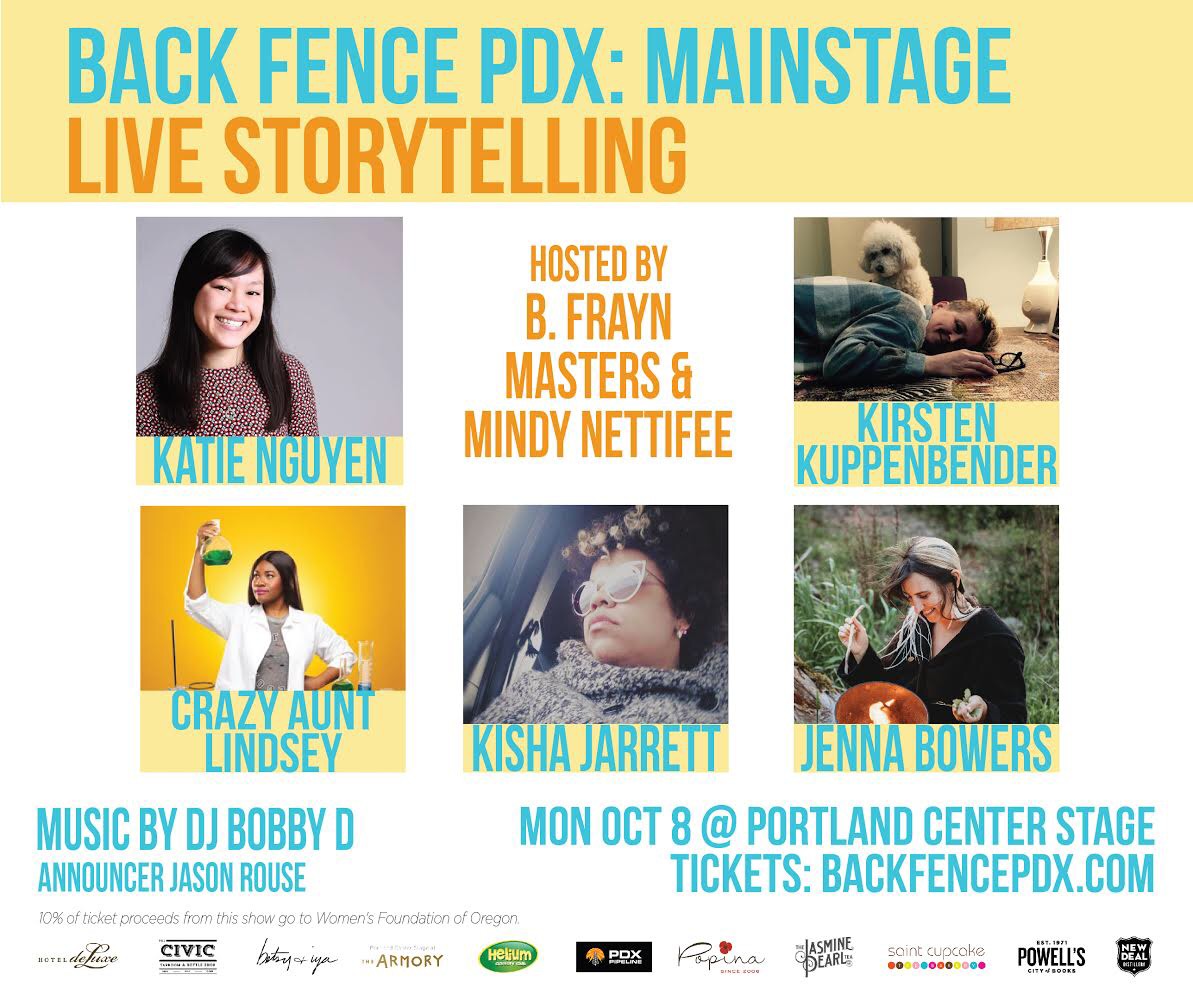 Back Fence PDX: MAINSTAGE ⎮ 10th Anniversary Show
Mon, Oct 8, 2018 at 7:30pm
Come and join us! We have tickets for you at the door! xxoo
Back Fence PDX is proud to announce Back Fence PDX: MAINSTAGE celebrating an unbelievable 10 years in Portland! The Back Fence PDX: MAINSTAGE 10th ANNIVERSARY SHOW will be our final Mainstage show and feature stories that feature Portland in some way. (To be clear Back Fence PDX: RUSSIAN ROULETTE will LIVE ON into 2019!!!! We are also working on a new format that will be introduced in the coming months.) A portion of this show's proceeds will go to the Women's Foundation of Oregon*.
STORYTELLERS
—KATIE NGUYEN Named one of the Portland Mercury's Geniuses of Comedy, Host of Earthquake Hurricane, Addicted to Using Q-tips in Ears

—KIRSTEN KUPPENBENDER Finalist in Portland's Funniest Person Competition, Founder of Lez Stand Up, Extreme Jigsaw Puzzler

—ARTHUR BRADFORD Author of the Books Turtleface and Dogwalker, Emmy-nominated filmmaker, Co-Host of the Radio Show "Sex, Drugs, and Basketball" on XRAY.fm, Writes About the Trailblazers for the Portland Mercury, Is Left Handed and Still Writes Certain Letters Backwards Sometimes
—KISHA JARRETT Marketing Director at Artists Repertory Theatre, Wrote/Directed a Short Film that Debuted at Sundance, Terrible Photographer, Owned a Brooklyn Bakery Called Painted Lady Cakes

—JENNA BOWERS Full-Time Witch, Won Best Energy Healer 2017, Plays Violin and Ukulele, Tarot Card Reader, Childhood Second Home Was a Haunted Historic Theater
Hosted by B. FRAYN MASTERS and MINDY NETTIFEE with announcer JASON ROUSE
Music by DJ BOBBY D from XRAY.fm
ADMISSION: Tickets are $16-$30 ADVANCE, $20 DOOR Note: We will have walk-up tickets set aside for sale at the door. VIP ticket holders also receive two free tickets to Portland Center Stage, two free tickets to Helium Comedy Club, $10 to Civic Taproom, a tasting for two to New Deal Distillery, tea from The Jasmine Pearl, AND have seats reserved on the main floor in the front rows until 5 mins before show time. (We are also an Arts for All participant. Tickets and more info@backfencepdx.com)
*10% of ticket sales from this will go to Women's Foundation of Oregon, whose vision is an Oregon where every woman and girl can thrive. Their mission is to focus the power of women's collective resources to improve the lives of women and girls throughout Oregon.

Longtime Back Fence PDX sponsors Betsy & Iya, Popina, New Deal Distillery, XRAY.fm, and The Jasmine Pearl will be tabling in the lobby of Portland Center Stage before the show sampling, selling, handing out coupons, and more! Do not miss these incredible Portland businesses that have helped us reach this unbelievable milestone!
The Back Fence PDX team has immensely enjoyed being a part of this show and the incredible Portland community for the past decade. We have been lucky enough to receive support from the local media and the business community in the form of sponsorships; our smart, engaged, and loyal audience members; our absolutely incredible volunteers who have kept the shows running smoothly; our unmatched staff; and of course the brave and talented storytellers that have shared dozens of incredible stories with us. We are proud to have been a force in building the storytelling audience and community in Portland by holding and creating space for these stories and the folks that want to hear them. Back Fence PDX looks forward to continuing our work with Back Fence PDX: RUSSIAN ROULETTE and mixing up our programming and evolving what we offer to the community in the coming years. It is due to our experiences with the MAINSTAGE show in the past ten years that we are able to experiment with the storytelling medium to keep our shows fresh, engaging, and fun, The MAINSTAGE is what started it all and we are so lucky to still be here putting these shows on for the city that we love.