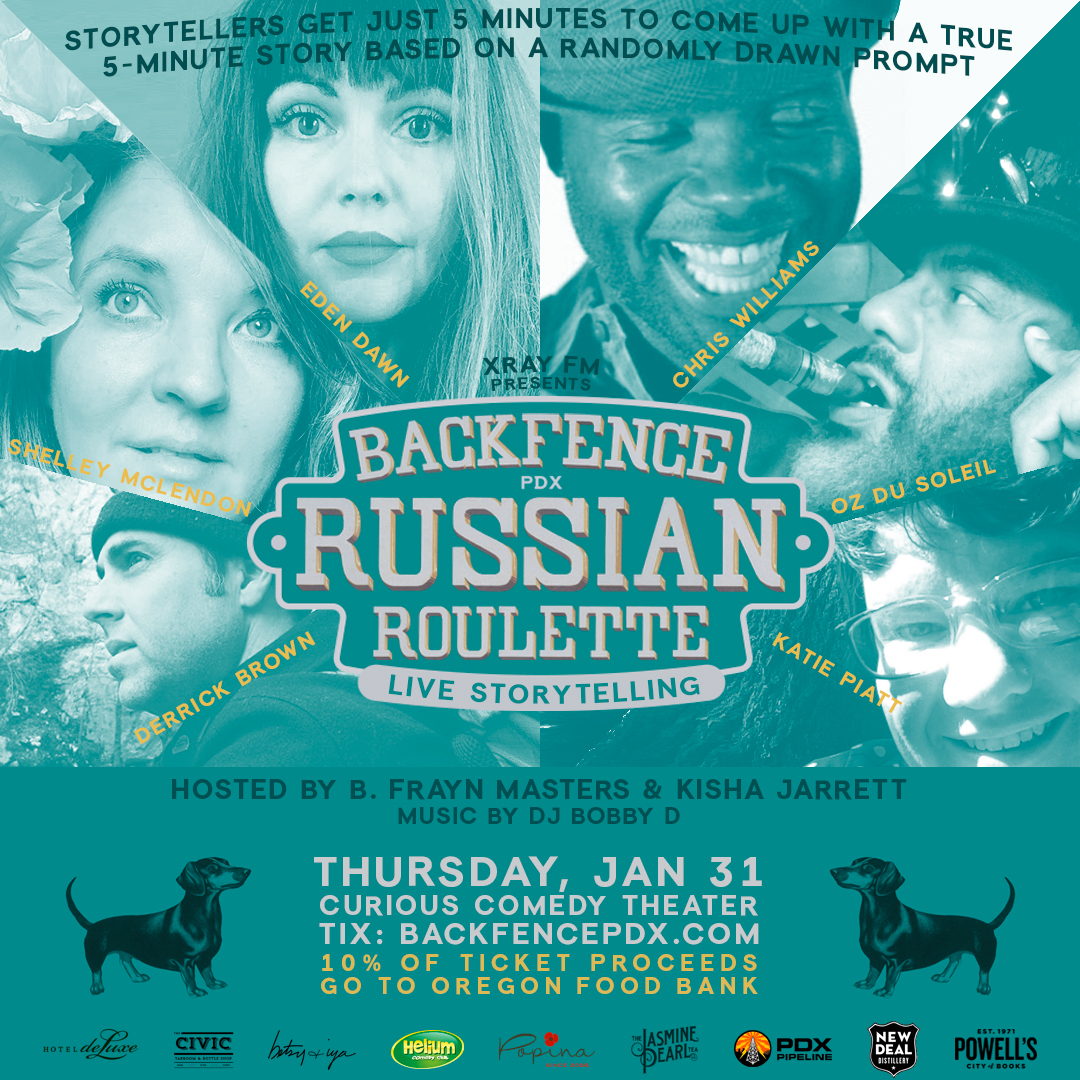 Back Fence PDX: RUSSIAN ROULETTE
Pre-sale tickets have ended or are sold out. But we have set aside tickets to be available at the venue as soon as door open @ 6:30.
FEATURING: EDEN DAWN Returning Back Fence PDX: RUSSIAN ROULETTE Winner, Style Editor at Portland Monthly, Stylist, Wardrobe Stylist, Creator of Claws Out Nail Polish, CHRIS WILLIAMS 3-Time RUSSIAN ROULETTE Winner, Creator of Front Porch Sessions and The Turnout Storytelling Series at The Secret Society, Does a Spot-On Marlon Brando Impression (Heavier Marlon Brando), Has Never Drank Coffee Ever, Not Once, In His Life, SHELLEY McLENDON Owner/Operator of The Siren Theater, Co-Writer of Road House: The Play, The Lost Boys Live, and Poltergeist Live, One Half of the Critically-Acclaimed Sketch Comedy Troupe The Aces, Rides Both a Bajaj Chetak Scooter and a Pair of Roller Skates, OZ du SOLEIL International Excel MVP (literally), Navy Veteran, Stars in Sriracha: a Documentary, Proudly Posed Nude for Marina Green Photography, Loves a Cigar with an Old Fashioned; Chilled, No Ice, DERRICK BROWN Owner of Write Bloody Publishing, Poet, Novelist, Librettist, Comedian, Worked As A Singing Gondolier, and KATIE PIATT Returning Back Fence PDX: RUSSIAN ROULETTE Winner, Member of That's What She Said Queer Comedy Collective, Seasoned Performance Artist, Grandma in Training.
Hosted by B. FRAYN MASTERS & KISHA JARRETT
Music by BOBBY D from XRAY.fm
DOORS 6:30PM ⎮ SHOW 7:30PM
$16-26 ADVANCE ⎮ $20 DOOR — Note: We will have walk-up tickets set aside for sale at the door. VIP ticket holders will receive swag from amazing local sponsors: $10 GC to Civic Taproom, Helium Comedy Club/The Siren Theater passes for 2, 50% off Front Porch Sessions Storytelling/Broke Gravy Improv coupon, and more, AND have seats reserved on the main floor in the front rows until 5 mins before showtime.
10% of Tickets Proceeds go to OREGON FOOD BANK. In 2018 our audiences provided 2500 meals!!!
More about Back Fence PDX: RUSSIAN ROULETTE…
How it works: each show begins with a full wheel of juicy story prompts. One of the 6 storytellers will be randomly drawn. They spin the wheel to decide the prompt for their story. They can play or pass. If they pass another teller can steal their prompt. Then the risky part…each storyteller has only 5 minutes to come up with a true 5-minute story based on that prompt! It's like we invented a new game called truth AND dare.
At the end of the night, the audience will select a winner who will receive 50 bucks provided by Skin by Marywynn, a pair of earrings and $25 GC to betsy + iya, a pair of tickets to Helium Comedy Club, $20 GC for Powell's, sexy lip balm from Skin by Marywynn, a glass contained prize from New Deal Distillery, two tickets to Portland Center Stage, a gift certificate to Finger Bang, other cool prizes from our amazing local sponsors, and bragging rights for life. The storytelling winner will be invited to come back to the next show!
And one lucky audience member will also win all of the above prizes (except for the 50 bucks) plus $100 Popina Swimwear Gift Certificate and a GC for a pair of VIP passes to come back to a future show!
*Storytellers subject to change without notice. Stories may contain explicit language and/or subject matter.