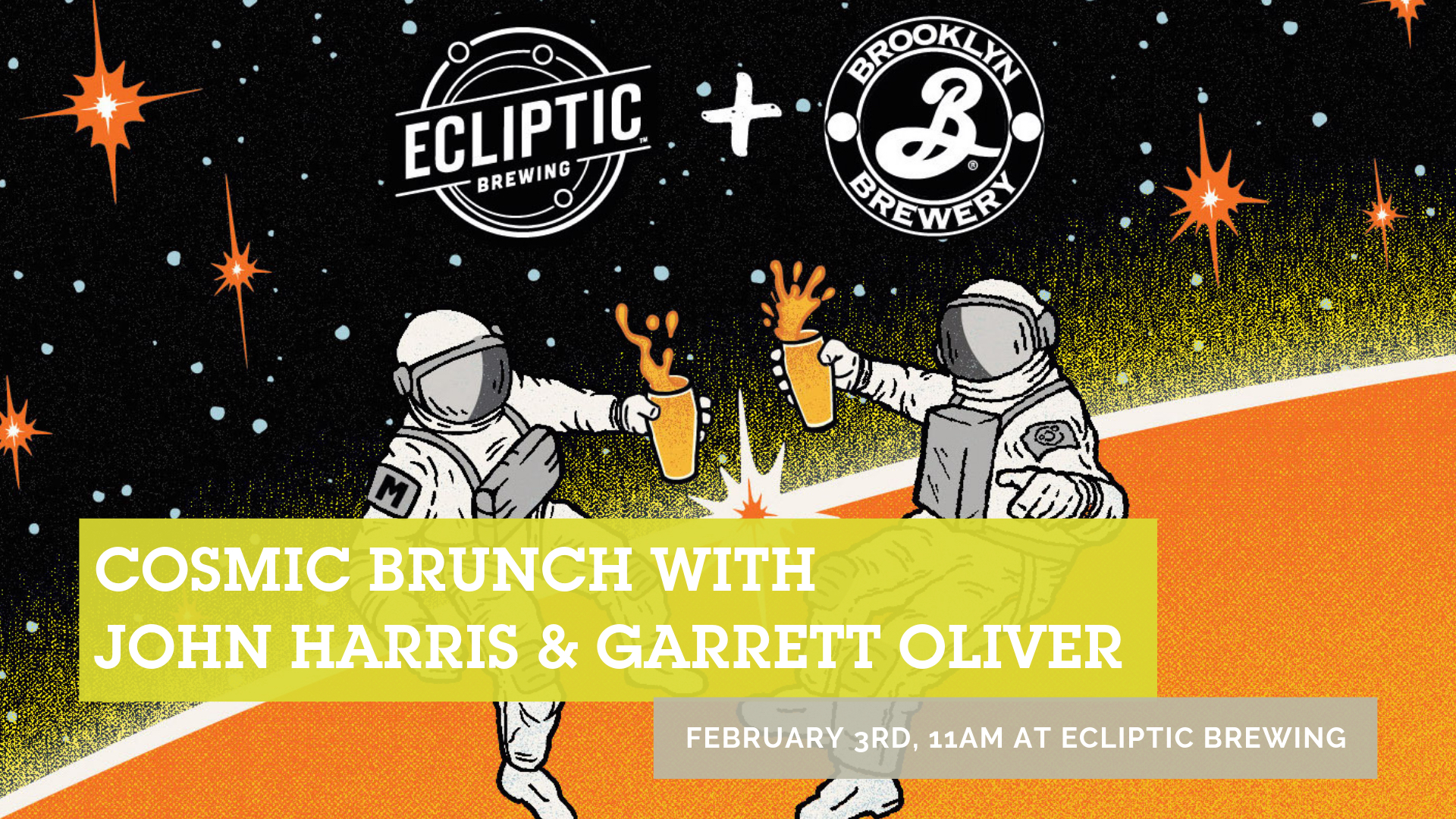 Cosmic Brunch with John Harris & Garrett Oliver
In celebration of their Cosmic Collaboration Tangerine Farmhouse Ale, join Ecliptic Brewing Brewmaster, John Harris, and Brooklyn Brewery Brewmaster, Garrett Oliver, for a libation filled brunch! The brunch will feature a menu from Ecliptic Brewing Chef Michael Molitor, each paired with delicious beers from the breweries. The ticket price includes 5 courses, 10-5oz beers, gratuity, and a 500ml bottle to-go of the Cosmic Collaboration signed by the brewmasters!
Menu
First Course:
Michelada with Octopus, Shrimp,
Cauliflower Escabeche
Beer Pairings-Spectra Hoppy Pilsner & Brooklyn Bel Air Sour

Second Course:
Potato Paillasson, Smoked Sturgeon, Caviar
Beer Pairings-Capella Porter & Brooklyn Lager

Third Course:
Hangtown Fry: Tasso Ham Omelet, Fried Oysters, Herbed Crème Fraiche
Beer Pairings-Phobos Single Hope Red Ale & Brooklyn Sorachi Ace Saison

Fourth Course:
Lamb Breakfast Sausage, Avocado Purée, Fennel Panzanella
Beer Pairing-Ecliptic + Brooklyn Brewery: Tangerine Farmhouse Ale

Fifth Course:
Goat Cheese Crepe, Candy Cap Mushroom Ice Cream, Huckleberries, Black Pepper
Beer Pairings- Bourbon Barrel-Aged Orange Giant Barleywine & Brooklyn Black Chocolate Stout
This is the first of five releases in Ecliptic Brewing's "5 Beers for 5 Beers" Cosmic Collaboration Series.
About Ecliptic Brewing's "5 Beers for 5 Beers" Cosmic Collaboration Series:
To celebrate their fifth year of passage through this awesome star system we call home, Ecliptic Brewing is teaming up with five esteemed breweries to brew five beers of cosmic significance. Space can feel a bit lonely, so here's to making the journey with friends!