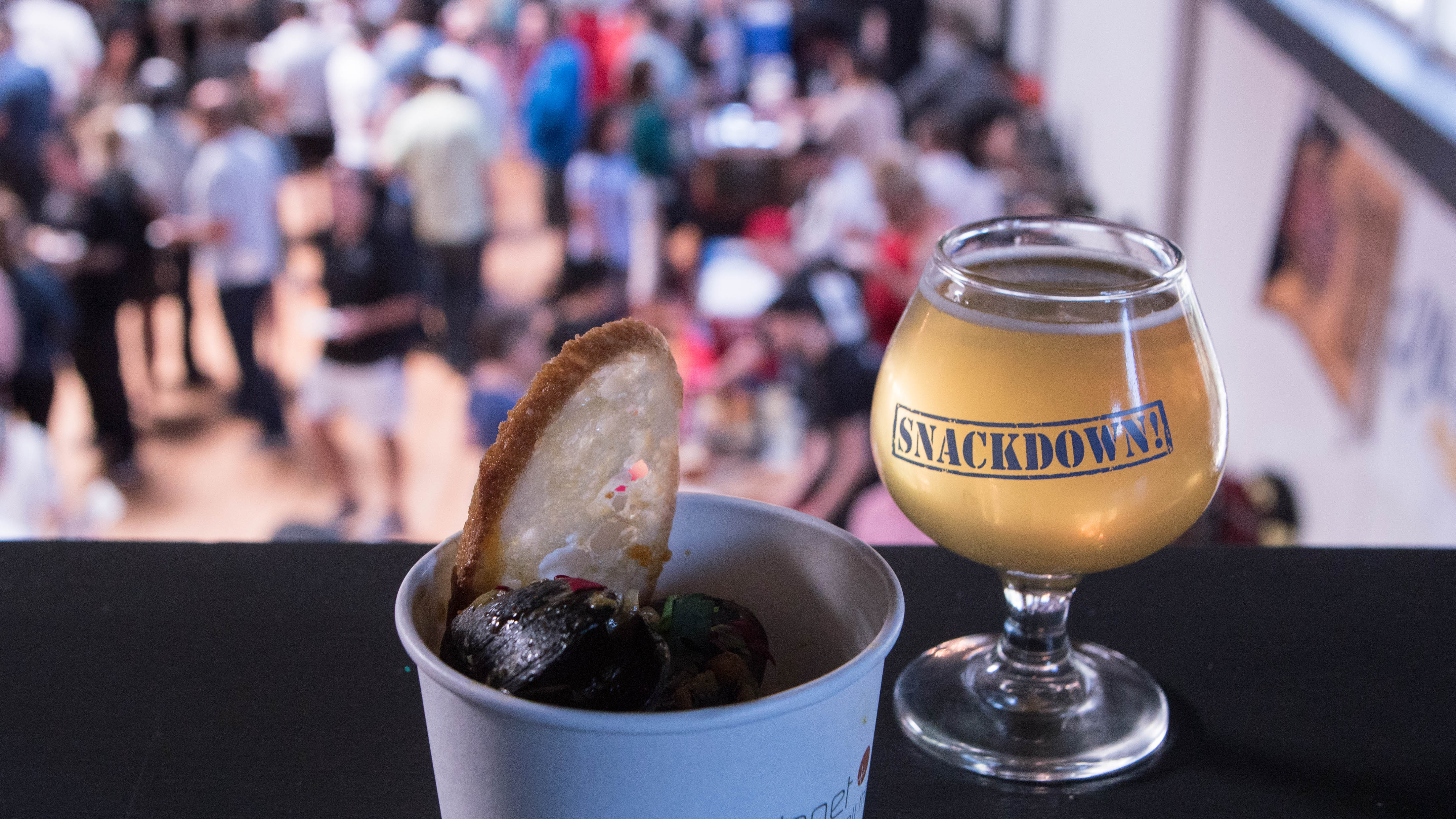 SNACKDOWN!!!! Brewer/Chef Pairing Throwdown
Sun, Jun 16, 2019 from 1pm - 4pm
PDX Beer Week & Gigantic Brewing Company present SNACKDOWN!!!! 4.0 on Sunday June 16th at The Evergreen event space above Loyal Legion. SNACKDOWN! is a fun and entertaining food and beer pairing event where 10 of Portland's best Chefs and 10 Oregon Brewers are paired into 10 Brewer/Chef teams to make their greatest snack and beer pairing. Guests will choose their favorite pairing and the winners will be awarded the SNACKDOWN Belt!

This event is designed to be more fun and loose than you're standard beer dinner. Imagine a WWF style Smackdown with brewers and chefs hyping their pairing on the mic - possibly while sporting wrestling themed costume. DJ Rev Shines will be on the decks keeping the party live. $49 includes all 10 small plates and TEN 5oz beer pours + a collectible glass. All proceeds after expenses go to P:EAR

Join us for great beer, great food and a real party!

SNACKDOWN! Is the official closing event of Portland Beer Week.
MENU/PAIRINGS:
Pono + Lardo
Beer: Mexican Lager Gose
Snack: Luchador Tacos – Smoked Brisket, Creamy Mexican Corn, Morita Chili Salsa, Pickled Onions
Gigantic + KEX Iceland
Beer: Corpse Reviver #2
Snack: Cheesed Potato Waffle with Icelandic Dung Smoked Trout, Fatty Creme Fraiche and loads of Horseradish
pFreim + Ned Ludd
Beer: Nelson Single Hop Pale
Snack: Citrus Glazed Pulled Pork Sandwich – with Smoked Pork Loin, Roasted Jalapeno Aioli, Bread and Butter Pickles on Pressed Ciabatta.
Grains of Wrath + Shalom Y'all
Beer: Gose made with Jacobsen's Pinot Noir infused sea salt
Snack: Smoked Lamb Bourekas with Sesame Seeds and Urfa Chili
Von Ebert + Bar Casa Vale
Beer: Swirling Winds Farmhouse
Snack: Sardine Escabeche Montadito with Fried Garlic and Aioli
Reubens + Afuri
Beer: Gose
Snack: Spicy Cold Noodle with Torched Glazed Salmon, Cucumber, Egg, Chili and Soy Cured Salmon Eggs
Rosenstadt + Olympia Provisions
Beer: Rosenstadt Rauchbier
Snack: "Bamberger Zwiebel" Bratwurst- Stuffed Spring Onion, Bacon, Smoked Lager Gravy, Rye Croutons
Fort George + Southpark
Beer: Silver Fern Kolsch
Snack: Fried Oyster & Pork Belly Ssam, Pickled Ramps, Butter Lettuce, Mint, Ssamjang
Great Notion + Woodblock
Beer: Blue Berry Muffin
Snack: Hop Infused Chocolate & Brined Roasted Cocoa Beans
Stormbreaker+ Loyal Legion
Beer: Everyday Is Portland Beer Week. Double Dry Hopped Sour IPA
Snack: Pierogis – Potato, Cheese, Sauerkraut, Lardons with Horseradish Cream and Chives