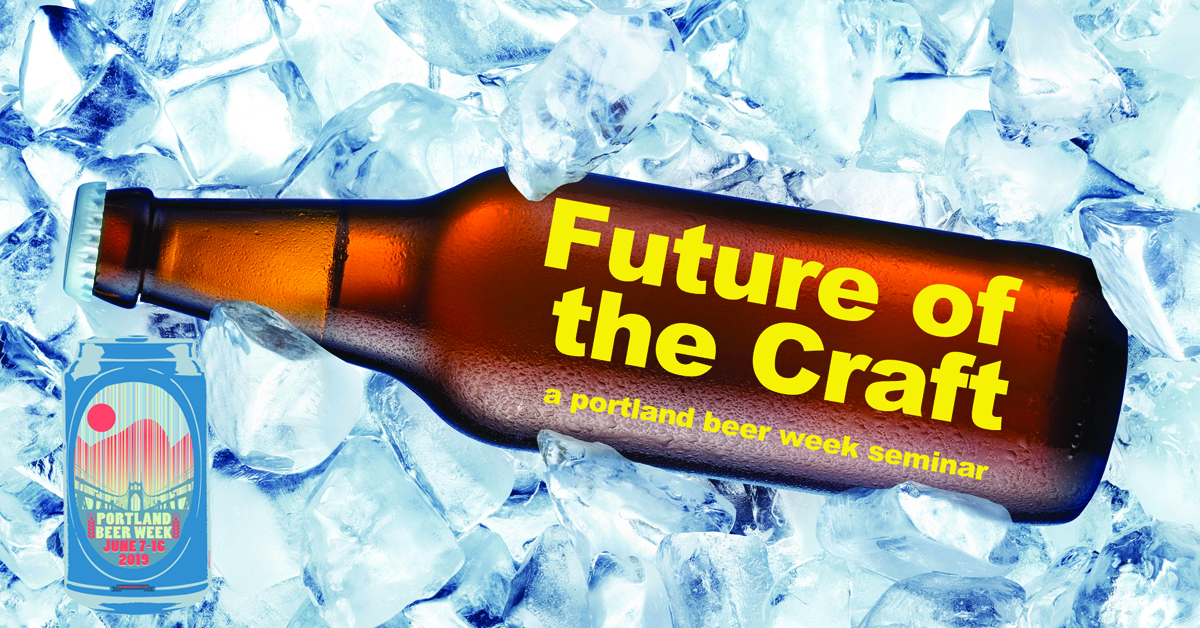 Future of the Craft
Sun, Jun 9, 2019 from 7pm - 9pm
Portland Beer Week's 2019 seminar series kicks off with 'Future of the Craft.'
Times are turbulent in the industry, craft beer is being assaulted on all sides by changing consumer demand, shrinking growth, increased competition, hostile distribution systems, corporate buyouts and even cannabis. Where does the industry go from here? What even is "craft beer" ? To discuss (and probably debate) these matters, Portland Beer Week has assembled a panel of experts and leaders in the industry. Tickets for Future of the Craft Seminar are $12 and include a beer from Migration Brewing Co., our generous event hosts.
Sam Holloway (Professor of management, strategy and innovation and founder of Crafting A Strategy)
Holloway a Distinguished Professor of Management & Entrepreneurship at the University of Portland and founder of Crafting A Strategy, a global online learning community advising breweries in 15 countries on four continents. Sam's research has led to keynote speeches at national beer industry events in Shanghai, Brussels, and several locations throughout the United States. Sam teaches undergraduate and MBA courses in strategy, entrepreneurship, and innovation.
Tony Roberts (co-director of the Oregon Brewers Guild)
Roberts has a background in nonprofit leadership and marketing. He comes to the Guild after working in marketing and communications for the Multnomah Athletic Foundation, a nonprofit that provides grants and scholarships to underserved youth in the Portland area. He also served as communications manager at the Multnomah Athletic Club. Roberts has extensive journalism experience, serving as executive editor for several Pamplin Media Group newspapers in suburban Portland, and writing about beer, sustainability and government affairs for newspapers in Pennsylvania and Oregon.
Ben Edmunds (Brewmaster at Breakside Brewery and former President of the Oregon Brewers Guild)
Edmunds is a graduate of the distinguished Siebel Institute brewing school in Chicago, he has also lead the brewing program at Breakside Brewery since it's inception. Edmunds also spent time as a teacher, school director and as president of the Oregon Brewers Guild where he still serves on the board.
Ben Parsons (owner/operator of Baerlic Brewing)
Parsons worked as a designer specializing in branding before co-founding Baerlic Brewing in 2012. Parsons knows a little something about launching, growing and maintaining brands in a competitive marketplace. He has also served on the Oregon Brewers Guild board of directors.
Jason Notte (business writer for Bloomberg, NY Times, Portland Business Journal, Market Watch and more)
Jason Notte is a freelance writer who spent roughly eight years covering the craft beer industry for TheStreet.com. For three years, he was a beer-industry columnist for MarketWatch. His beer writing also has appeared in BeerAdvocate and All About Beer. He has been featured on The Beer Temple's Insiders Roundtable podcast and Good Beer Hunting's podcast and, next month, will be featured in Portland Monthly asking whether or not Portland has hit "peak beer."