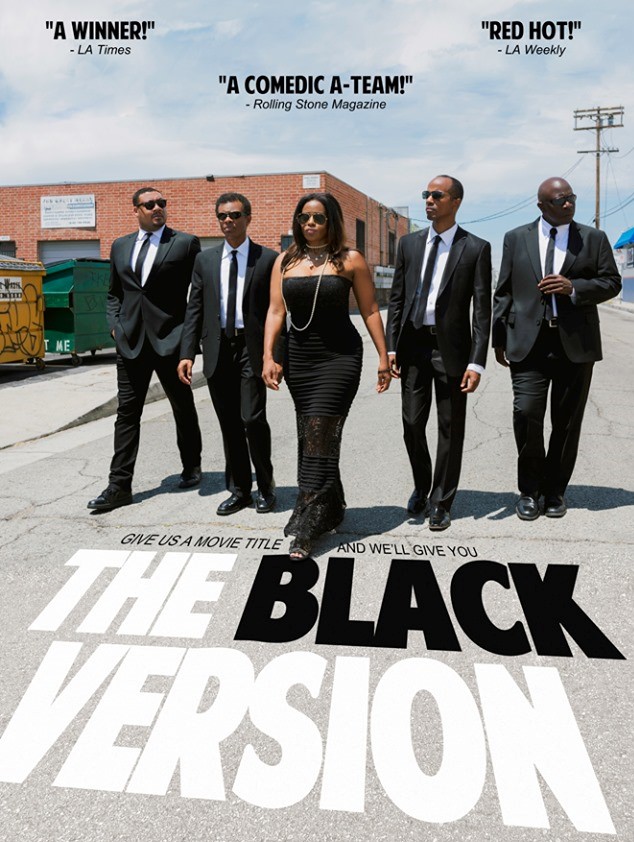 From Los Angeles, it's
The Black Version
Fri, Aug 23, 2019 from 8pm - 10pm
Online ticketing ended at 6:30. Tickets available at the door starting at 7:30 for $25.
Two nights only
You give them a movie. They give you "The Black Version."
The Black Version is a completely improvised show that started at the Groundings Theatre in Los Angeles in 2010 to sold out crowds and great reviews. Rolling Stone magazine calls the show "Hot" and the cast a "Comedic A-Team". LA Weekly says the show is "Red Hot" and "Scores more than its share of belly laughs" while the LA Times calls the show "A Winner".
The all African American cast of regulars includes show creator Jordan Black along with other comedy veterans Cedric Yarbrough, Gary Anthony Williams, Daniele Gaither, Phil Lamar, and Nyima Funk all under the direction of Karen Maruyama. Special guest performers include Keegan-Michael Key and Jordan Peele of Key & Peele (former original cast members), Wayne Brady, Maya Rudolph, Tiffany Hadish, Niecey Nash, Jerry Minor, Angela V. Shelton, Misty Monroe, and others who come and perform in the show from time to time.
This talented cast has vast film and television credits ranging from Mad TV and Saturday Night Live, to The Boondocks and Reno 911. The show begins when the director asks the audience to suggest a popular film title and then the cast, right there on the copy, improvise the "Black Version" of that film. The show regularly performs at the Groundlings Theater and the Largo at the Coronet.he
Starring:
Cedric Yarbrough (Reno 911, Speechless)
Jordan Black (Key & Peele, Southpark, Jimmy Kimmel)
Nyima Funk (Key & Peele, Why? with Hannibal Burress)
Gary Anthony Williams (Harold and Kumar go to White Castle, Malcolm in the Middle)
Danielle Gaither (Mad TV, The ReRun Show)
Directed by Karen Muryama
Two nights only at The Siren Theater
August 23 & 24
7:15pm doors/ 8pm show
$20 adv/ $25 door
sirentheater.com
theblackversion.com